Collaborate on a Global Scale, Drive Innovation, and Lead Conversations.
As the pharmaceutical and biotech industry forges new paths and breaks new grounds, ISPE is here to support you on your journey to Shape the Future of PharmaTM! Through an exchange of ideas, best practices, personal development, and other competitive benefits, we proudly provide you, our members the tools they need to reimagine the world and bring hope to the global community.
Global Networking
Get Involved with Industry Professionals
As a member, you will join more than 18,000 of your professional peers from more than 90 countries in advancing the solutions that lead to improved patient health.
Connect locally with your Affiliate or Chapter, join a Community of Practice for answers to your most pressing questions, and utilize the Member Directory to find contacts in your backyard or globally.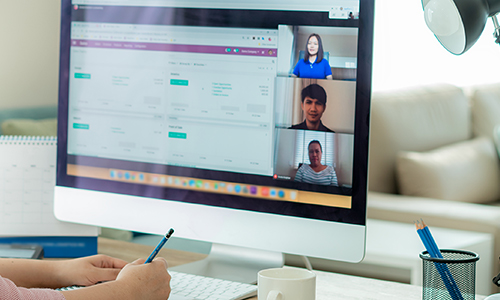 Continuing Your Education
With The Knowledge You Need to Succeed
Produced by pharmaceutical manufacturing industry professionals, ISPE Guidance Documents, training and conferences provide practical, real world information to utilize best practices to exceed regulatory standards.
As a member, you'll have FREE online access to the Guidance Documents Portal which includes a library of select ISPE Good Practice Guides.
Delivering Technical and Operational Solutions
"If you're in the pharma industry," said Michael Rutherford, Syneos Health, "it's one of the best organizations to be engaged with.
Watch the video to hear more from members on how an ISPE membership will benefit you.
Meet Our Members
iSpeak Blog

Tracy Jamerson is the Chapter Manager for the ISPE Midwest Chapter. She brings 10+ years of experience to the pharmaceutical industry, currently working as the Office Coordinator at Compli, - a wholly-owned subsidiary of George Butler Associates. Compli is part of the Life Sciences Division. GBA is multi-disciplinary. In this role, she is responsible for a variety of duties, including Project...

iSpeak Blog

Since 2013, Thomas Carganico has worked extensively within the pharmaceutical services industries across the US, UK, and Europe. He provides a strong level of experience related to Digital Branding, Marketing & Strategic Communication. He joined the PQE group in 2017 and currently serves as the Vice President of Strategy, Marketing, Communications & Equity Partner. Throughout his...

iSpeak Blog

Oxana Pryanichnikova is the Vice-Chair of ISPE Eurasian Affiliate with intensive involvement in the foundation of local ISPE organization since 2018. She is the Chief Business and Operating Officer of DXDO with more than 20 years in Software and Hardware Sales, Track&Trace projects, Business Development, planning and executing...

iSpeak Blog

Erich Bozenhardt is a BioProcess SME and internationally recognized authority in the domains of cell and gene therapy and bioprocessing. He is a Lead Process Engineer in Regenerative Medicine Operations at United Therapeutics Corporation. During his career, Erich has led the process activities for several biopharmaceutical projects, provided internal and external project leadership, is a...
Be the Expert
With Online Access to ISPE Resources
Available online 24/7, ISPE has you covered with all of the technical knowledge and tools you need to accomplish any challenges you may face.

With your membership, you have access to technical how-to articles in Pharmaceutical Engineering® magazine, concept and discussion papers, guidance documents, regulatory resources, the latest industry news delivered to your inbox twice-weekly via ISPE SmartBrief, and more.
---
---