Genentech
Location: San Francisco, California USA
Project: Genentech South San Francisco Clinical Supply Center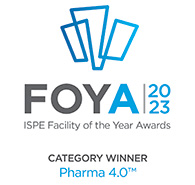 ---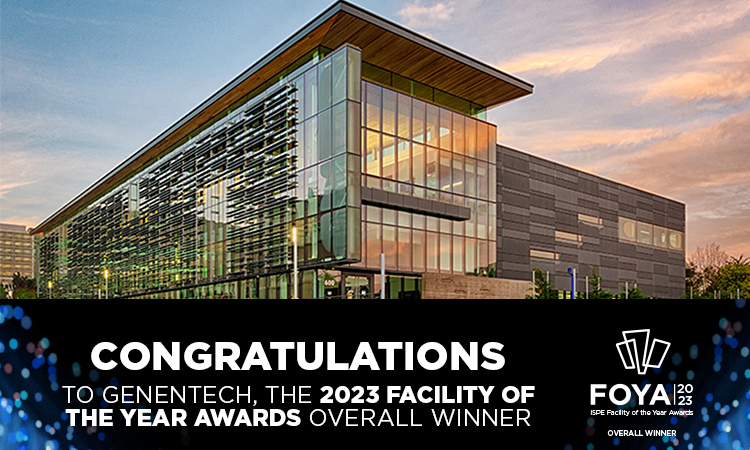 Pharma 4.0™ is a philosophy that seeks to incorporate digital solutions and integration into the BioPharma environment. In general industry it is often termed Industry 4.0 or Smart Factory. It is the era of smart machines and production plants that autonomously exchange information, trigger actions, and control operations.
While Industry 4.0 has been called a new industrial revolution, Pharma 4.0™ is often a continued innovation and integration of digitalization and automation. It extends the facility operation into culture, information systems, people, training, and processes. It is not only an automation system or interconnectivity in the facility, but the end-to-end integration and optimization of systems and processes throughout the facility.
Pharma 4.0™ leads to greater integration, interconnectivity between systems and operations and valuable opportunities to leverage the result across the business that provide faster therapeutic innovations and improved production processes for the benefit of patients.
A member of the Roche group since 2009, Genentech discovers, develops, manufactures, and commercializes medicines for people with serious or life-threatening diseases.
With over 13,000 employees and headquartered in South San Francisco, California, they have provided medicines around the world for more than 45 years.
Genentech notes that the South San Francisco Clinical Supply Center (CSC), completed in November 2022, "uses advanced manufacturing technologies and employs an agile modular design to enable on-demand delivery of Genentech's medicinal pipeline to clinical trials patients".
---
Their approach to the facility, flexibility of the equipment, and ability to implement new technologies rapidly without requiring building modifications, enables Genentech to more easily adapt and accommodate future needs.
According to Genentech, "The CSC has been designed to leverage the latest digital technologies along with in-house process improvements that significantly increase production flexibility, efficiency and output while reducing the use of water and energy resources to achieve higher levels of sustainability."
The facility is a 78,000sf / 2,000L scale small volume clinical biologics facility to supply Drug Substance and was completed in 19 months.
In reviewing the facility submission, highlights of the facility that were particularly appealing, represent this year's achievement of Pharma 4.0™ principles and form a new 'role model included:
A highly integrated facility embodying the principles sought by Pharma 4.0™
Deliberate culture of innovation and bold thinking, which was evident in multiple aspects of the facility design, build and operation.
Embedded technical and operational innovation.
Fully integrated automation, robotics, and operations management systems.
Ballroom and standardized work cells for manufacturing effectiveness
Rapid response and agility goals, aligned with clinical supply chain optimization.
The ability to easily scale from a single batch to campaigns in the same facility.
Single use and closed processing, allowing parallel operation and minimum changeover downtime, eliminating CIP/SIP and autoclaves
Reduced area classification, enabling simpler and more effective operations.
Genentech first application of full digital validation and a paperless manufacturing operation
An innovative, significantly simpler, and strategic approach to learning practices.
Digital twin, Artificial Intelligence in construction and virtual reality training
Sustainability incorporated into the base design concepts and a LEED Gold award.
The Genentech Clinical Supply Center (CSC) project is recognized with the FOYA 2023 Pharma 4.0™ category winner award as a role model on how the application of bold objectives, deep alignment and end-to-end planning, innovation in applying digital technologies, integration and challenging paradigms all lead to a Facility that delivers improved outcomes in terms of construction, safety, facility productivity and patient access to innovative medicines.
Supply Partners and Key Participants:
Manufacturer/Owner Name: Genentech
Engineer/Architect (A&E):
Fluor Enterprise Inc.
Perkins & Will Inc.
Southland
Commissioning and Qualification:
Project Delivery Partners Inc
Valspec
Construction Manager: XL Construction Corporation
Main/General Contractor: XL Construction Corporation
Piping Subcontractor: Murray Company
HVAC Subcontractor: Southland
Electrical Subcontractor: Redwood Electric
Automation and Control Suppliers: Emerson Process Management LLLP
Major Equipment Suppliers/Contractors:
Global Life Sciences Solutions / Cytiva
Sartorius Stedim North America
Repligen Corporation
Redwood Electric
AES