Takeda Pharmaceuticals International AG
Location: Singen, Germany
Project: TaSiVa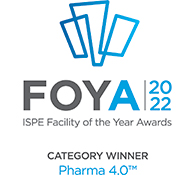 ---
Takeda Pharmaceuticals International AG is a global, patient-centric, and science-driven biopharmaceutical company with headquarters in Tokyo, Japan. Its purpose is to strive toward better health for people and a brighter future for the world. We are guided by our values of Integrity, Fairness, Honesty, and Perseverance. Takeda operates over 30 manufacturing sites around the world.
Vaccines represent one of Takeda's core therapeutic areas. The TaSiVa facility is located in Singen, Germany. The innovative approach to the project, implementing pharma 4.0 technologies as part of the overall project delivery, also complemented the companywide digital transformation. It included several key collaborations with suppliers and academia to develop pharma 4.0 solutions.
The facility was built with state-of-the-art process equipment and then layered with advanced digital technologies in several key areas. A complete IT infrastructure upgrade was completed at the site during the early phase of the project thus providing the platform to utilize advanced information technology (IT)/ operational technology (OT) solutions as part of the project delivery.
Real-time performance tracking and management are achieved through the implementation of an embedded warehouse management system (eWM) coupled with the use of electronic batch records. Interfacing these systems enabled a "no-touch" transport concept to be implemented using autonomous mobile robots to transport materials to and from manufacturing and logistics. This also includes an automated Kardex storage and robot system for automated transport of small goods to operations. The electronic batch records (EBR) system is interfaced with other OT solutions in quality control LIMS and is used for environmental monitoring which is a paper-free process at the plant.
The EBR solution in packaging is level 1 – 4 integrated, enabling process orders to be sent from Takeda's ERP system directly to the packaging machines during operations with performance data linked to Takeda's Enterprise Data Backbone (EDB).
Robotics are used in packaging alongside operators to increase safety and improve ergonomics at the syringe and vial loading stations on the lines. A single centralized palletizer is employed to simultaneously pack pallets from the facility's 2 packaging lines.
A solution to significantly reduce material waste was developed using an advanced algorithm based to optimize drug substance selection. An automated dosing solution ensures precision dosing of the drug substance during processing. In the lab, a highly manual process of counting immune-stained foci was converted to an automated system that was initially trained using thousands of pictures and is targeted for fully automated counting in routine operations.
An AI-enabled, automated visual inspection lyophilized product is also developed to increase inspection accuracy and reduce low false reject rates during routine operations.
A virtual reality training center was also developed at the site for the training of operators to work in cleanroom environments.
With all these digital technologies applied, Takeda was then able to apply a control tower concept across the facility which enables real-time performance monitoring and alignment with the tiered accountability system of management throughout the plant. The Takeda TaSiVa project is recognized with the FOYA 2022 in the category Pharma 4.0 as it exemplifies how the application of innovation in advanced digital technologies leads to improved outcomes in terms of safety, product quality, and productivity in a pharmaceutical manufacturing facility.
Supply Partners and Key Participants:
Manufacturer/Owner Name: Takeda GmbH
Engineer/Architect (A&E):
Construction Manager: Implenia Regiobau
Piping Subcontractor: Fuchs Haustechnik
HVAC Subcontractor: Bühr Lufttechnik
Automation and Control Suppliers: Schneider Electric GmbH
Major Equipment Suppliers/Contractors:
Groninger
Metall+Plastic
GEA Lyophil
Fedegari
Syntegon Packaging Systems AG
UHLMANN Packaging systems GmbH