Quality Management Systems: Agile Approach for Product Realization & Lifecycle Management (T57) - New Course!
Overview
The Pharmaceutical Quality System (PQS), supported by ICH Q10, is the key foundation on which product realization depend. Through lecture and group exercises this course illustrates how quality systems work, the purpose of the different elements, how they connect to each other and how to recognize and transfer knowledge/connectivity throughout the organization. The diagram below from ICH Q10, covers the product life cycle for a PQS/QMS system and all aspects will be covered by this course. We will be using QMS and PQS terms interchangeably throughout this course to establish a holistic approach.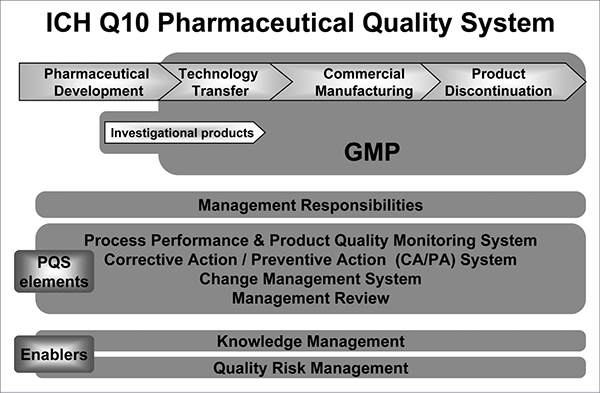 Source: International Conference on Harmonization of Technical Requirements for Registration of Pharmaceuticals for Human Use, ICH Harmonized Tripartite Guideline, Pharmaceutical Quality System Q10
---
What You Will Learn
International regulatory PQS guidelines from EMA, USFDA and PIC/s and related regulatory actions to understand how compliance, science and risk both depend on the QMS/PQS.
Background, objectives and the business benefits of ICH documents:

Q10 Pharmaceutical Quality System
Q9 Quality Risk Management
Q8 Pharmaceutical Development
Q11 Development and Manufacture of Drug Substances
Q12 Technical and Regulatory Considerations for Pharmaceutical Product Lifecycle Management (draft)

The PQS' role in quality and regulatory phases of the lifecycle including development, technology transfer, manufacture and discontinuation.
---
Resources and Activities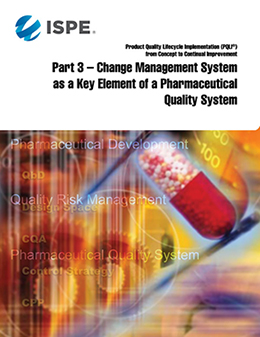 ---
Course Modules
Introduction ICH Q10 background, regulatory, lifecycle & elements
Regulatory & Q10 Background

Breakout Scenario - Warning Letters

Summary of Q10

Breakout Scenario - ICH Q10

Enablers

Knowledge management and quality risk management

Management Responsibilities & Outsourced activities

Breakout Scenario: Management Responsibilities

Product Performance & Product Quality Monitoring System (PPPQMS)

Breakout Scenario: Development and manufacturing for API, a new product, a legacy product
Using the process performance and pharmaceutical quality system to drive continual improvement

CAPA and Change Management and Change Management and link to QRM

Breakout Scenarios: Change Management

Management Review
Quality Culture Module
---
Who Should Attend
Quality Assurance
Tech Support
Tech transfer functions
Operations functions
Early career (3-5 years within the industry)
Qualified persons in Europe
Team Lead/Operator/Technician Staff
Managers
Section heads
Supervisors and CEOs
President
Owner or General Manager working in pharmaceutical and biotech manufacturing (not CMO)
Engineering
Architecture or construction
Service provider or consulting
Equipment or material supplier
---
Addtional Course Details
Learning Objectives
Apply ICH Q10 terminology, concepts, and implementation to provide meaningful application for determining the
objectives and enablers for:

Product Realization, State of Control, PPPQMS, QRM
Q9 Quality Risk Management
Knowledge Management
Management Responsibility: Management Review, Outsourced activities
Continual Improvement: CAPA, Change Management

Apply ICH Q9 philosophy, principles and risk management to assess the impact:

Process Understanding
CAPA
Continual improvement
Change Management, including

EU: Type IA, IB, II; Post Approval Change Management Protocols and US: CBE, Post
Approval Supplements, Annual Reportable, Comparability Protocols

Discuss the organization and use of external parties; how to get the best from similarities and differences between PQS systems in Contract givers and Contract receivers; monitoring suppliers (e.g. technical agreements, 'ownership' of supply chain, differing views of Stage 3 CPV scope).
Understand State of Control, what it means and how it relates to:

Validation and CPV/OPV, APQR
PV lifecycle Stage 3
Technology Transfer

Understand the importance of establishing a cross-functional quality culture for successful PQS implementation and to ensure product quality by applying the tools provided.
---
Daily Schedule and Pricing
This course is not currently scheduled, but may be offered at your company site. Please
contact ISPE
for more information