Managing the Risk of Cross Contamination: Applying the Risk-MaPP Baseline® Guide (T41)
Overview
As regulations worldwide are moving to risk-based approaches to determine when shared facilities can be used, manufacturers need tools to help meet the new requirements.  The tools include setting appropriate health-based limits, technical and organizational controls, risk management processes, and understanding how to pull it all together in a succinct package for regulators, auditors as well as senior management.  When applied properly risk management processes can help reduce costs and increase efficiencies while maintaining patient safety and product quality.  This is important as patients and regulators are pushing for lower-cost medicines.

The key is to understand your risk of cross contamination and be able to present scientific justification to regulators and auditors worldwide through scientifically based risk assessments that identify the need for risk controls.  ISPE's Baseline Guide: Risk-Based Manufacture of Pharmaceutical Products (Second Edition) helps companies manage their risk of cross contamination by outlining a scientific, risk-based methodology based on ICH Q9 that can be used to lead teams through the process to satisfy auditors as well as global regulators.  This classroom course will focus on using the logic diagram, how cross contamination control fits into the Quality System, how health-based limits are developed, setting cleaning validation limits, risk assessments for cross contamination and formulation a Quality Risk Management Plan.
---
What You Will Learn
Updated EU GMPs relative to managing the risk of cross-contamination and guidance provided by the EMA to pharmaceutical industry on how to set health-based limits that would be used in the risk management process to determine if shared facilities can be used. This guidance also states "PDE and ADE are effectively synonymous".
Additional information on assessing the risk of airborne transfer and determining the proper filtration needed for recirculatory air handling systems.  In-depth review of scenario 4 (Existing Facility with a Large Product Portfolio) from the guide.
Adoption by U.S. and EU regulators of a "life cycle" approach to process validation incorporating stages of process design, process qualification, and continued process verification. The Process Validation Lifecycle recognizes that validation is an ongoing control strategy to manage risks and maintain process control. The concept of ongoing assurance of cleaning process efficacy is one of the keys to control the cross-contamination discussed within the course.
The sharing some lessons learned for implementing risk-based approaches to managing the risk of cross-contamination.
---
Resources and Activities
Pre-Course Work Materials
Interactive Exercises
Learning Assessments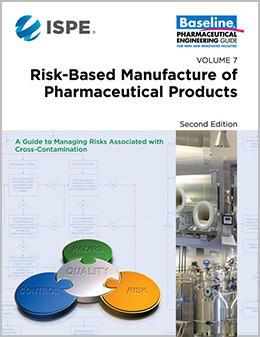 ---
Course Modules
Overview of ICH Q9 and how Risk-MaPP fits in
Introduce the Logic Diagram
Risk Assessment

Risk Identification and setting limits
Risk Analysis – gathering data
Risk Evaluation – comparing identified and analyzed risk against risk criteria

Risk Control

Risk Reduction
Risk Acceptance

Risk Management Tools
Regulations
Governance documents and ICH Q10
Pulling it all Together
Risk Review
Risk Communication
---
Who Should Attend
Anyone dealing with multi-product facilities especially QA, Toxicologists, EH&S professionals, Engineers, Operations, Cleaning Validation, Project Managers, Regulators/ Inspectors
Containment basics and the use of operator exposure limits
Setting cleaning limits (note this session will not discuss cleaning procedures, processes, etc)
---
Additional Course Details
This course includes a pre-recorded Webinar that provides a review of the basics prior to the classroom course. You will receive information via email on how to access the Webinar one week prior to the start of the training event.

At the conclusion of this Webinar, participants will be able to: Understand the "why," what," and "how to use" the ISPE Baseline® Guide, Risk-Based Manufacturing of Pharmaceutical Products (Risk-MaPP). Risk-MaPP provides a scientific risk-based approach, based on ICH Q9 Quality Risk Management, to manage the risk of cross contamination in order to achieve and maintain an appropriate balance between product quality and operator safety. In preparation for the course, the webinar will review the history of Risk-MaPP and what it is; why it is important along with why it is needed and fits into the regulatory landscape.
Learning Objectives:
At the conclusion of this course, participants will be able to:
Determine when multi-product facilities can be used
Use the logic diagram to guide a team through the process of determining how to manage the risk of cross contamination
Understand where to get health-based data for use in risk assessments
Develop scientific risk-based cleaning validation limits
Prepare a Quality Risk Management Plan for Cross Contamination
NOTE: This course will expand upon some basic concepts in the following areas so attendees should be familiar with the basics prior to attending this session
Community of Practice (COP)
This training course is of particular interest to existing and future members of the ISPE Containment Community of Practice (COP).
---
Daily Schedule and Pricing
This course is not currently scheduled, but may be offered at your company site. Please
contact ISPE
for more information