Level: Fundamental
ISPE CEUs: 1.5
Type: Classroom Training Course
Primer Webinar
Turning QbD into a Practical Reality (T43)
Overview
Substantial business benefits are emerging from industry when Quality by Design (QbD) principles are used for new and existing drug products yielding reduced operating costs, enabling significantly more efficient manufacturing processes and better positioning companies to meet increasing regulatory expectations.
For example, the completion of ICH Guidelines, Q8 (R2): Pharmaceutical Development, Q9: Quality Risk Management and Q10: Pharmaceutical Quality System and the recent USFDA guidance on Process Validation contain recommendations for building and capturing process knowledge and understanding and establishing a strategy for process control during Stage 1, process design. There is evidence from 483s and warning letters that FDA is citing unacceptable levels of process understanding, like an unidentified and lack of control of factors that cause variability in process. Additionally, FDA appears to be accelerating the QbD push, suggesting that ANDAs for generic drugs should have QbD elements.
This interactive classroom training course utilizes the ISPE PQLI Guide Series: Part 1 - Product Realization using Quality by Design, Concepts and Principles and Part 2 - Product Realization using Quality by Design, Illustrative Example as the basis for explaining and providing examples of how products and processes can be developed, using QbD with special emphasis on the considerations for implementing these processes in manufacturing.
Through group exercises, the course will delve into implementation and operation of an effective and efficient control strategy in manufacturing which is a key element of process performance and product quality monitoring and continual improvement. The link to control of attributes and parameters to relevant critical quality attributes of the product and application and implementation of enhanced, QbD approaches and USFDA Process Validation Guidance will be explored.
Note: This course will not cover the regulatory submission processes or detailed engineering designs.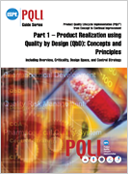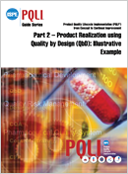 Immediately apply the course learning objectives through group exercises using the electronic downloads of the ISPE PQLI Guide Series:Part 1 – Product Realization using Quality by Design (QbD): Concepts and Principles and Part 2 – Product Realization using Quality by Design (QbD): Illustrative Example you'll receive by attending this course. Mini-regulation handbooks for ICH Q8 (R2), Q9 and Q10 and Q11 will be provided.
Webinar
We recommend participants complete the primer course webinar, PQLI 101 that provides the background for the origins of the ICH guidelines, Q8 (R2), Q9, Q10 and Q11: Development and manufacture of drug substances (chemical entities and biotechnological/biological entities) and understand the link between these and other relevant regulatory guidelines and the ISPE PQLI Guides. You will receive information via email on how to access the webinar one week prior to the start of the training event.
Course Modules
Day 1
Regulatory background and benefits of QbD
QbD roadmap – ICH Q8R2

Breakout - Understanding QbD process

Quality Risk Management (QRM) (process and tools e.g. FMEA, risk ranking)

Breakout - Learning about FMEA

Control Strategy 1 - Options, selection, elements.

Breakout - Application of FMEA to Control Strategy selection

PQS & GMP and link to CS

Breakout - PQS/GMP and relationship to Control Strategy
Day 2
Review of Day 1
Control Strategy 2 - Application in manufacturing including process controls, PAT

Break out - application of FMEA to Control Strategy implementation

Process Validation – US FDA, Stages 1, 2 and 3 including equipment qualification, use of ASTM E2500 & ISPE C&Q science-and risk-based approach and the European approach to Process Validation

Breakout - Process Validation

Continual Improvement (CI) – an introduction to statistical process monitoring, importance of understanding analytical variability
How to apply the QbD principles in your own organisation
Take Back to Your Job
Within the manufacturing environment:
understand and apply QbD terminology including the principles of a science- and risk-based approach, the importance of product and process understanding and patient requirements
use tools and techniques provided to understand the application of Quality Risk Management (QRM)
understand the implications of relevant ICH, EMA, and FDA Guidelines
learn about the QbD process
review some QRM tools (FMEA, risk ranking) and apply FMEA to Control Strategy selection
know the relationship between PQS and GMP and how they link to Control Strategy
understand the considerations when implementing a control strategy derived from enhanced, QbD approaches
review the scope of the US FDA Process Validation including equipment qualification, ASTM E2500 and the ISPE Commissioning and Qualification and the links to science- and risk-based approaches
examine opportunities for continual improvement arising from application of statistical techniques
Attendance Suggested For
Manufacturing, engineering, quality and validation professionals with intermediate level experience in manufacturing, engineering, validation, quality control and assurance, technology transfer and those that are new to Quality by Design principles.
Community of Practice (COP)
This training course is of particular interest to existing and future members of the ISPE API, C&Q, CU, OSD, PAT, PPD, Sterile Communities of Practice (COPs).
This course is not currently scheduled, but may be offered at your company site. Please
contact ISPE
for more information