Level: Intermediate
ISPE CEUs: 1.5
Type: Classroom Training Course
Includes Webinar
Note: ISPE has two Pharmaceutical Water training courses that we deliver consecutively at our training events. You might also be interested in the Storage Delivery and Qualification of Pharmaceutical Waters training course.
Pharmaceutical Water Generation (T04) - Updated!
Overview
Note: ISPE has two Pharmaceutical Water training courses that we deliver consecutively at our training events. You might also be interested in the Storage Delivery and Qualification of Pharmaceutical Waters training course.
Pharmaceutical water is perhaps the most important of all pharmaceutical utilities. It is used as an excipient in many pharmaceutical formulations, as a cleaning agent, and as a separately packaged product diluent. In addition to non-compendial systems, pharmaceutical facilities typically include systems for generating USP Purified Water (PW) and USP Water-For-Injection (WFI). This course has been substantially updated to feature the guiding principles of the ISPE Baseline Guide: Water and Steam Systems (Second Edition) with particular emphasis placed upon the new chapters for microbial control and laboratory water as well as key design philosophies. The course will include discussion of the upcoming European Pharmacopoeia regulatory change allowing alternative WFI production methods in addition to distillation. The change will align EP requirements closely with USP WFI production methods opening opportunities for membrane based systems. The course will also include material from the new ISPE Good Practice Guide: Sampling for Pharmaceutical Water, Steam and Process Gases and will review optimizing sampling plans to significantly reduce operational costs.
This classroom course will cover the principles of design and operation of water systems used directly in pharmaceutical manufacturing and laboratory applications, including the essential concepts and principles of systems used to generate USP and non-compendial waters. These concepts include specification, design, operation, testing, and maintenance of equipment and systems for water generation. Participants will examine methods for proper water quality selection, information on compendial and non-compendial waters, fundamentals of basic water chemistry, and information on common unit operations (deionization, reverse osmosis, and distillation). Pre-treatment systems, detailed guidance for selection of construction materials, and operations issues related to pharmaceutical water generation systems will also be discussed.
It is important to note that the different compendial pharmaceutical waters have different specifications. The commissioning and qualification practices described in the Good Practice Guide: C&Q of Water and Steam Systems (Second Edition) to create and preserve water quality, in both generation systems and distribution systems, may vary according to the type of compendial water.  Common water system myths will also be explored and a variety of practical system designs will be evaluated for USP and FDA compliance, as well as their advantages and disadvantages. Particular attention will be paid to system and component sanitization procedures and microbial control.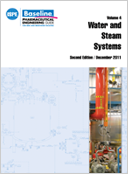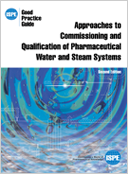 Immediately apply the course learning objectives with the electronic downloads of the Water and Steam Systems Baseline® Guide (Second Edition) and the Good Practice Guide: C&Q of Water and Steam Systems (Second Edition) you'll receive by attending this course.
Course Modules
Introduction & Regulatory Background
Planning & Programming Water Systems
Basic Water Chemistry Concepts
Water Systems Microbial Considerations
Feed Water Characterization
Basic System Review
Pretreatment Systems
Reverse Osmosis Theory and Design
Deionization Processes
Processes: UV, MVD, UF & MF
Distillation
Purified Water Systems
Water for Injection Systems
Non-compendial System Design & Foreign Compendial Systems
Water for Laboratory Use
Pharmaceutical Steam
Appendices
Exercises
Includes Webinar
This course includes a pre-recorded Webinar that provides a review of the basics prior to the classroom course. Access information will be provided via email one week prior to the start of the training event.
Webinar Learning Objectives
Discuss regulatory requirements, current FDA views and current Good Manufacturing Practices (cGMP) as they relate to pharmaceutical water systems
Explain the effect of the cGMPs, FDA guidance documents, ISPE Baseline® Guides, and other reference documents on water system design, construction, maintenance and validation
Compare common water process design alternatives for USP PW and WFI system
Take Back to Your Job
Differentiate regulatory requirements from regulatory myths relative to water treatment systems
Apply the fundamentals of basic water chemistry
Identify detailed unit process performance characteristics and design parameters
Understand fundamental water quality requirements and the difference between compendial, non-compendial and laboratory  water systems
Define the fundamentals of various generation system alternatives
Ability to defend and critique design, operation and maintenance practices with the ability to identify issues and troubleshoot component
Attendance Suggested For
Pharmaceutical professionals who are new to water treatment systems or those with significant engineering expertise from another industry who need to learn about pharmaceutical water treatment systems
Those with significant industry experience in other capacities who now have water generation system engineering and/or maintenance responsibilities and want to gain a fundamental understanding of the requirements for designing, building, operating testing, and maintaining these systems
Water treatment systems quality assurance and quality control specialists, manufacturing supervisors, technical support personnel, and all levels of management who want to gain a fundamental understanding of pharmaceutical water generation systems
Those with significant pharmaceutical water experience who want understand current industry trends and ISPE consensus views.
Community of Practice (COP)
This training course is of particular interest to existing and future members of the ISPE Critical Utilities Community of Practice (COP).
13 July 2020 - 14 July 2020

North Bethesda, MD United States

Daily Schedule

Daily Schedule at a Glance
07:00 – 08:30
Registration Open
08:30 – 17:00
Training Course
10:30 – 11:00
Refreshment Break
12:00 – 13:00
Lunch
15:00 – 15:30
Refreshment Break

---

Mail or Fax Registration

Not paying by credit card? Use the registration form to pay by mail or by fax.

Group Discount Rate

Bring your team to the ISPE 2020 Biopharmaceutical Manufacturing Conference

3 - 5 participants - Save 10%
6 - or more participants - Save 20%

Group discount applies to Member/Nonmember rate only. To qualify, all registrant information must be submitted at the same time. Registrations that arrive later will NOT be eligible for the group discount. Cannot be combined with other offers. To register as a group, please contact ISPE by telephone, +1-813-960-2105 or by email, ask@ispe.org.