An Overview of Biopharmaceutical Manufacturing Processes (T24) - Updated!
Overview
This classroom course provides a comprehensive understanding of biotech manufacturing processes - what makes biopharmaceutical processes different from small molecules. Course content explores the underlying principles of proteins and cells to provide the foundation for how and why processes manufacture therapeutic proteins. The course studies commonly used manufacturing process operations including cell culture and fermentation; harvest and recovery; viral removal and inactivation; purification processes such as tangential flow filtration, centrifugation, size exclusion, and adsorptive chromatography. Course topics include:
Biotechnology basics
Identify and discuss important operating parameters for each bioprocess unit operation and how they impact process performance
What parameters are important for process validation
Critical factors for developing a viable commercial manufacturing process
The attributes of a "good biotech process" for successful manufacturing
Process/Facility relationships
The impact of single-use systems in bioprocesses
Additional content will focus on a review of current regulatory guidance impacting process development and execution.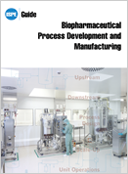 Immediately apply the course learning objectives with the electronic download of the ISPE Guide: Biopharmaceutical Process Development and Manufacturing you'll receive by attending this course.
Course Modules
Introduction
Biotech Basics
Regulatory & QbD
Culture of Cells & Media
Filtration processes
Viral Removal and Inactivation
Chromatography
Single use
Facility and Utilities
Scale-up
Includes Webinar
This course includes a pre-recorded Webinar that provides a review of the basics prior to the classroom course. You will receive information via email on how to access the Webinar one week prior to the start of the training event.
Webinar Learning Objectives:
Describe the process of developing biopharmaceutical processes for clinical and commercial manufacturing of biotechnology products
Discuss the bioprocess development factors that are critical to successful biopharmaceutical product development
Take Back to Your Job
Understanding of how and why biotech processes work and an understanding of the challenges of biopharmaceutical manufacturing
Understand what the engineers and scientists are talking about
Discuss the relationships between product, process, and facility attributes in biomanufacturing
Understand current regulatory guidance impacting process development and execution
Understand options available for single use technologies in biomanufacturing
Attendance Suggested For
Individuals with a working knowledge of basic biotechnology and GMP principles, responsible for process design, process validation, and equipment design/selection for biopharmaceutical applications.
Management, supervisory, and engineering personnel beginning work in biopharmaceutical product development, production operations, quality assurance, and regulatory compliance.
Anyone who wants to know how biopharmaceutical manufacturing processes work.
Community of Practice (COP)
This training course is of particular interest to existing and future members of the ISPE Biotechnology Community of Practice (COP).
---
Daily Schedule and Pricing