Why Advertise with ISPE?
ISPE's 18,000 global members represent leaders in the pharmaceutical and biopharmaceutical industry.  The majority of our members are very experienced, with more than 15 years of industry experience with expertise spanning the entire industry.  Pharmaceutical Engineering® has a global reach with a diverse group of professional engineers, working across all facets of the pharmaceutical, biotechnology, and manufacturing industries; regulators; business leaders; academics; and students.
Level of Responsibility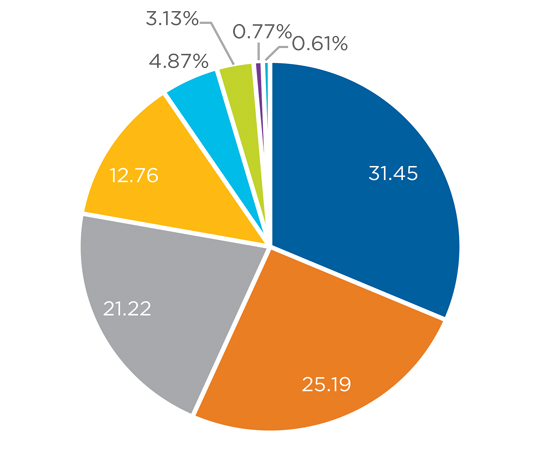 Director/Division Mgr/Senior Mgr
 Team Lead/Operator/Technician/Staff
 Manager/Section Head/Supervisor
 CEO/President/Owner/General Mgr
 Student/Post-Doctoral Fellow
 Vice President/Chief Officer
 Dean/Professor/Educator
 Retired
Years in Industry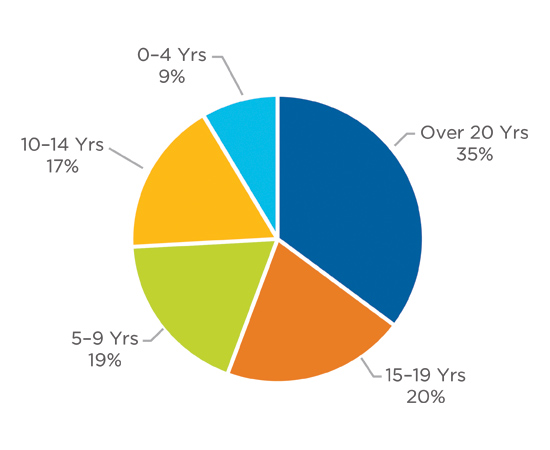 Areas of Expertise
Architect/Engineer/Construction: 15.03%
Clinical Materials/Investigational Products: 1.08%
Health/Safety/Environmental:  1.08%
Knowledge Management: 0.73%
Operations/Plant Mechanics(electric, utilities: 9.08%
HVAC)/Facilities/Maintenance Planning:  0.0%
Process Control/Automation: 4.27%
Procurement/Buyer/Planners: 0.19%
Project Management: 8.31%
QA/QC/Regulatory Compliance: 17.43%
Sales and Marketing:  7.79%
Research and Development/Technology: 8.64%
Transfer/Process Development:  0.0%
Statistician: 0.19%
Supply Chain Management/: 0.81%
Warehouse Operations/Logistics Planning:  0.0%
Technical Services/Product Support/: 6.04%
Information Systems:  0.0%
Validation/Qualification/Commissioning: 13.49%
Business Type
API/xcipient Supplier/Distributor: 2.39%
Contract Manufacturer: 2.85%
Cosmetics, Nutraceuticals, Food Manufacturer: 0.54%
CROs, Clinical Materials, Investigational Products: 1.09%
Educational or Government Entity, Libraries: 4.79%
Engineering/Architecture/Construction: 15.96%
Equipment/Material Supplier: 9.75%
Generics Manufacturer: 2.40%
Laboratory Services: 0.65%
Medical Devices/Diagnostic Manufacturer: 2.76%
Pharmaceutical/Biotech Manufacturer (Not CMO): 39.96%
Service Provider/Consulting: 16.34%
Veterinary Medicine: 0.51%
---
Advertising Opportunities
Pharmaceutical Engineering Magazine Print Edition
Since 1980, Pharmaceutical Engineering magazine's mission has been to share with readers scientific and technical developments in pharmaceutical and biopharmaceutical manufacturing. A bimonthly publication available exclusively to ISPE's 18,000 members, Pharmaceutical Engineering offers readers a global picture of the industry.
Pharmaceutical Engineering Online
Launching in late 2018, our new online magazine will deliver more robust content to our Members and readers in a more timely fashion. Pharmaceutical Engineering Online will feature both open access and member-only content, expanding the readership of the magazine. A new suite of opportunities will be available to our advertisers through the online site.
ISPE.org
Our Society website is a comprehensive source for critical information related to the pharmaceutical and biopharmaceutical manufacturing industry, providing access to the latest industry and regulatory news, best practices, and ISPE's renowned body of knowledge.
Over 1 million yearly visits, with over 650,000 unique visitors
Over 3.3 million annual page views
eNewsletters
Make immediate contact with thousands of our members by sponsoring our eNewsletters. Two newsletter options available featuring sole sponsorship.
---
Get started now by completing the form below for a download of our brochure to get all the details on the various advertising opportunities available.