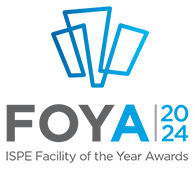 Has your company recently designed, built or renovated a state-of-the-art pharmaceutical or biotechnology facility that is best in its class? 
ISPE's Facility of the Year Awards Program is the premier global awards program recognizing innovation and creativity in the pharmaceutical and biotechnology manufacturing industries. The FOYA program showcases accomplishments in facility design, construction, and operation. It celebrates the shared commitment and dedication of individuals working for different companies worldwide to enhance patient health and safety through innovation and advancements in pharmaceutical and biotechnology manufacturing.
Projects selected for these prestigious awards set the standard for pharmaceutical facilities by demonstrating excellence in the categories of:
Innovation
Operations
Supply Chain
Pharma 4.0™
Social Impact
---
Submissions
Requirements
Previous Facility of the Year Awards Winning Projects are not eligible.
Entries must be approved and signed by the owner/manufacturer or they may be submitted by another company on behalf of the owner/manufacturer; however, the owner must sign the Program Entry and Applicant Release forms from the Submission Forms packet.
Submission Forms
All required entry forms are to be downloaded, completed, and emailed to ISPE. The full submission should be prepared in accordance with the guidelines provided in these instructions and submitted electronically. See pages 7–9 for detailed submission instructions and recommendations for electronic submission. Submissions must be received by the stated deadline and each submission must include all required information, signatures, and payment in order to be complete.
Download Submission Instructions
Download Information Spreadsheet
Payment for the entry fee in the amount of US$750 must accompany each submission. Please send completed forms to ISPE FOYA team.  Final project submissions are due no later than 4 December 2023. For more information about completing your final submission, please read the Program Guide portion of the 2024 Program Guide and Submission Instructions.  Projects submitted from many countries around the world have been named Category Award Winners in the annual FOYA Program, and we'd love to receive a submission from you.
---
Facility of the Year Awards Eligibility
Building Types 
Manufacturing-Based Projects

GMP manufacturing-based projects consisting of buildings, equipment, systems, and manufacturing methodologies deployed to manufacture regulated pharmaceutical drug substances, drug products, medical devices, combination products, and other commercial entities under the purview of the US FDA, and other global regulatory bodies.

In addition, non-regulated facilities that meet the criteria listed above may also be eligible if demonstration is provided to indicate they are operated within similar GMP guidelines.

Process Development Projects

Project examples may include laboratories, pilot plants, medical device production, fill/finish, packaging facilities, and other similar process development facilities that may or may not be regulated. Submissions will be primarily judged on the merits of the applied innovation as it pertains to the development of pharmaceutical and biotechnology products.
---
Facility of the Year Awards Highlights