Baxter BioPharma Solutions
Location: Halle, Germany
Project: Baxter BioPharma Solutions (BPS) Oncology Manufacturing Expansion
Baxter International's parenteral manufacturing plant undertook a challenging project to add additional capacity to service the CMO market of parenteral oncology and other complex liquid and lyophilized products. Expansion was designed to accommodate the need for life saving unit dose products, with flexibility and efficiency to offer both large-scale, small-scale liquid and lyo vial filling, aseptic formulation, terminal sterilization, and flexible formulation capacity for a variety of challenging oncologic and other sophisticated parenteral products, small molecules, biologics, antibody-drug conjugates, emulations, liposomes and suspensions. Intent was to provide full services "under one roof" that facilitate short startup time and minimized transfer costs.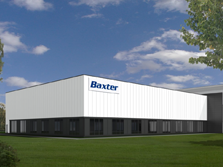 Baxter applied operational excellence principals to innovative manufacturing concepts with state-of-the-art isolator technology, combined with high flexibility for rapid changeover and broad flexibility to manufacture a wide variety of liquid formulations (organic solvents, biologics, suspensions) in a combination that helps assure product quality and economical manufacturing. This enabled Baxter to double output without impact to current operations. Overall project cost was $61.6MM, and facility addition was 18,900SF that produces ~15 million vials/year.
Baxter consistently applied Operational Excellence and Lean Manufacturing Principles end-to-end for process, personnel, material and waste flows starting with the design phase of the project that carried through to operation of the facility. Key principles applied included:
Lean Manufacturing Principles utilizing 3D design resulted in a facility made largely out of glass (>60%) where infrastructure design is optimized for processes in a "form follows function" concept.
Designed primarily by in-house engineering staff that was then retained to operate the plant. All production processes were value stream mapped, FMEA (Failure Modes and Effect Analysis) applied, including intensive application of process simulations and computational fluid dynamics (CFD)
Utilization of standard work in defining modular process design. Computer-controlled process flows enabling process standardization for mixing, aseptic filling, cleaning and decontamination processes
Flexible design included a high throughput commercial line that outpaces the current five fillers currently in use at the facility, and a small scale filling line to offer manufacturing of small scale programs focusing on efficiency and high flexibility.
Flexible design also provided adaptable equipment with capabilities for most current formulation developments such as nano-suspensions, biologics, organic solvents, batch sizes as low as one liter, and temperature sensitive APIs.
Filling process quality improvements including 100% weighing control, enabling full control at the end of batch filling, and helping ensure batch filling optimization to the last vial, and both semi-automated inspection and 100% vial inspection and tracking, minimizing any potential defects.
Capabilities built into all lyophilizers for continued and improved process development and detailed process analysis of lyophilization cycles.
All of this contributed to the Baxter team successful completion their project resulting in a facility with planned Operational Excellence. For this accomplishment, Baxter Biopharma Solutions, Halle is awarded the Operational Excellence Category Winner.
---
Key Participants
Designer/Architect/Engineer:  Baxter Oncology GmbH (Halle, Germany)
Construction Manager: IP – Innovatives Planen GmbH
Main/General Contractor/Piping Subcontractor:  Baxter Oncolog GmbH
HVAC Subcontractor:  Daldrop + Dr.Ing.Huber GmbH + Co. KG
Automation and Control Supplier:  Siemens AG Siemens Deutschland
Manufacturing Facility/Process Facility Design/Build and Validation:  Baxter Oncology GmbH
Major Equipment Supplier(s)/Contractor(s):  DEWA Engineering und Anlagenbau GmbH; Fedegari GmbH; On/Off Engineering GmbH; HOF Sonderanlagenbau GmbH; Bausch + Ströbel Maschinenfabrik Ilshofen Gmbh+Co. KG; Skan AG; Hermann Waldner 
GmbH & Co. KG