Takara Bio Inc.
Location: Kusatsu, Shiga, Japan
Project: Center for Gene and Cell Processing Construction Project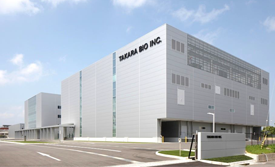 Takara Bio of Shiga, Japan operates in three core business sectors; bio-industry, agribio-industry and gene therapy developing new products in the fields of stem cells, regenerative medicine and cell therapy.  To support their R&D partners and to contract manufacture commercial biopharmaceutical products Takara constructed the Center for Gene and Cell Processing (CGCP) in Kusatsu city, Shiga prefecture.  This facility is unique and is being recognized for its innovative use of facility integration to house cell products, viral vectors and recombinant proteins within the same facility.  
Traditionally, industry places these three functions in separate facilities to eliminate any risk of cross contamination thereby accepting the significant inefficiencies associated with the operation of multiple facilities.  However, Takara Bio, needing to improve operational and cost efficiencies departed from tradition by incorporating well considered facility and operational containment measures to lessen the risk of cross contaminating between the three dissimilar manufacturing processes.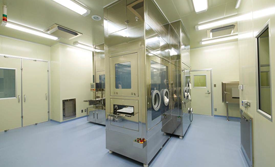 Each of the three functional areas, under appropriate pressure cascade, has a separate entrance for personnel and raw materials via one way paths lessening the risk of cross contaminations.  Rooms were constructed with double ceilings and full height partitions to close that contamination pathway.  The air conditioning systems are completely segregated with HEPA filtered exhaust and UPS/generator power supplies to significantly reduce the risk of airborne materials contaminating the other areas.  Processes include single-use systems, dedicated equipment and the use of RABS.  The RABS sterilization process uses a dry type vaporized hydrogen peroxide (VHP) sterilization process. The air conditioning system ensures uniform disperse once the hydrogen peroxide has become fully vaporized. This sterilization process provides fully automated control of the interior temperature and humidity during sterilization and the VHP concentration. The facility was certified by the Japanese Ministry of Health, Labor and Welfare (MHLW) for cell processing May of 2015.
The judging panel recognizes the facility innovations and the reasoned acceptance of risk required to combine three dissimilar biological processes into one facility and looks for on-going success with additional regulators and manufacturing campaigns to further support this approach as a practical, efficient model for future biopharmaceutical facilities.
---
Key Participants
Designer/Architect/Engineer:  Daikin Applied Systems Co, LTD
Construction Manager/Main/General Contractor: Daikin Applied Systems Co, LTD
Piping Subcontractor:  Hirayamasetsubi Co, LTD
HVAC Subcontractor: Sankikogyo Co. LTD
Automation and Control Supplier:  Kinden Corporation
Major Equipment Supplier(s)/Contractor(s): NGK Insulators, LTD; Santasalo & Steri-pro Solution Corporation; Seeder Co. LTD; Ulvac, Inc.