Chiesi Farmaceutici S.p.A., Research and Development Centre, Parma (Italy)
Sustainability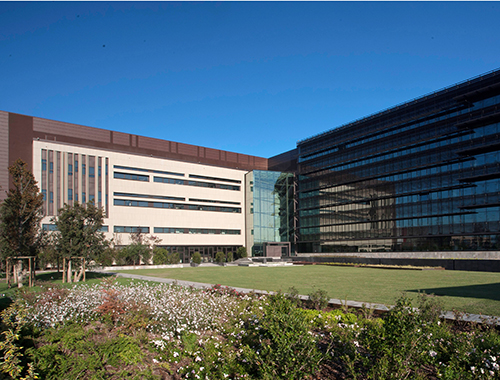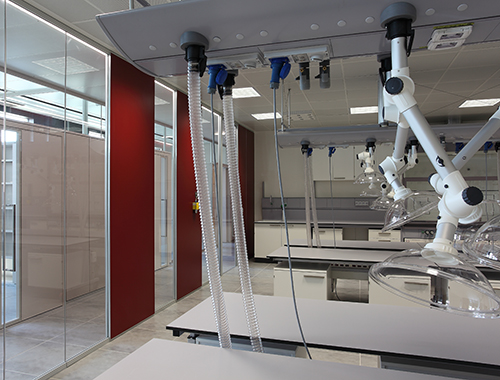 Chiesi built its new Research and Development Centre Parma (Italy) to host all of the company's skills and technologies for the identification of lead compounds, preclinical and clinical development, and the management of regulatory activities and its R&D global portfolio.
Not only does the center confirm the company's commitment to R&D, it represents Chiesi's commitment to sustainability. Located in Parma, Italy, the center was designed and constructed to incorporate sustainable systems and processes into the building with particular attention to energy saving and reduction of the structure's environmental impact.
The project team realized their comprehensive vision of a four dimensional sustainability strategy (reduce demand, harvest free energy, increase efficiency, and recover waste) with features such as: extensive use of atriums and glass walls to maximize natural lighting throughout the facility; "smart system" lighting that gradually adjusts according to external conditions; an Energy Hub Scheme, which was a result of a comprehensive energy demand study to cleverly integrate renewable and traditional energy sources; a highly energy efficient building envelope with a ventilated façade, thermal insulation, and solar shading; and waste recovery systems designed into the facility and to include the transfer of thermal energy of exhaust air and water use.
Eisai Pharmatechnology & Manufacturing Pvt. Ltd, Eisai Knowledge Centre
Project Execution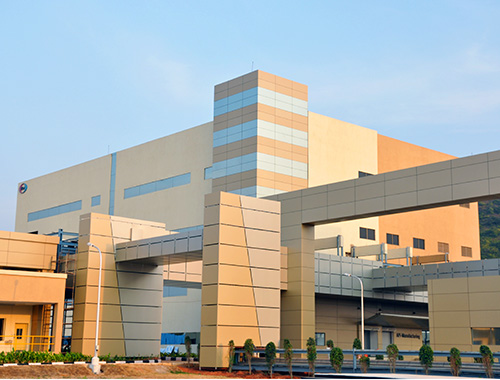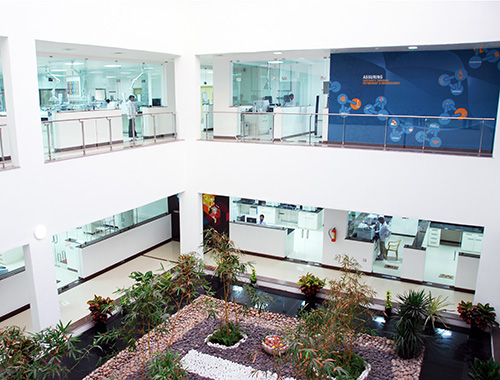 Hailed as the first large production facility in India by a major Japanese pharmaceutical company, the Eisai Knowledge Centre is a 50-acre complex comprising 14 independent buildings constructed on a greenfield site in Visakhapatnam, Andhra Pradesh, India.
In just 17 months, the Eisai Team delivered this contemporary, Japanese style, highly automated API Research and Production and Oral Solid Dosage Manufacturing complex with necessary support facilities. At its peak, the project had 2,000 workers on site. Remarkably, despite 5 million hours worked, there were no reportable safety incidents.
The Facility of the Year Judging Panel was impressed with the project team's ability to overcome the challenges of delivering a project of this size given the complexities of doing so in India. Also noteworthy is the capital efficiency of the project – this high quality, fully integrated R&D and manufacturing complex was delivered for an investment under $50 million.
Merck & Co., Inc., Vaccine Bulk Manufacturing Facility (VBF) Program of Projects
Facility Integration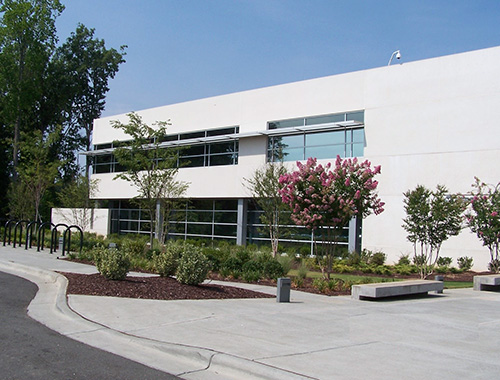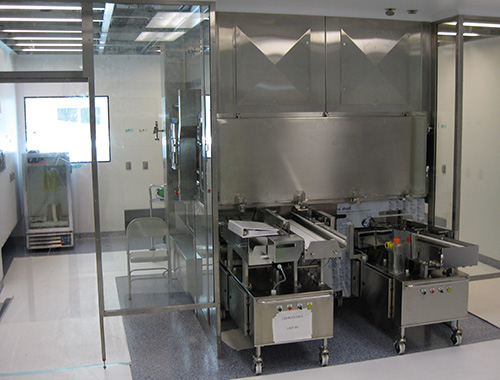 Faced with a projected production shortfall for the Varicella product franchise, Merck responded by delivering the Vaccine Bulk Manufacturing Facility (VBF) Program of Projects in Durham, North Carolina, USA. The 214,000-square-foot facility was built in record time and doubled the output of the vaccine used for Chicken Pox and Shingles.
The Merck Team used an innovative hybrid modular construction strategy that maximized off-site fabrication and equipment testing. Interesting for this application, the integrated construction execution strategy decoupled the design and construction of the building envelope and shell from interior process components, enabling parallel processes – as soon as the building shell was dried in and elevated slab poured, modules were installed simultaneously above the slab. This resulted in the ability to establish two independent work zones (above and below the slab) and saved five months on the schedule.
The team was organized as "One Team" with all members co-located in an integrated partnership. LEAN Six Sigma principles were used throughout the project and resulted in an accelerated transfer of systems to operations. Integrating more than 200 lessons learned from the existing facility and process, the facility was delivered 40% faster than industry benchmarks.
Rentschler Biotechnologie GmbH, REX III
Equipment Innovation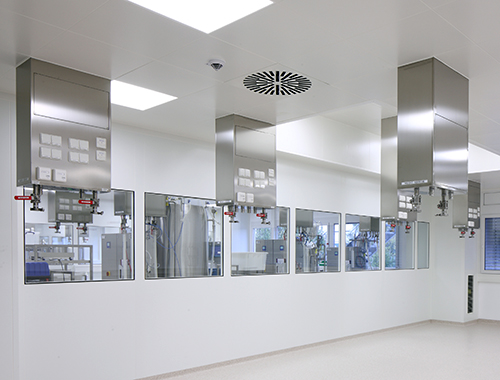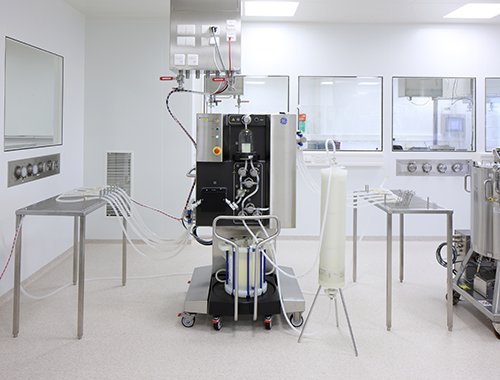 This global full-service contract manufacturer designed and constructed its REX III project in Laupheim, Germany, to host multiple products and achieve maximum flexibility. The 9,800-square-foot facility has an annual capacity of 10 manufacturing projects with up to 24 batches at 1,000 L scale.
To realize flexibility and process changeover speed, single use and ready-to-use technology was implemented consistently throughout the whole facility. To overcome current limitations of single use technologies and to increase manufacturing capability, Rentschler partnered with various suppliers to create a customized single use preassembled manufacturing kit that increases reliability while reducing preparation and contamination risk. Also jointly developed was a highly automated skid for virus filtration that can accommodate a wide variety of manufacturing protocols. The facility also features fully configurable, multi-purpose cleanroom suites.
According to the Rentschler cost model, this novel facility has a 50% reduction of fixed costs and only slightly higher variable raw material costs (less than 10%), thus contributing to a highly favorable cost structure for custom biologics manufacturing.
Roche Diagnostics GmbH, TP Expand
Operational Excellence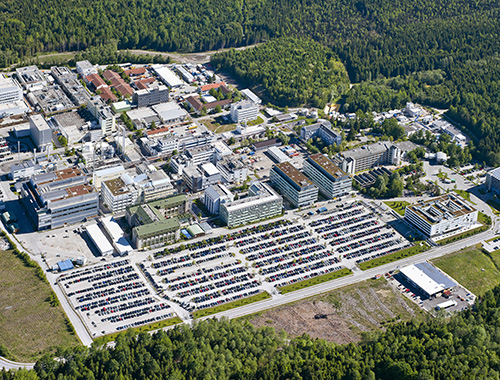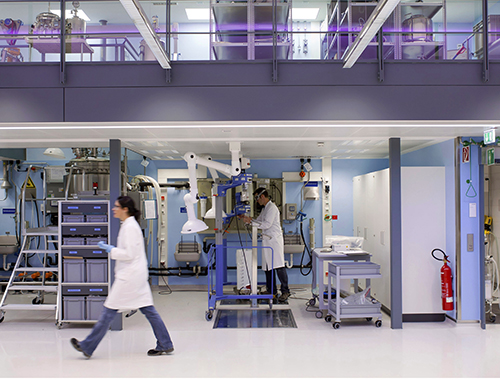 Roche set out to double its capacity for early research and technical development of therapeutic proteins at its Biotechnology site in Penzberg, Germany. This was possible without new construction. The so called "TP Expand project," was the result of an innovative and well engineered master plan featuring six independent projects and a GMP IT system known as DAMAS. The DAMAS system is the key component that enabled a high level of operational excellence at the Penzberg site.
The DAMAS system is a site-wide data management system that interfaces with all data points of the R&D operation for data acquisition, management, and analysis. This system, which handles 133 pilot plant systems, 260 simultaneous users, 954 analytical devices, and 700,000 samples per year, eliminates manual data entry and provides a shared knowledge base.
The TP Expand project encompassed the renovation of 15,000-square-meters of floor space in five different facilities, the relocation of 2,600 assets, and the successful execution of the entire project without any shutdowns. Yet, it was completed in just 36 months without disruption to existing operations.
National Institute for Bioprocessing Research and Training (NIBRT), New Greenfield Facility
Honorable Mention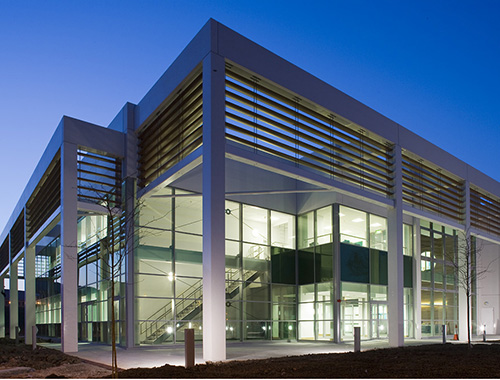 Advancements in pharmaceutical manufacturing sometimes come through innovative collaborations that can ultimately lead to "game changing" outcomes. From its regular consultations with industry, the Irish Government determined it was clear that the manufacture of biologics would have a significant impact on the existing pharmaceutical industry and require a highly skilled workforce. The government convened key stakeholders in government, industry, and academia and together they developed the New Greenfield Facility, or NIBRT facility.
Located on the perimeter of the University College Dublin in Dublin, which is Ireland's largest university, the NIBRT building is designed as a medium scale bioprocessing plant specifically for providing manufacturing research and training solutions to industry. The Facility of the Year Awards Judging Panel was impressed with the realization of a novel idea through innovative collaborations that resulted in Ireland now having a competitive advantage in developing biopharma investment.