Aseptic Technologies
Equipment Innovation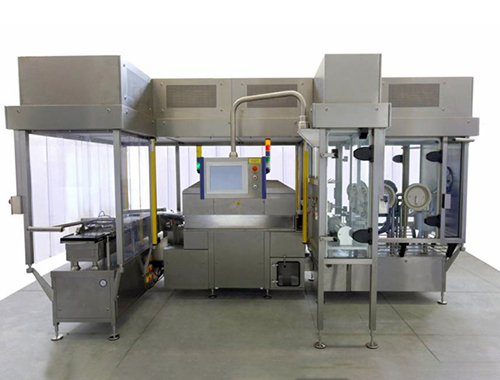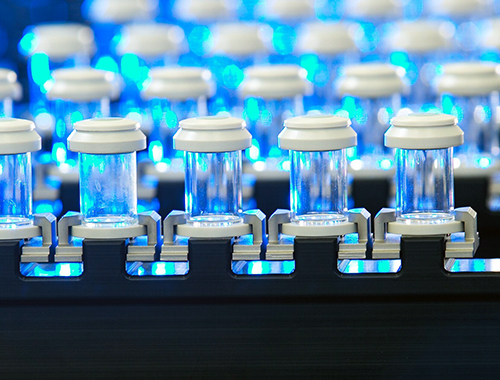 To address the incidents that are still recorded each year due to the injection of contaminated products, and the complexities of vial component preparation, high-speed stoppering, and aluminum cap crimping, Aseptic Technologies, a subsidiary of GlaxoSmithKline Biologicals, developed the new Crystal® Closed Vial technology for aseptic filling of injectable products. As this technology was completely new, Aseptic Technologies decided to install the first Crystal Closed Vial Filling Line (CVFL) in its own Gembloux, Belgium facility and operate it as a contract manufacturing organization to help clients obtain stability data and fill clinical batches before making large financial investments.
The site is located in the center of Europe, 60 km away from Brussels, the capital of Belgium and the European Community. It is composed of two buildings: AT01 which is dedicated to offices, meeting rooms and workshops and AT02 that includes workshop, offices and a filling suite of 400-square-meters with all of the necessary equipment to perform aseptic filling in the Crystal Closed Vial technology.
Key Project Participants:
Designer/Architect/Engineer: Somville, Presciutti and Partners (Fleurus, Belgium)
Construction Manager: Aseptic Technologies
Centocor Biologics Ireland
Sustainability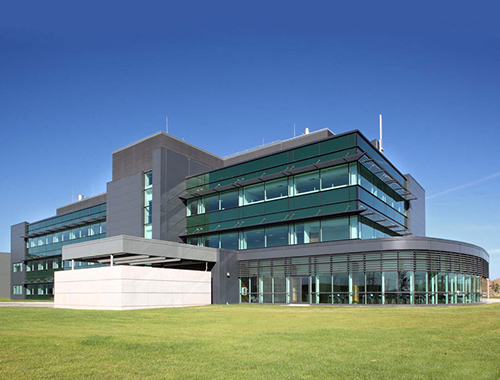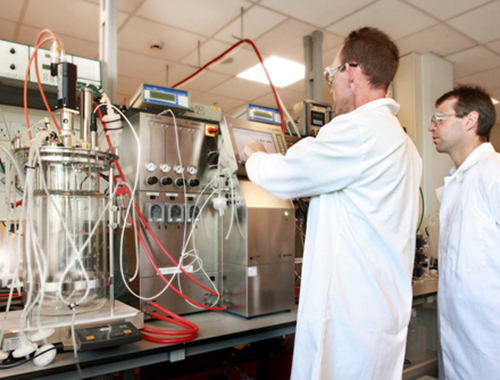 In 2001, Centocor started looking at options to provide additional manufacturing capacity for two promising new drugs in their pipeline. However, its existing manufacturing sites were built-out, so it was necessary to consider a greenfield site. In June 2004, after three years of study, Centocor approved funding to establish a new cell culture and purification site in Ringaskiddy, County Cork, Ireland. The overall mission of this project - dubbed BioCork - was to have 180kg-per-year biologic API capacity approved for market by June of 2010.

The BioCork team worked closely with local residents to mitigate the impact of this large, complex project on the community. The project provided traffic mitigation alternatives, utilized advanced membrane waste water treatment, captured rainwater for recycling, and installed a biomass (woodchip) boiler for base steam load. This project also involved extensive landscaping that included planting 70,000 trees to mitigate visual impact and air quality. BioCork is 40% more energy-efficient than internal benchmark biotech facilities and there was a 90% reduction in the carbon footprint versus fossil fuel. In addition, through careful preparation, communication, and implementation of safety planning, BioCork is one of the safest large projects ever built in Ireland.
Through use of integrated budgeting and scheduling, coupled with full user participation, this complex project was completed ahead of schedule, under budget, and exceeded capability requirements in all areas, most especially in the sustainability category.
Key Project Participants:
Designer/Architect/Engineer: The PM Group (Blackrock, Cork, Ireland) / CRB Consulting Engineers (Plymouth Meeting, Pennsylvania, USA)
Construction Manager: John Sisk and Son (Blackrock, Cork, Ireland)
Centocor R&D Schaffhausen
Facility Integration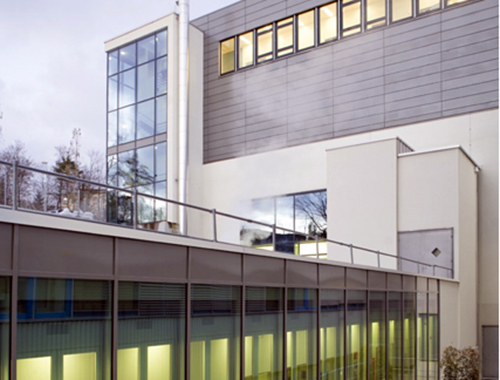 Several years ago, Centocor Research & Development recognized that it did not have the capacity or capabilities in its existing fill finish facility to meet the future needs of its expanding product pipeline. Subsequently, plans were developed to build a new 670 m2 fill finish pilot plant facility (F2P2) on its Schaffhausen, Switzerland campus. Centocor's new F2P2 R&D fill finish plant replaces an older existing facility and offers a state-of-the-art technology portfolio that mirrors the set-up of commercial facilities to ease process comparability and scale-up. The facility produces biological drug product for early- and late-stage clinical trials and also plays a key role in the transfer of fill finish operations into a commercial plant, also located on the Schaffhausen campus.
F2P2 contributes significant advances to the pharmaceutical manufacturing industry by creating a unique solution for a multi-product, multi-format R&D clinical fill finish facility. The facility was strategically located within the Schaffhausen campus to take advantage of adjacencies for central utilities, quality unit offices, and analytical group. It has been well-integrated into the existing campus and has the possibility for expansion by adding floors above the existing structure. It also demonstrates the superior integration of facility and equipment designs that provide maximum flexibility with high levels of sterility assurance (RABS and VHP decontamination concept) and an efficient operation.
The facility was designed, built, and qualified in 30 months. It produced its first batch of drug product in March 2008.
Key Project Participants:
Designer/Architect/Engineer: bickel & Bachofen ag (Winterthur, Switzerland) / pmb bau ag (Schaffhausen, Switzerland)
Construction Manager: Danny van Dyck (Beerse, Switzerland)
 
Hameln Pharma
Operational Excellence
Hameln Pharma's new, 9200-square-meter sterile production plant, located at the headquarters of this 50-year-old, family-run business in Hamelin, Germany, was built to significantly increase production capacities in the area of parenteral contract manufacturing, create expansion possibilities for the company, and ensure reliable compliance with international regulatory standards.
Lean production concepts were consistently implemented throughout the design and construction of this facility. For example, the U-shaped structure of the filling systems reduces the footprint in the highest cleanroom class and increases productivity. The work areas within the sterile production plant were constructed using a materials flow simulation to prevent any form of waste of capacities, personnel and materials movement, resources, area or time. With the aid of integrated locks and hatches, materials are always transferred by the shortest route from one production step to the next.
The arrangement of the cleanroom classes to each other and a consistent lock design ensure that employees only need to cover short distances and go through as few clothing changes as possible, saving time and improving safety significantly. The consistent standardization of rooms, equipment, inventory, production resources and processes increases employee productivity and thus the efficiency of the entire production process since employees are able to continuously orient themselves and work in a quick and organized manner. A pharmaceutical cleanroom ceiling that is 100% accessible - meaning that it can be walked on everywhere - allows the exchange, installation, and maintenance of basic technical equipment, such as lamps and filter units, from above the ceiling, keeping production undisturbed.
The planning of this streamlined plant began in March 2006. Only 25 months later, Hameln was able to put a highly innovative and flexible sterile production facility into operation.
Key Project Participants:
Designer/Architect/Engineer: Koppenhöfer+Partner GmbH (Stuttgart, Germany)
Construction Manager: IKB Immobilien Management (Düsseldorf, Germany)
Orchid Chemicals & Pharmaceuticals Ltd.
Regional Excellence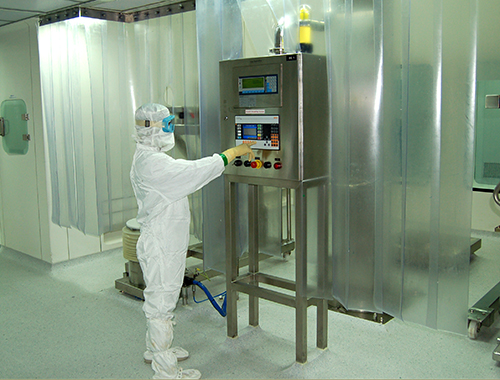 To accommodate the growing number of development products and promote the application of new technologies, Orchid Chemicals & Pharmaceuticals created a new facility with modern and flexible cGMP aspects to manufacture internationally acceptable products. The Carbapenem Production Facility project is located in Aurangabad, India, 400 kilometers away from Mumbai and consists of four well-integrated production blocks (Intermediate/API/Sterile/Hydrogenation), with each block designed with dedicated service and production areas. All critical operations are contained in clean rooms, and advanced technical systems are used in all sections of manufacturing.
Orchid took several measures to conserve energy and reduce manufacturing costs during facility design, including the implementation of a horizontal scrubbing system that uses 30% less power than conventional scrubbing systems, as well as the installation of energy-efficient vacuum systems, a multi-stage evaporator, water-cooled refrigeration systems, and fluorescent lighting. In addition, they implemented automated systems for nitrogen blanketing for centrifuges, flash steam recovery, and secondary steam generation from evaporators to save energy. The team also implemented equipment designs that enabled significant reduction in cycle time, such as an ultrasonic crystallizer and agitated Nutsche Filter Dryer.
In addition, there are several aspects of this project that are unique and innovative for this geographic location. The Carbapenem Production Facility employs one of the first cGMP operational systems for bulk API handling in India. And not only was the high degree of facility automation critical for providing operational ease, improved safety and process integrity, and consistency in production, but it is also a completely novel concept in India.
In the end, Orchid successfully completed a sizable, fast-track project to meet market demand using a combination of innovative engineering concepts and state-of art equipment to produce quality products in a safe, consistent, and environmentally sound manner. Being able to successfully accomplish these goals, while dramatically increasing their productivity using all in-house expertise, was one of the major reasons for their selection as a Regional Excellence Category Winner.
Key Project Participants:
Designer/Architect/Engineer: R.V. Dalvi & Associates (Mumbai, India) / Orchid Chemicals & Pharmaceuticals Projects Department (Aurangabad, India)
Construction Manager: Orchid Chemicals & Pharmaceuticals Projects Department
 
Roche Pharma Biotech Production Basel
Project Execution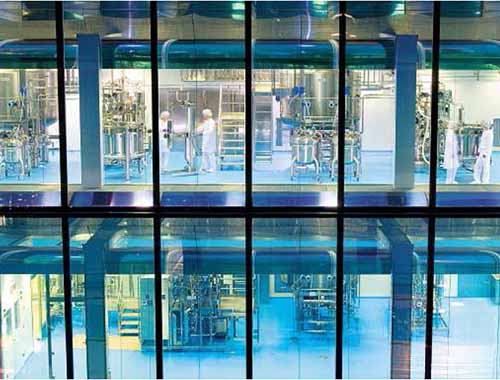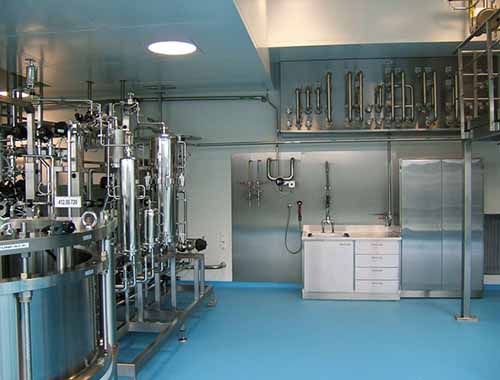 Headquartered in Basel, Switzerland, Roche is one of the world's leading research-focused healthcare groups in the fields of pharmaceuticals and diagnostics. Their Monoclonal Anti Bodies (MAB) 95 Facility was conceived to provide additional production capacity for the API of Avastin®, a successful new treatment medication used in the fight against cancer.
The primary business driver of this ultra fast-track project was to make this innovative product available to patients as quickly as possible. To do so, Roche expertly planned, designed, and constructed a unique vertical MAB facility on the site of a former chemical production plant in a busy residential area of Basel. By industry standards, the timelines were exceptional for a project of comparable size, complexity, and environmental sensitivity. Standing 40 meters tall with eight floors above ground and two floors underground, the small building footprint and absence of adjacent construction lay-down areas tested the ingenuity of the project team at every turn. (For example, the construction staff occupied a project office located on an elevated platform over the main public roadway.) To reduce congestion in and around the already tight project site, cutting-edge communication technology was applied whenever possible in the day-to-day running of the project. Extensive use was made of video conferencing, documentation was exchanged via the Internet prior to joint reviews, site access was restricted to key personnel, and all project participants were encouraged to conduct as much communication as possible through electronic media. As the facility had to be arranged vertically, and as all systems are fully integrated, the normal option of sequential completion proved to be too slow when modeled in the schedule. This forced the project team to develop the tactics necessary to complete the whole facility as a single entity (i.e., work on everything in parallel). The project team competently faced this and other project challenges with a "no blame, fix the problem" mentality.
Through teamwork, innovative design, and precise construction management, this state-of-the-art project was successfully realized in only 35 months, six weeks ahead of an already aggressive schedule and nine percent under budget.
Key Project Participants:
Engineer: Roche Pharma Global Engineering and Roche Basel Site Engineering
Designer/Architect: Herzog & deMeuron (Basel, Switzerland)
Main/General Contractor: Linde-KCA (Dresden, Germany)
Construction Manager: Bovis Lend Lease (Munich, Germany)
 
GlaxoSmithKline Manufacturing - Verona
Honorable Mention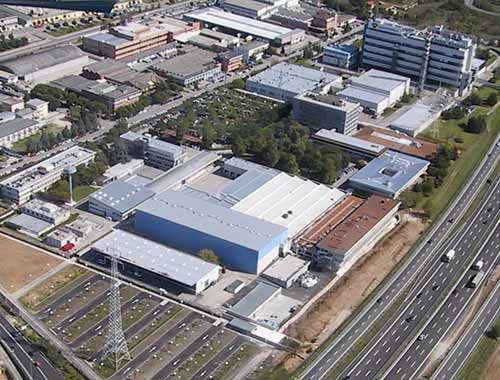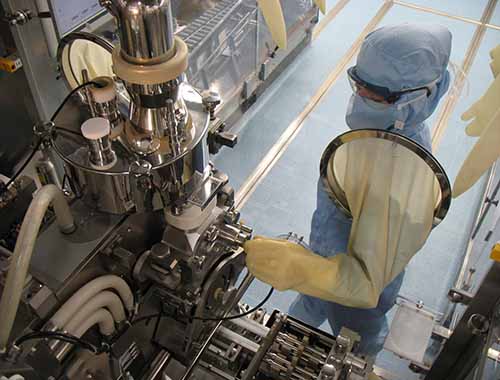 GlaxoSmithKline's Italian operations have been based in Verona, Italy since 1932 and the region has become a centre of excellence for the production of sterile cephalosporin powder products. Knowing that the greatest risk to sterile processes is the possibility of people contaminating the product, GSK decided to create the necessary conditions for its production process to take place without people being present in critical areas. Hence, GSK's decision to revamp its Aseptic Powder Filling Facility 4 located in Verona.
The target of the project was to implement technological and operating solutions to assure, in the long-term, a state-of-the-art process suitable for the antibiotic business as an alternative to isolator technology. This approach included an innovative approach to equipment, environment, handling, and storage that is unique in the industry. GSK effectively created a template for aseptic powder filling and designed several elements specifically for this project to make the process reliable and repeatable.
The revamp of GSK's Aseptic Powder Filling Facility 4 was completed in March 2007 and its main solutions to existing API challenges include in-line particle counting monitoring, increased line performances, enhanced protection of operators from API, performing routine operations using glove ports, Grade A continuity, the completion of semi-automatic set-up using glove ports, and pre-assembling product contact machine parts before sterilization.
Key Project Participants:
Designer/Architect/Engineer: GSK Manufacturing (Verona, Italy)
Construction Manager: GSK Manufacturing (Verona, Italy)