Serum Institute of India Pvt. Ltd.
Location: Maharashtra, India
Project: "NISHWAS" The Breath of Relief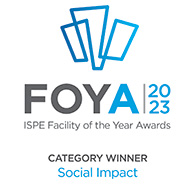 ---
SERUM is ranked as India's No.1 biotechnology company and the world's largest vaccine manufacturer by number of doses produced and sold globally (more than 2.5 billion doses annually) which includes Polio, Diphtheria, Tetanus, Pertussis, Hib, BCG, r-Hepatitis B, Measles, Mumps, Rubella, and Pneumococcal vaccines. SERUM exports vaccines to 170 countries. Today, it is estimated that about 65% of the children in the world across 170 countries receive at least one vaccine manufactured by SERUM. SERUM operates with the lifelong mission of "Protection from Birth Onwards" by way of protecting the infants by offering human vaccines at reasonable and affordable price. The welfare of the community is the mantra SERUM exists by.
SERUM started Poonawalla Bio-tech Park, a greenfield project in Special Economic Zone in Manjari near Pune in the state of Maharashtra in India. The Manjari site is spread over a sprawling area of 55 acres and this state-of-the-art aseptic and sterile facility, designed to manufacture products like BCG, HPV, TdaP, Monoclonal Antibodies/Biosimilars, Rotavirus vaccine and recombinant BCG vaccine, using the latest manufacturing technology, has been converted in a record time for the manufacturing of COVID-19 vaccines in collaboration with Oxford-AstraZeneca and Novavax who were in the process of developing the vaccines which were still at clinical stage of development.
The project scope for the design and construction of the COVID-19 vaccine manufacturing facility included:
Modification of engineering & design of the aseptic and sterile drug substance and drug product manufacturing facility which was already 70% complete for other vaccine products.
Repurposing the manufacturing facility by way of construction modification.
Modifying the equipment already purchased or delivered.
Scaling up Oxford-AstraZeneca and Novavax vaccines manufacturing from 50L scale to 4,000L commercial production scale.
Increasing the cold storage temperature requirement of Oxford-AstraZeneca vaccine from -60 ⁰C to 2-8 ⁰C, yet maintaining same quality and efficacy.
Arranging regulatory audits for production and distribution of vaccines. The approvals included USFDA, MHRA, UK; EMA, EU; Health Canada; TGA, Australia; MedSafe, New Zealand; DCG (India); and WHO.
SERUM made the exceptional accomplishment of producing COVID-19 vaccines at commercial scale in 6 months from the start of design modification on 01 Oct 2020 to rolling out of the first batch of vaccine to save human life on 31 Mar 2021 and supplied 1,472,010,980 and 276,835,540 doses of Oxford-AstraZeneca's Covishield vaccine in 2021 and 2022 respectively. During same period, SERUM manufactured and supplied 9,008,000 and 129,355,650 doses of Novavax's Covovax/Nuvaxovid COVID-19 vaccine and supplied COVID-19 vaccines to over 90 countries across the world.
The SERUM's NISHWAS project has delivered in a record time the COVID-19 Vaccine facility allowing the manufacture of a large amount of doses in spite of the Challenging Work Environment, determined by COVID-19 infection, through an Highly Focused and Exceptional Project Execution, with a Real-time project risk management coupled with close multi-disciplinary coordination which prevented rework. The construction modifications of manufacturing buildings which were already 70% complete, were executed in two (2) months, with uncompromised EHSS compliance. At the same time SERUM scientists further developed COVISHIELD vaccine of Oxford-AstraZeneca to raise storage temperature of drug substance and drug product from -60 ⁰C to 2-8 ⁰C. This provided a boon for those countries which did not have adequate cold chain storage and transportation capability.
COVISHIELD vaccine of Oxford-AstraZeneca and COVOVAX / NUVAXOVID vaccine of Novavax were scaled up from 50L batch to 2,000L batch in three (3) months. After additional two (2) months, 4,000L batch was successfully developed allowing increased mass production of vaccines at a rapid pace.
SERUM was able to forge a trusted and highly coordinated relationship with Oxford-AstraZeneca, Novavax, each and every domestic and foreign suppliers and construction contractors, who tirelessly worked in unison with the common and sole objective of completing the project to allow production of COVID-19 vaccine in a record time.
The SERUM's NISHWAS project is recognized with the FOYA 2023 in the category "Supply Chain", as it exemplifies how to deliver in a record time a large pharmaceutical manufacturing capability and capacity in condition of crisis to serve humanity unmet needs.
---
This project and its ability to deliver much needed COVID vaccine to a populous country like India was invaluable in ensuring India's resilient fight against COVID while keeping its cities open for business. This project and its outcome had profound impact on India as well as many other developing countries where vaccine manufactured by SERUM was administered. And for these reason, SERUM's NISHWAS project is also recognized for the FOYA 2023 award in the category of "Social Impact", as it exemplifies how to agility in delivery of such a positive impact on well-being of millions of people in such an accelerated timeframe.
Supply Partners and Key Participants:
Manufacturer/Owner Name: Serum Institute of India Private Limited
Engineer/Architect (A&E): Serum Institute of India Private Limited
Construction Manager: Serum Institute of India Private Limited
Automation and Control Suppliers:
Shree Venkateshwara Controls
Cotmac Electronics Private Limited
Analogic Automation Private Limited
HVAC Subcontractor:
ELM ENTERPRISES PVT. LTD.
SHINRO SUVIDHA INDIA PVT. LTD
Piping Subcontractor:
Sanpure Systems Private Limited
Fluidline Engineers & Fabricators Pvt. Ltd
Electrical Subcontractor:
Integrated Project Management Services
Powerline Electricals
Clean Room Contractor:
Nicomactaikisha Clean Room Private Limited
Integrated Cleanroom Technologies Pvt. Ltd.
Major Equipment Suppliers/Contractors:
Alfa Laval India Private Limited – Downstream Processing – Cell Separator
Cytiva Life Sciences - Downstream Processing – CROM System
Cytiva – Single Use Bioreactors – 200L, 2000L
Merck KGAA – Downstream Processing – Nano Filtration System
Comecer – Process Isolator
Azbil Telstar – Steam Sterilizers – STER + DECON
Pall India Private Limited – Single Use Mixers – 50L, 200L, 650L, 2000L
Pall India Private Limited – Single Use Bioreactors – 200L, 500L
GEA Westphalia - Downstream Processing – Cell Separator
Sartorius Stedim Biotech GMHB – Single Use Mixers – 50L, 200L, 650L
ABEC INC – Single Use Bioreactors – 4000L
ATEC Pharmatechnik GMBH – Component Processing System – Stoppers & Caps
Steelco Spa – cGMP Parts Washer
Fedegari – Steam Sterilizers - STER
Getinge AB – Steam Sterilizers - DECON
Skan AG – Filling Line Isolator
Groninger & Co. GMBH – Filling Line
Brevetti CEA Spa – Automatic Inspection Machine