WuXi Biologics Ireland Limited
Location: County Louth, Ireland
Project: WuXi Biologics Contract Research, Development and Manufacturing Organization (CRDMO) Ireland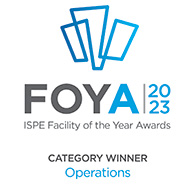 ---
WuXi Biologics in Dundalk, Ireland, is contract research development and manufacturing (CRDMO) facility using hybrid, single-use, scale-out production technology for multiproduct mAb and recombinant protein drug substance. The site also houses innovative Manufacturing Science & Technology labs that supports customers with manufacturing capacity as well as product research and optimization.
This new 467,500-square-foot greenfield facility includes 2 manufacturing areas utilizing 6x1KL single-use (SU) bioreactors for perfusion and 12x4KL SU fed-batch bioreactors, making it one of the largest facilities of its kind in Europe.
A Design-Assist project model with IPS was used to design and build the new facility. This collaborative approach significantly reduced cost, time, and re-work. Construction began in early 2019 and completed 26 months later. Additionally, ABEC processing equipment was used for all processing equipment, providing inherent efficiencies, parallel activities and integrated testing through the process with WuXi team members embedded at their facilities.
In addition to an aggressive timeframe, the project faced other challenging circumstances including:
Ensuring the safety and wellness of the entire project team during the height of the pandemic by observing additional safety protocols to prevent COVID-19 exposure
A safety culture resulted in an impressive 0.35 TRIR during 6,200,000 total person-hours; and no recordable injuries over 3,000,000 hours of the last 13 months. An impressive safety communication program in many forms: printed, electronic App, on site visual, and in-person.
Discovery of archaeological remains on the projects site dating to the neolithic period. WuXi insured the entire 65-acre site was fully investigated. Archaeological teams worked with Jacobs to accommodate construction activity without impacting the overall construction schedule.
Significant efforts to reduce impacts to neighbors from construction and traffic were made. Extensive pre-fabrication plan was developed to minimize on site work. Construction of new roads and berms were made to minimize visual and noise impacts. Additionally, hand delivery of newsletters to neighbors with information on construction activities, products to be manufactured and impact to local economy and employment.
---
This unprecedented delivery was made possible by early contractor engagement; unique project/program methodologies to enable rapid decision-making; and processes/tools that ensured close end-to-end collaboration/alignment with WuXi.
The project delivered additional benefits in the form of innovative advances in technology to facilitate highly configurable, flexible manufacturing. Ability to meet a wide array of profusion or batch fed process at virtually any scale. The project also led to the hiring of more than 350 full-time employees.
Ultimately, this project is an inspiring landmark that proves that facilities can be developed on a highly accelerated schedule, using innovative solutions while complying with regulatory requirements, overcoming unknown barriers, cooperation with the community, and upholding project success and product safety.
For these reasons, the WuXi Biologics CRDMO Facility Project is recognized with the 2023 ISPE FOYA Project Operations Category Award.
Supply Partners and Key Participants:
Manufacturer/Owner Name: WuXi Biologics Ireland
Engineer/Architect (A&E): Integrated Project Services, LLC (IPS)
Permitting/Fitout: Scott Tallon Walker Architects
Client Side Project Controls/Cost Management: Linesight
Construction Manager: Jacobs Engineering Ireland Ltd.
Main/General Contractor:
PJ Hegarty & Sons
Wills Bros. Ltd
Collen Construction
Piping Subcontractor:
Dornan Engineering
Jones Engineering
HVAC Subcontractor:
Dornan Engineering
Jones Engineering
Automation and Control Supplier: ACal
Commissioning, Qualification Validation: KPC International Ltd.
Major Equipment Suppliers/Contractors:
ABEC
Brian A. Flynn Ltd.
Ardmac
Ward & Burke Construction Limited
Suir Engineering Ltd
Mercury Engineering