Chugai Pharma Manufacturing Co., Ltd.
Location: Shizuoka Pref, Japan
Project: FJ2 Project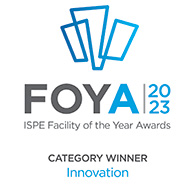 ---
Chugai Pharmaceutical was founded in 1925. In the 1980s, in addition to small molecule drug discovery, Chugai began to engage in biotechnological drug discovery. In 2002, Chugai entered a strategic alliance with Roche and became a member of the Roche Group.
The facility is focused on Mid-sized API development and manufacturing. Mid-size molecule pharmaceuticals are positioned between small-molecular weight drugs with a molecular weight of 500 or less and antibody drugs with a molecular weight of approximately 150,000. Mid-size molecule pharmaceuticals are characterized by their ability to target intracellular targets with which small molecules cannot bind and are manufactured by chemical synthesis. The FJ2 facility will enable Chugai to establish its own stable supply chain for APIs that are difficult to manufacture on a large scale, including high potency APIs, from early clinical development through to market launch.
Chugai Pharmaceutical Building 48, known as FJ2, is an API facility for the manufacture of small and mid-size molecule drugs to be used for clinical development purposes. Located in the heart of Japan at a key transportation point, construction and commissioning of a new manufacturing center was completed at the Chugai Fujieda plant responsible for the supply of Active Pharmaceutical Ingredients (APIs) in August 2022.
FJ2 consists of three production lines: "Line A" to produce mid-size molecule APIs such as peptides, "Line B" for the production of small-molecule synthetic APIs, and the "common series". All of these lines are fully compliant with global GMPs and are capable of manufacturing high potency pharmaceutical ingredients, which have been difficult to do in the past. Attaining OEL=0.05 μg/m3 is extremely high containment performance. FJ2 aimed to exceed this containment performance value. Specific operational details were clearly defined starting from the basic design phase, selection of the optimum containment equipment through assessment activities, verification of the containment performance using prototypes, and refining of the design using mock-ups. It was verified that the resulting fabricated equipment achieved the expected containment performance through post-installation commissioning.
Chugai implemented several innovative design and equipment concepts in the facility to protect both the product and the worker. Isolators applying smart containment technology developed by JGC are installed in the Line-A synthesis room and Line-B production room. These isolators are moveable along ceiling-mounted rails, allowing them to be connected to any production reactor. This technology offers a high degree of containment, with unique pressure control technology for increased robustness and ease of operation. By adopting worldclass high potency containment technology, including advanced room pressure control, and with the emphasis on process flexibility, the development of small and mid-size molecule drugs will be done in this facility with the utmost safety for the operator and the patient. The FJ2 filter-dryer is characterized by its hydraulically operated body, which slowly tilts during powder collection for efficient collection operations.
---
The Fujieda Plant site of the FJ2 facility is located adjacent to the Tokaido Shinkansen bullet train and the Tomei Expressway, both major travel arteries of Japan. In the event of a hazardous material ignition and explosion in this hazardous material manufacturing facility, blast pressure will be sent upwards to the folded-plate roof where it is dissipated, as well as from blast shafts on the north, east, and west sides of the building, thereby preventing large-scale building damage and reducing blast pressure to the surrounding area.
The Chugai FJ2 project focused on the process and employee safety throughout the entire project design and employed innovative ways to achieve these goals. It is for those reasons that they are awarded the FOYA 2023 award for Innovation.
Supply Partners and Key Participants:
Manufacturer/Owner Name: Chugai Pharma Manufacturing CO., Ltd.
Engineer/Architect (A&E): JGC Japan Corporation
Construction Manager: JGC Japan Corporation
Main/General Contractor: Kajima Corporation
Electrical Subcontractor: KANDENKO CO., Ltd.
HVAC Subcontractor: Dai-Dan Co. LTD
Automation and Control Supplier: Emerson Japan, Ltd.
Major Equipment Suppliers:
Kobleco Eco-Solutions Co., Ltd.
GL Hakko Co., Ltd.
YMC CO., Ltd.
Manzen Machinery CO., Ltd.
Nara Machinery Co., Ltd.
ULVAC, Inc.