CRISPR Therapeutics
Location: Framingham, Massachusetts, USA
Project: CRISPR Therapeutics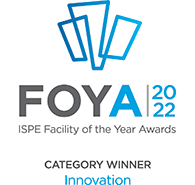 ---
The FOYA judging committee commends CRISPR for creating a flexible, digitally-enabled facility that can bring the promise of innovation to life.
CRISPR Therapeutics is harnessing the CRISPR/ Cas9 gene-editing platform to develop and deliver potentially curative therapies to patients with serious diseases. The technology has game-changing implications for patients and partners. The project was awarded a FOYA award for Innovation based on the innovative design of the facility, which provides an end-to-end solution for production and fills operations.
The judging committee was impressed by many facets of the submission, which included:
Digital systems and automation at all levels of the operation allow continuous monitoring and efficient product production and release; a flexible utilization model allows for concurrent production of multiple products at different stages of development; independent and/or redundant utilities supplying individual clean rooms allow for continuous production without the need for a facility-wide maintenance shutdown, and Facility Vaporized Hydrogen Peroxide (FVHP) system to support rapid product changeover and reduction in the use of environmentally harmful chemicals.
The CRISPR manufacturing facility was designed thoughtfully and innovatively, and the ability of the facility to catalyze the promise of the technology impressed the judges. The facility is unique in utilizing a compact design with multiple independent production suites, each capable of producing a different product at a different stage of development while maintaining strict product segregation. The judges were particularly impressed with the use of a fully integrated digital stack that enables a small on-site warehouse to be continuously supplied from external sources yet still maintain uninterrupted production and testing operations.
Digital tools were embedded into the facility design so that multiple production suites and multiple products at different stages of development can be managed simultaneously. The technology includes an immense amount of data collection, storage, and distribution - the ability
to access the right data at the right time is critical to managing production, testing and release of products, calibration and maintenance of equipment, and staff training. CRISPR's commitment to implement a fully digital control system, manifesting in a 6-layer digital landscape that not just monitors and/or controls shop floor and laboratory equipment, but makes the data available through a secure network to a variety of display devices throughout the facility. The system is fully redundant and provides traceability to the Quality Management System (QMS).
---
While the facility design was grounded in fundamental good engineering practices, there was intentionality in the flexibility of the facility that the committee found very innovative. CRISPR Therapeutics has been a leader in applying CRISPR/Cas9 technology to drug development. More recently they have begun to manufacture cellular therapies at scale, to test their clinical utility. The manufacturing technology has been applied to autologous products as well as allogeneic products. Future success in this area is dependent on the flexibility of the facility as defined by the ability to produce different products within the same footprint to support clinical trial requirements.
Supply Partners and Key Participants:
Manufacturer/Owner Name: CRISPR Therapeutics
Engineer/Architect (A&E):
DPS Group Inc.
TRIA Design - Architects
Owners Representative (OPM): Leggat McCall Properties LLC
Construction Manager: Commodore Builders LLC
Main/General Contractor: Commodore Builders LLC
Piping Contractor: DECCO Inc
HVAC Subcontractor: Engineering Company
Automation and Control Supplier:
Mechanical Equipment – Semi-Custom EAHUs: Skyplume Technologies
Mechanical Equipment – Semi-Custom AHUs: Daikin
Mechanical Equipment – Chillers: Trane US Inc.
Process Equipment – VHP System: Steris Corporation
Mechanical Equipment – Boilers: The Fulton Companies
Electric Equipment – Emergency Generator: Kohler Power Systems