ElevateBio
Location: Waltham, MA, USA
Project: ElevateBio BaseCamp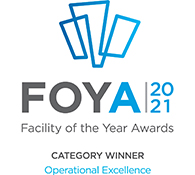 ---
The goal of ElevateBio's BaseCamp project was to tackle some of the obstacles that prevent cell and gene therapies from rapidly being available to patients.; They developed a new business model that provides integrated research and process development expertise, with flexible manufacturing capacity, thereby reducing time and cost required to take new therapies to market. The typical process of cell and gene therapy development is full of challenges from discovery to end-product. By rethinking basic assumptions of the cell and gene therapy business process, start-up capital required, access to small scale research, development, manufacturing, and ability to implement next-generation process innovations, ElevateBio's BaseCamp facility is a gamechanger. ElevateBio leverages expertise to validate early use cases from portfolio companies to distribute technologies across multiple therapeutics. The technologies used lay the foundation for future, next-gen innovation, enable novel editing processes, and ensure high throughput assessment that optimizes efficacy and safety. Portfolio companies benefit from an entrepreneurial and flexible culture as they accelerate early-stage companies through capital and expertise, allowing them to focus on science, research, and development.
The 140,000-square-foot BaseCamp facility integrates a variety of strategic utilization improvements to the cell and gene therapy development process through implementation of:
A flexible and adaptable research and development laboratory infrastructure
enabling cutting edge technologies for multiple cell and& gene therapy process equipment
Flexible/shared process development and scaled cGMP manufacturing modules
Integrated enterprise resource planning software, manufacturing execution system, electronic batch records, laboratory information management systems, and building management systems
Integrated quality assurance systems
---
By embracing a business model that provides flexible capacity, high throughput, and process expertise while optimizing efficacy and safety, BaseCamp establishes itself as a Next Generation model for rapid therapy development and launch, proving to the industry that it is possible to bring successful therapies to market faster and more efficiently than ever before. To that end, ElevateBio will set new standards in the fields of cell and gene therapy research, development, and manufacturing, and for that success, ISPE has awarded ElevateBio the 2021 FOYA Award for "Operational Excellence".
Supply Partners and Key Participants:
Manufacturer/Owner Name - ElevateBio
Engineer/Architects (A&E) -
DPS Group, Inc. (Architect of Record, Process Eng. Process Arch, MEP/FP)
TRIA Architects, Inc. (Interior Design & Lab)
McNamara/Salvia
Thompson Consulting, Inc. (Engineer for Warehouse Space)
Construction Manager - The Richmond Group (TRG)
Main/General Contractor - 42 North Solutions, LLC
Piping Subcontractor - DECCO
HVAC Subcontractor - Environmental Systems
Automation and Control Supplier - NECI
Major Equipment Suppliers/Contractors:
ThermoFisher Scientific
BWT Pharma & Biotech Inc
Holloway America
Belimed AG
SKAN
Cytiva