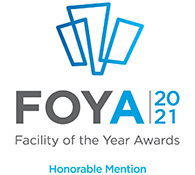 ---
Biocon Biologics Limited
Location: Bangalore, India
Project: Biocon Biologics Manufacturing (B3) Project
Biocon Biologics Limited is a subsidiary of Biocon Ltd., an innovation led global biopharmaceuticals company. In 2019 Biocon Biologics decided to consolidate the development, manufacturing, and commercialization operations for biosimilars under an independent entity, with its own dedicated management. It is uniquely positioned as a fully integrated 'pure play' biosimilars organization in the world and aspires to transform patient lives through innovative and inclusive healthcare solutions.
The goal of the Biocon Biologics Manufacturing Plant (B3) Project was to build a state-of-the-art facility that includes consideration for future commercial products. This involved expanding the site for the construction of new manufacturing, laboratory, office, cafeteria, utility, and warehouse buildings. The design integrated several utilities from the attached centralized utility building.
This Biocon Biologics Manufacturing Plant (B3) Project is receiving the Honorable Mention from the ISPE FOYA committee.
This facility with 6KL production bioreactor scale includes a 170,500 square foot manufacturing area and a 144,000 square foot lab area and is one of the largest biologics manufacturing facilities in India.
This project team clearly articulated their understanding of an environmental impact associated with such a large facility and clearly demonstrated their focused efforts to minimize the impact through multiple sustainability elements built within the facility design such as rainwater harvesting, condensate recovery, and more as well as throughout construction / execution phase of the project.
In addition to the environmental impact, this project team demonstrated a superior execution approach in managing construction safety. As clearly documented through their collaborative approach and rigorous planning, this project with close to 3 million labor hours had zero lost time incidents. That is a significant achievement and tremendous positive impact on safety culture and all trades involved in the effort.
Several design elements and execution strategies implemented in this facility showed teams focus on robust supply chain while focusing on cost of goods manufactured (COGM) reduction which could potentially lead to a beneficial cost structure on products for patients, increasing affordability.
---
---
The ISPE FOYA committee is recognizing this project as Honorable Mention in the Project Execution category for clearly demonstrated focus on sustainability, excellent design approach, and flawless execution of project with positive safety performance. 
Supply Partners
Manufacturer/Owner Name - Biocon Biologics India Limited
Engineer/Architects (A&E):
Jacobs Engineering India Private Limited
NNE Private Limited
IPS
Construction Manager - Tata Consulting Engineers Limited
Main/General Contractor - Sobha Limited
Piping Subcontractor - Fluid- Fluid Line Engineers and Fabricators (P) Ltd.
HVAC Subcontractor - Sterling and Wilson Private Limited
Automation and Control Supplier – Siemens Limited
Major Equipment Suppliers/Contractors:
Bioreactor - Bioengineering AG
Upstream Equipment (Centrifuge) - Alfalaval- Alfalaval Tumba AB
Downstream Equipment (Chrom Systems) - GE Health Care PTE Limited
Upstream and Downstream Equipment - Millipore SAS
Autoclaves - Fedegari- Fedegari Asia PTE Ltd.
Clean Utility Systems - Pharmatec GMBH (A Syntegon company)
Filling Equipment -Equipments - Sartorius Stedium Systems GMBH
Washers - STEELCO S.P.A
Downstream Equipment (Mixers) - Life Technologies Corporation
Clean Room Equipment – M/S. Integrated Cleanroom Technologies Private Limited 
Downstream Equipment (Tanks) 
Shanghai Morimatsu Pharmaceutical Equipment Engineering Co., Ltd. 
---
Locus Biosciences
Location: Morrisville, North Carolina, USA
Project: Commercial Phage Production Facility Upfit
Locus Biosciences (Locus) is a 5-year-old start-up company seeking to bring a completely new life saving therapy to the world. Locus is using bacterial phages and DNA editing technology, CRISPR Cas3, to produce Cas3-enhanced bacteriophage (crPhageTM). These bacteriophages can target and destroy only the infection-based bacteria strain and leave the patients normal micobiome strain unharmed. This technology has the potential for a broad spectrum of applications from surgeries to chronic infections to oncology treatments where antibiotics are extensively used. Antibiotic resistant bacteria are increasing, causing difficulties for common infections and are an ever-increasing challenge for medical professionals.
Once Locus started the very first recombinant phage phase 1b clinical trial, they were in need of a larger cGMP facility to continue this and future clinical trials. Because the drug substance is a bacterial phage and incorporates virulent bacterial in its production process, contract manufacturing was impossible. Locus was forced to build their own facility. Locus choose to build a 12,000 square foot facility in a 30-year-old building that incorporates:
Three equally capable suites with the ability to provide for simultaneous and interchangeable production space.
Capability to produce 3 different products simultaneously.
A BSL-2 compliant environment with added features to protect the operators and the facility.
Support processing of 5 liters to 200 liters using single use technology.
Ability to handle aseptic fill and bright stock.
FDA and EU compliance
The 3 production suites are unidirectional flow with separate personnel and material airlocks. These production suites are negatively pressured to the personnel and material airlocks that are negatively pressured to the outside supply and return corridors providing secondary containment. All suites contain HEPA filtered air coming in and going out. The HVAC system is designed with a purge system with 100% fresh air and 100% exhaust in case of emergency. These design attributes as well as operational procedures go beyond the Regulatory requirements, but this is what it takes to produce these products.
---
---
ISPE FOYA committee would like to recognize Locus Biosciences for their need to build a facility that will produce safe and effective products.
Supply Partners
Manufacturer/Owner Name - Locus Biosciences
Engineer/Architects (A&E):
Bozenhardt Consulting Services
IPS (CQV Contractor)
Jacobs Engineering
Construction Manager – BE&K Building Group
Piping Subcontractor - Gamewell Mechanical
HVAC Subcontractor - Gamewell Mechanical
Automation and Control Supplier - Vantage Consulting Group
Major Equipment Suppliers/Contractors:
AES Clean Technology
Code Electric
---
Raymond G. Perelman Center for Cellular and Molecular Therapeutics
Location: Philadelphia, PA, USA
Project: Raymond G. Perelman Center for Cellular and Molecular Therapeutics
The Raymond G. Perelman Center for Cellular and Molecular Therapies (CCMT) located at the Children's Hospital of Philadelphia (CHOP) particularly appealed to the judges because of its impact on the future of cell and gene therapy facilities.
The facility is dedicated to manufacture of adenoassociated and lentiviral vectors supporting clinical trials. Located in the nation's first hospital dedicated to the care of children, the judges felt that the opportunity to merge cutting edge medical treatment, integrated facilities, and technology in both an urban setting and close to the point of treatment were indicative of facilities of the future and the CCMT breaks the typical mold – the submission aptly noting "bench to bedside".
Larger volume products are typical in more traditional facilities, but facilities of the future can leverage the much smaller scale that comes with cell and gene therapy treatments, enabling facilities like this to be successfully integrated, and in this case, provide an acute focus on patient needs.
Established in 2005, CCMT aims to lead research into gene therapy disease. Being part of a substantial 1M square foot medical facility, hospital, and research environment brings interesting synergies and collaboration. With cell and gene therapy industry growth projections, these smaller facilities are likely to be more typical and the judges were particularly impressed with this submission's integration to the campus, its synergy with the hospital, access to cutting edge medicines, effective use of space, and the social and sustainability value it offers Philadelphia and those receiving treatment.
The 13,000 square foot GMP facility offers the capability for a wide range of vectors and genes of interest. It was constructed in a renovated space within an existing building, with the usual challenges that approach involves. It has to successfully manage the cross-contamination risks that a multi-product/process/trial facility incurs, and individual suite decontamination is achieved through a mobile VHP system integrated to ventilation controls.
The benefit of cell and gene therapy scale is that significant capability arises within a small footprint and the CCMT facility offers cell expansion, 4 cleanroom suites, fill finish, and support space. It has already completed multiple clinical trials, demonstrating a successful outcome of the project.
In addition to being a thought-provoking example of integrating R&D, manufacture, and treatment in one environment, the facility delivered a high-quality design with strong infrastructure capabilities and redundancy. A bonus was the ability to leverage the existing city and campus infrastructure, thus improving resiliency and cost while also reusing existing space.
---
---
When deliberating the awards, the judges considered the CCMT was more than a well-executed project. It represents strengths in Integration, social impact, and the type of facilities we will see in the future. The facility offers vision and embodies an outcome that the judges felt deserved recognition. It fully earns an Honorable Mention.
Supply Partners
Manufacturer/Owner Name - Children's Hospital of Philadelphia Research Institute | Raymond G. Perelman Center for Cellular and Molecular Therapeutics
Engineer/Architects (A&E) – Ballinger (A&E), Genesis (Programing/Process), IPS (CQV Contractor)
Construction Manager – Turner Construction Company
Main/General Contractor - Turner Construction Company
Piping Subcontractor - Limbach
HVAC Subcontractor - WM.J Donovan
Automation and Control Supplier - Johnson Controls, Inc.
Major Equipment Suppliers/Contractors:
AES Clean Technology
Nora
ESCO
Baker
ASSA ABLOY-Besam