Janssen Pharmaceuticals
Location: Beerse, Belgium
Project: Mirror-1: The Continuous Manufacturing Platform for the Development of a new Oral Solid Dosage Portfolio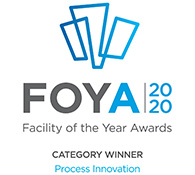 ---
Janssen's senior management endorsed and invested in an End to End strategy whereby they intend to develop, launch, and commercialize products on a common CM platform. Continuous manufacturing (CM) is becoming the new standard in the pharmaceutical industry consistent with healthcare authorities' expectation to deliver greater process understanding and enabling continuous verification. Janssen's Mirror 1 Continuous Manufacturing Platform project represents a significant step in process innovation and the next step forward in this journey.
Mirror 1 incorporates and integrates three different process technologies; direct compression, roller compaction, and twin-screw wet granulation into a single equipment set. The dry and wet granulation portions of the equipment share a joint continuous feeder/blender platform and a second continuous feeder/blender is integrated with the tablet press for either direct compression processes or to be used as the downstream portion of the wet/dry granulation equipment. Combining different processes this way required intense collaboration with multiple equipment vendors, but ultimately enables this one platform to respond to the needs of the Janssen's entire solid dosage portfolio.
In addition to physically combining these different processes into a platform, the Mirror 1 installation includes 7 PAT applications, a sophisticated automation control system, and is complemented by a SynTQ data management system. This integrated system allows Janssen to effectively execute the CM control strategy. Another innovation for the Mirror 1 line is the vertical integration of the equipment minimizing the product transfer through pneumatic or conveying systems, which has historically been used when bringing together different equipment types.
Installing new technological capabilities often requires changes to other aspects of pharmaceutical development and manufacturing and Janssen was up to the task. The commitment to CM drove material characterization efforts for API's and excipients and development of predictive modeling tools across development and manufacturing. Strategies were developed for product traceability and residence time distribution while quality and regulatory frameworks were developed to define batch and scale in terms of continuous manufacturing. The pervasive use of PAT enables implementation of real-time release testing (RTRT).
The benefits of CM and specifically Janssen's innovative CM platform are well understood:
More robust manufacturing processes, improved controls, and built-in quality
Shorter development cycle times and shorter manufacturing cycle times
Reduced process scale-up efforts and risks
Reduced footprint, reduced energy consumption, and few resources
---
The first development compounds have been successfully processed through the Mirror 1 Line and have been used in clinical trials which is excellent news for patients. The next phase of Janssen's End to End strategy is underway with the installation of an identical Mirror 2 Line (a Twin of Mirror 1) in their manufacturing facilities. For their ambitious approach in advancing the CM platform, Janssen is awarded the Process Innovation Category Award.
Supply Partners and Key Participants:
Manufacturer/Owner Name - Janssen Pharmaceutica n.v.
Engineer/Architects (A&E) - 
dbv-architecten
Sweco Belgium nv (previously Grontmij)
Construction Manager - Arcadis Belgium nv/sa
Main/General Contractor - Groep Van Roey nv
Piping Subcontractor - Hyline
HVAC Subcontractor - ENGIE Axima HVAC – Aartselaar
Automation and Control Supplier -  GEA Pharma Systems
Major Equipment Suppliers/Contractors - 
GEA Pharma Systems
Gerteis Maschinen + Processengineering AG
Optimal Industrial Automation Ltd
Bruker Optik GmbH