Pfizer, Inc.
Location: Andover, Massachusetts, USA
Project: Pfizer Building E - Andover Clinical Manufacturing Facility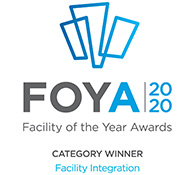 ---
In 2015, Pfizer launched "Project Indigo" to relocate clinical manufacturing capabilities from Chesterfield, Missouri, to the new 175,000 sq. ft., state-of-the-art Andover Clinical Manufacturing Facility (ACMF) on the existing Pfizer Andover, Massachusetts, campus. The move was made to expand clinical biological drug substance manufacturing capacity from 14 to 21 campaigns per year, while vertically integrating the Andover site through the co-location of early phase clinical manufacturing with large scale commercial manufacturing that was existing on the site. With respect to scope, the ACMF is a five-story building, housing five independent manufacturing suites, dedicated to the development of new biotherapeutics and vaccines to support trials in disease areas including: oncology, rare diseases, infectious diseases, hemophilia, and rheumatoid arthritis. Capabilities include cell culture, microbial fermentation, associated downstream purification operations, and the required support areas for solution preparation.
The ACMF project design allows for integration on several levels. Physically, the building is located next to an existing R&D facility and the existing commercial manufacturing facility is connected by an elevated bridge that creates convenient, controlled paths for the movement of personnel, equipment, and drug substances and product without stepping outdoors. Clinical manufacturing occurs independently within five suites across two floors. To mitigate the risk of cross contamination, there are no crossties between any of the suites. Most of the equipment is mobile and skid-based, enabling the transfer of materials from the R&D process innovations team (in Building F) to the ACMF and from the ACMF across the connecting bridge to commercial manufacturing (in Building B). Thanks to very effective master planning over the years, ACMF was able to use the existing site infrastructure (utilities, warehouse, support services, etc.)
From an operational perspective, facility integration was achieved through five tactical mandates: multi-host, multi-platform, configurable suites, portable systems, and wireless controls. The ACMF was designed to accommodate both microbial and mammalian cell capabilities recognizing the elevated perceived risk of cross contamination. This risk has been mitigated through strict product segregation protocols implemented in the very design of the building and the paths, in the physical independence of each manufacturing suite, and through strict procedural controls. With respect to multi-platform, the facility was designed with three suites having single-use disposable systems and two having more traditional stainless-steel platforms, which mirror capabilities across Pfizer R&D and commercial capabilities globally. Each suite provides maximum flexibility in regard to configurability. With almost no permanent installations and with all equipment and process control systems on wheels or skids, each suite can be configured to handle even the most complex processes and then be easily changed to meet a future need. With such an emphasis on equipment portability and suite configurability, careful planning was required to enable connectivity, process automation, and data collection. To meet this need, the ACMF facility utilizes a wireless DeltaV automation system that demanded a more comprehensive automation systems integration effort than required in a wired implementation to ensure that all skids and all equipment operate as intended. In addition to wireless process automation, the facility also employs wireless asset tracking to avoid losing track of any of the highly mobile portable process skids.
Behind the physical and operational innovations is "intellectual innovation" that is foundational to the siting of this facility on the Andover campus. By locating ACMF in Andover, Pfizer brought together R&D, clinical manufacturing, and commercial manufacturing colleagues and all the knowledge, expertise, and insights acquired over three decades of biological drug development experience into one location. This co-location is much more than a matter of convenience. Close and continuous collaboration among all Andover site teams enables the integration of the intellectual capital at the heart of Pfizer's biologics enterprise. Formal cross-staffing programs place commercial manufacturing colleagues in clinical manufacturing roles to promote the continuous transfer of knowledge and skills. Moreover, the site data historian captures data and information generated by all process development activities at Andover- from bench to pilot to clinical and commercial manufacturing. The data historian is a single repository for all process knowledge and lessons learned from process conception through to commercial manufacturing.
---
Overall, the ACMF proves that a sustainable, flexible, configurable, and wireless clinical manufacturing facility can achieve complete integration into a dynamic, high-performance process development flow today and preserve that integration no matter how biologic drug development may evolve in years to come. Based on the many levels that Pfizer incorporated facility integration into the Andover Clinical Manufacturing Facility, this project is recognized with the 2020 FOYA Facility Integration Award.
Supply Partners and Key Participants:
Manufacturer/Owner Name - Pfizer Inc.
Engineer/Architect (A&E) - CRB
Construction Manager - Lendlease
Piping Subcontractors - 
Decco, Inc. (process)
TG Gallagher Mechanical Contractors
HVAC Subcontractor - McCusker Gill Inc.
Automation and Control Suppliers - 
Schneider Electric (Building Automation)
Hallam-ICS (Instruments & Controls)
Major Equipment Suppliers/Contractors
WFI Generation Equipment -  Aqua Chem Inc.
Media and Buffer Prep Skids - Integrated Process Engineers and Constructors Inc. (IPEC)
Bioreactor and CIP Skids - A&B Process Systems Corp.
Disposable Bioreactors, Chromatography Columns and Skids - GE HEALTHCARE