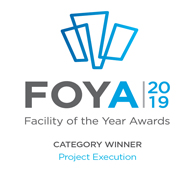 Pfizer Inc.
Location: Hangzhou, China
Project: Pfizer Global Biotechnology Center
---
The Pfizer Biotechnology Center constructed in Hangzhou, China is the first of its kind for Pfizer in China that will provide local production of high-quality, affordable biosimilar medicines for patients in China and throughout the world. The $195 million project was the culmination of an unprecedented construction schedule, efficient cost control measures, and an unmatched safety record in China. The center has created more than 150 job opportunities and established biotechnology expertise that will help strengthen and promote innovation, as well as modernize China's biopharmaceutical industry.
This greenfield project was constructed on 50,000 sq. meter parcel of land in the Hangzhou Economic Development Area (HEDA) and consists of: a state-of-the-art drug substance manufacturing facility using single use disposable technology, a state-of-the-art drug product manufacturing facility with an integrated lyophilizer and isolator filling line, a high bay warehouse, central utilities building, and administration building including: offices, laboratories, and a cafeteria. The drug substance manufacturing facility was designed and built using the General Electric Health Care (GEHC) KUbioTM modular concept, which involved the fabrication, assembly, disassembly, and shipping of seventy-seven modules from Stuttgart, Germany to Hangzhou, China. The three-floor drug product manufacturing facility, warehouse, central utilities building, and administration building were traditionally constructed using local materials and talent.
Recognizing that other multi-national companies have built state-of-the-art facilities in China previously, what makes the Global Biotechnology Project in Hangzhou stand out is this project's achievement on budget, schedule, and safety performance. From a budget perspective, the project was completed within its $195 million estimate, which includes roughly 10,000 square meters of manufacturing space and 21,000 square meters of support facilities. This cost is inclusive of land, all design activities prior to and during construction, commissioning and qualification, and project management.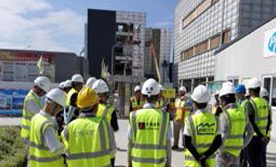 The project was completed within 25 months from groundbreaking to handover of a fully qualified facility to the manufacturing team. This accelerated schedule drove the need for a highly integrated construction program including concurrent commissioning, qualification, and operation of the drug substance facility in the center of an ongoing active construction site. This level of flexibility, in addition to careful logistical planning and open communication of the schedule, generated an unprecedented speed of completion for the project.
As with all Pfizer projects, safety is a critical element of the project planning and execution process. The Global Biotechnology Center was completed with a perfect safety record: zero lost time injuries in completing over 2.7 million hours of site activity. The project team trained 3700 workers on Pfizer's safety program and Safety Project initiative known as STOP (Safety First. Think. Organize. Proceed). STOP promoted an environment of careful consideration and for safety practices on the project site and was bolstered by a firm adherence to a "three-strikes-and-you're-out" safety infraction system, as well as organized recognition of safe site activities.
---
---
For this accomplishment, Pfizer is recognized with a Project Execution Category Award.
Supply Partners and Key Participants:
Manufacturer/Owner Name: Pfizer Inc., Pfizer Biologics (Hangzhou) Co. Ltd.
Engineer/Architect (A&E): Jacobs
Engineer/Architect (A&E): EDRI (Wuxi Branch)
Construction Manager: Cockram
Main/General Contractor CNEC
Piping Subcontractor: Jiangsu YiHuan Group Co., Ltd.
HVAC Subcontractor: Qian
Automation and Control Supplier: Siemens
Major Equipment Supplier(s)/Contractor(s): General Electrical Healthcare Systems; Jindi; Winatech/ BWT; Winatech; Maquet; Austar/Steris; SBM; Merck; Lebal; IMA; M-T; LiangYi; HuChen; F&R; Sartorius-Stedim; Weichi; Dajiang; Fisher; Merck; M+W; Zenith; IMA(Beijing);Maquet; SGS; Pharmatech Associates