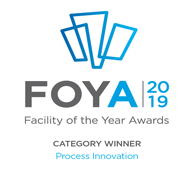 Eli Lilly and Company
Location: Kinsale, County Cork, Ireland
Project: IE2 Small Volume Continuous Facility
---
The Continuous Drug Substance Manufacturing facility of Eli Lilly and Company, a global healthcare leader that unites caring with discovery to make life better for people around the world, has been selected as the 2019 Process Innovation Category Award recipient.
The facility is referred to as Small Volume Continuous (SVC) because it is targeted at pipeline products with an annual volume less than 1.5 metric tonnes. The 10,000 square foot facility is designed in a "wheel and spoke" layout with a suite of dual access fume hoods surrounding a central core of 75 L feed vessels as well as liquid and solid feed charging rooms. The continuous unit operations are provided on mobile skids that can be interconnected and configured in multiple ways. The skid modules and feed vessels are interconnected with flexible tubing that can be dedicated to product or disposed of after use. Continuous process skids include plug flow reactors, continuous stirred reactors, distillation, extraction, filtration, and crystallization.
This innovative facility and process design concepts advance the industry in three specific areas; process analytical technologies and advanced automation, development of new continuous technologies, and significant improvement in process safety and environmental impacts.
The automation infrastructure is designed for "plug and play" of each of the modular processing skids so they can be configured in multiple sequences and are recognized immediately by the distributed control system (DCS). The modules can be controlled individually or grouped with other skids into process steps or sequences. The facility utilizes online HPLC, internally developed sample/dilution skids, and an overarching data management system (SynTQ) to deliver real-time, and highly precise process control.
To manufacture multiple process steps simultaneously, the facility required a full suite of modular technologies to allow uninterrupted continuous manufacturing. While several of the continuous unit ops would be considered existing technologies such as CSTR, PFR, distillation; the continuous crystallization in mixed suspension/mixed product removal (MSMPR) represents new technology. This continuous technology provides superior impurity control to batch crystallization (a 20+ fold reduction for the first product produced in the SVC facility). Continuous automated filtration with re-dissolve/re-suspend capability was another innovative technology step which allows seamless transition between processing steps.
Finally, this facility and process represent a step change in terms of both operator and process safety. From an operator standpoint, the equipment is much smaller scale (5-30L) and the process is enclosed in fume hoods, significantly reducing potential operator exposure. Additionally, the smaller quantities used at any one time of solvents, catalysts, and hazardous chemicals along with lower pressures and temperatures required represents a paradigm shift in terms of Process Safety Management.
---
---
Based on these reasons, ISPE recognizes Lilly with the 2019 FOYA Process Innovation Category Award. This facility at Lilly's Kinsale manufacturing plant clearly shows the future of Active Pharmaceutical Ingredient (API) manufacturing.
Supply Partners and Key Participants:
Manufacturer/Owner Name: Eli Lilly Kinsale Limited
Engineer/Architect (A&E) and Construction Manager: BioPharma Engineering
Civil Contractor: MMD Construction Cork Ltd
Cleanroom Paneling Contractor: Ardmac
Piping & HVAC Contractor: B.M.D. & Company Ltd
Skids Mechanical Contractor MSL
Electrical & Instrument Contractor: O'Sheas Electrical Limited
Skids Electrical & Instrument Contractor: CIL
Major Equipment Supplier(s)/Contractor(s): POPE Scientific Inc; Envair Ltd; De Dietrich; Precia Molen; Schneider Electrical Systems; RTD Technology TA Assistec; Johnson Controls; BCD Engineering; ESI Technologies; GPE Industries; De Dietrich Process Systems Limited; Optimal Industrial Automation; Zeton; AP Miniplant Gmbh; Flowcon Technology; D & M Continuous Solutions; Waters Chromatography Irl Ltd