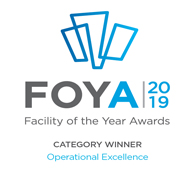 Kantonsapotheke Zürich
Location: Schlieren, Switzerland
Project: New Compounding Pharmacy for Canton Zürich Hospitals
---
Awarded in the Operational Excellence Category is Kantonsapotheke Zürich (KAZ), for their New Compounding Pharmacy for Canton Zürich Hospitals, which is a leap forward for hospital pharmacy compounding operations.
This project demonstrates a transformational step in hospital compounding operations and establishes a new norm for future facilities in this important step of patient therapy. The KAZ replaced and integrated two outdated hospital pharmacies that had been unable to continue serving the progressive needs of the community and were occupying valuable and desirable space in the medical facility. The KAZ now provides the Canton of Zürich hospital system a range of oral, dermal and parenteral formulations, often with patient specific recipes. The facility is highly flexible, adaptable and expandable to easily and quickly accommodate new functions, such as the rapidly emerging field of personalized medicine. All products are manufactured under industrial cGMP conditions, a major step change that is new to hospital pharmacy environments.
The KAZ has achieved an astonishing performance record of 60 - 90 minutes turnaround from diagnostic test and prescription to patient injection, including production, release, transport and logistics. Not only is the KAZ a technically, financially and operationally superior facility serving hospital patients, but it also has a societal mission to advance pharmacies as vital steps in patient therapy. The KAZ is training the next generation of pharmacists in current GMP at industrial levels and supporting research by producing test kits for 60-80 clinical trials.
The journey to advance patient therapy will continue through a continuous improvement mindset and will impact not only this single operation, but also sets new standards for community participation, financial engineering and technology advances. To that end, KAZ has been successful and will continue to set new standards in the fields of compounding pharmacies and personalized medicine and for that success, ISPE awards the 2019 Operational Excellence Category Award.
---
---
Supply Partners and Key Participants:
Manufacturer/Owner Name: Kantonsapotheke Zürich
Engineer/Architect (A&E): LH Partner Architekten AG
Engineer/Architect (A&E): Exyte
Construction Manager: Meili Bauconsulting AG
Main/General Contractor: GHZ Schlieren AG
HVAC Subcontractor: Hälg & Co. AG
Automation and Control Supplier:  HCS controls AG
Major Equipment Supplier(s)/Contractor(s): FrymaKoruma AG; Pharmatec GmbH, A Bosch Packaging Technology Company; Steriline S.r.l.; Loccioni, Sede principale; RETEL Neuhausen AG; Getinge; Ortner Reinraumtechnik GmbH; Kiefer technic GmbH; SKAN AG; Mettler-Toledo (Schweiz) GmbH; PLÜMAT PACKAGING SYSTEMS; Müller AG Cleaning Solutions; PAGO AG; Seidenader Maschinenbau GmbH; HCS Controls AG