Wyeth Pharmaceuticals Co, a Pfizer Company
Location: Suzhou, Jiangsu Province, China
Project: Project Diamond - 2nd Pfizer Consumer Health Plant in Suzhou China
---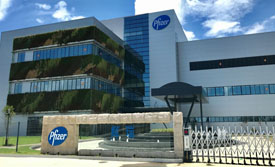 The Pfizer Consumer Health manufacturing facility in Suzhou, China stands out as the clear winner in the category of Sustainability. With this project Pfizer has set a new bar, creating a facility that embraces a holistic approach to sustainability going far beyond application of Good Engineering Practices to also include proactive planning for sustainable operations and thoughtful stewardship of the surrounding environment. The facility showcases Pfizer's commitment to environmental sustainability which includes reduction of greenhouse gas by 20% from 2012, water consumption by 5%, and waste by 15% by 2020.
This is Pfizer's second Consumer Health manufacturing facility in Suzhou, China and was built to meet the rapidly increasing volume demand in China. Project management at the very beginning highlighted Environmental Sustainability as a key project driver and colleagues from its original site, along with the project team, design consultants and subject matter experts, all participated in this journey of environmental responsibility for the corporation and for the community. Ideas for facility design, future operation, green message communication, and community engagement were collected for prioritization and implementation. The new facility was designed for large batch volume manufacturing of Caltrate and Centrum tablets, with future area reserved for other products and other manufacturing platforms. The facility also includes a new product development laboratory and pilot plant. This facility successfully achieves the dual objectives of meeting business requirements and making a significant contribution to environmental sustainability.
In addition to Good Engineering Practices and sustainable construction methodologies, the following ideas were adopted:
Solar power generation with photo-voltaic cells.
Solar heating for domestic hot water.
Solar and wind power lighting for outdoor area.
Rainwater harvest system.
Recycling 100% of treated wastewater for cooling tower makeup, toilets and lawn.
Zero nitrogen and phosphorus in wastewater discharge – to protect one of the largest fresh water lakes nearby.
Green roof and green wall.
Reflective road and roof surfaces.
Charging station in parking lot for electric vehicles.
Increased natural light in building design.
Increased fresh air makeup for office environment.
Provision of electric sun shading for the office building.
By evaluating each feature in detail to balance cost, benefit, impact on sustainability, and impact on the company's message to the local community, the resulting facility is a cost effective solution that breaks the status quo for sustainability, especially for projects in this region.
The wide range of improvements demonstrated practical, proactive, and ambitious strategies to enhance sustainability including several of note. Regarding renewable energy, the design included an allowance for future solar panel installation on the roofs, future connections in the electrical distribution system, and addition of a canopy structure to the parking lot even though the economics for a solar power generation investment were not feasible. As a result, the site was able to pursue a third party funded option. The site identified a renewable energy investment company willing to invest in the solar power generation facility and operate the facility (anticipated to include ~2,900 panels, with close to 0.8 MW capacity). To protect nearby Tai Lake, the second largest fresh water lake in China, the project committed to remove all phosphorus and nitrogen from its waste water by installing a distillation process. Also, the rainwater harvesting system for lawn and plant irrigation includes several sophisticated elements to ensure robustness.
---
---
The sustainable design reduces carbon emission by 4,000 tons per year and water consumption is reduced by 40,850 tons per year. The facility received the LEED Platinum Certification for New Construction for both the production building as well as the administration / laboratory building and LEED is recognizing the entire site as LEED Platinum - the world's first LEED Platinum pharmaceutical manufacturing site. In addition, it also received the China Two Energy Star certification.
This facility has the potential to set a new global benchmark for cost effective, sustainable design by demonstrating the ability to meet both business needs and corporate sustainability objectives and to do so in what has historically been a challenging region for environmental sustainability.
---
Key Participants:
Engineer/Architect: The IT Electronics Eleventh Design & Research Institute Scientific and Technological Engineering Corporation Ltd.
Construction Manager: Cockram Projects Construction & Engineering Co. Ltd.
Main/General Contractor: ZhongYiFeng Construction Group Co., Ltd.
Piping and HVAC Subcontractor: BOTH Engineering Co., Ltd.
Automation and Control Supplier: Rockwell Automation
Major Equipment Supplier(s)/Contractor(s): Fluid Air/Spraying Systems Co./GEMCO