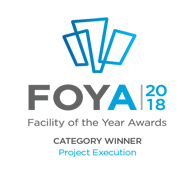 BioMarin Pharmaceutical, Inc.
Location: Novato, CA USA
Project: Project FAITH
---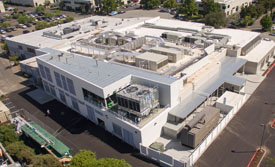 For the past two decades, BioMarin has kept its innovation focused on "Finding Tomorrows" for those afflicted by serious and life-threatening rare disorders. With clinical trials of BioMarin's investigational gene therapy underway/progressing to Phase III, BioMarin needed to make a strategic decision in April 2016 to ensure internal capacity was available to ensure production would proceed flawlessly, therefore, Project Faith was born. Based on the needs of the customer, BioMarin took only fourteen months to transform basic infrastructure into one of the first gene manufacturing facilities of its kind in the world.
The central reason BioMarin's Project FAITH embodies the ideals of the ISPE Facility of the Year is that it demonstrates how, when teamed with the industry's best people, equipped with the right technology, and energized by the right motivation, an impossible project is made possible. The execution of Project FAITH represents a spectacular display of pharmaceutical engineering and professionalism, attributable to many accelerating elements, including:
Speed of site selection – They were challenged by management to make Phase III clinical product ready for the clinic by December 2017 and have the facility be the commercial launch facility. To accomplish this, they split the project into two phases. Phase 1 was clinical product at commercial scale, completed by December 2017 and Phase II construction is to prepare the facility for commercial production and Regulatory inspection.
Fast assembly of critical project teams – Management responded quickly to authorize the assemble of critical and dedicated team members from engineering as well as operations, quality, etc. so a fast track decision was possible and inputs for requirements were received upfront.
Co-location of all project teams on site – All team members (owner, engineer, contractor) were housed under one roof with electronic metric boards to remind the team what was critical to accomplish and report progress which allowed for rapid inclusive decision making and effective governance.
Phased design methodologies - Development of valoctocogene roxaparvovec's process and scale-up occurred in parallel and the team was challenged to bring the commercial process forward into facility and platform plans, but these hurdles were overcome with the collaboration of all involved, especially equipment vendors who were committed to deliver within the project's planned timelines.
Concurrent commercial process scale-up – With the new process being installed, critical commercial scale up to Phase 3 levels were needed and completed in other BioMarin facilities so that once Project Faith was completed, they could proceed to full scale production.
Intensive schedule control –With schedule as the main priority to deliver product to the patient, the use of schedule project control was used across the team with real-time results displayed electronically for all team members to see.
Concurrent staff sourcing and training – With operation personnel giving the real-time input via the user requirements, they also looked to ensure that manufacturing personnel would be recruited, trained, and ready to go as the facility was handed over from construction to operations.
An impassioned, eye-on-the-prize work ethic ensured product would proceed to Phase 3 flawlessly as stakeholders knew patients are waiting.
Based on these reasons, the 2018 FOYA Judges recognize BioMarin with the 2018 FOYA Project Execution Award. The flexible single-use facility represents the future of genetic medicine, and the forefront of bioprocess project delivery.
---
---
Key Participants:
Architect/Engineer: CRB
Main/General Contractor: NOVO Construction
Piping and HVAC Subcontractor: ACCO Engineered Systems
Automation and Control Supplier: Powers of Automation, Inc.