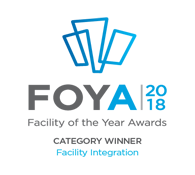 Shire
Location: Los Angeles, CA, USA
Project: Los Angeles Building 8
---
Shire is a leading global biotechnology company focused on serving people with rare diseases and other highly specialized conditions. Shire manufactures products for a global market of more than 100 countries across several therapeutic areas including Hematology, Immunology, Neuroscience, Lysosomal Storage Disorders, and Hereditary Angioedema. Many of the Shire products developed to treat rare diseases are derived from human plasma, and as such, Shire operates one of the largest plasma fractionation sites in the world at their Los Angeles campus.
The winning project involved the construction of a new 120,000 square foot purification facility (Building 8). The new building needed to be integrated into an 11.6-acre campus with eight other buildings and space constraints on all sides. Additionally, the project had to be executed in an area with multiple underground utilities and with ongoing manufacturing operations in the adjacent buildings. The Los Angeles campus was ideal because it permitted the downstream purification process to be maintained with the upstream steps of plasma fractionation. The level of site integration required included project related modifications to four other buildings and construction of a new administration building. All of this was accomplished while developing an expansion plan on the campus for the future. Despite the campus constraints, the new layout improves operational efficiency with considerations like dock proximity to existing warehouse, and a creative curved building design to maintain driveway access for trucks.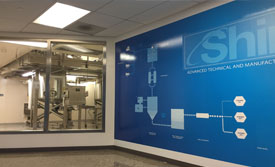 The project execution also required an elevated level of integration with the facilities as accommodations had to be made for offsite fabrication of construction modules, just in time deliveries, and parking and transport of craft workers from off-site. And to ensure no conflicts within the existing facilities, state of the art construction techniques like laser scanning of the adjacent buildings, full utilization of Building Information Modeling (BIM) technology, and paperless construction kiosks were applied. The design provides a focus on operational excellence with design features like lean meeting alcoves, advance environmental monitoring and automation systems, and a flexible pilot plant design. The integration of the project goes far beyond layout and construction of the new facility on the site.
---
---
The application of excellent and innovative design practices as well as superior planning led to a successful integration of this new facility into an existing operational campus. For this accomplishment, Shire is awarded the Facility Integration Category Award.
---
Key Participants:
Engineer/Architect: HDR
Engineer/Architect: CRB
Construction Manager and Main/General Contractor: DPR Construction
Piping Subcontractor: Murray Co.
HVAC Subcontractor: ACCO
Automation and Control Supplier: Sasco
Major Equipment Supplier(s)/Contractor(s): Holloway/Sanimatic/Central States Industrial Equipment/ ABEC Inc/IEDCO