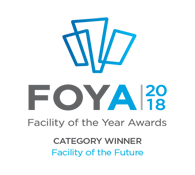 Vetter Pharma-Fertigung GmbH & Co.KG
Location: Ravensburg, Germany
Project: Optimizing Pharmaceutical Processes: Vetter's Center for Visual Inspection and Logistics
---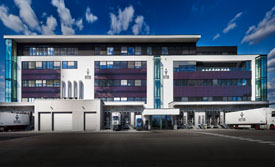 Winner in the Facility of the Future category exemplify the application and/or implementation of innovative design concepts, new technologies and unique solutions that are the next generation of agile, flexible, efficient and effective new and existing Life Sciences facilities
According to industry experts, the demand for drugs in prefilled injection systems will continue to grow. Meanwhile, government agencies around the world are increasing their regulatory requirements. Due to these developments, pharmaceutical and biotech supply chains have gained far greater significance.
That is why Vetter, a Contract Development and Manufacturing Organization (CDMO) and global leader in early drug development and clinical and commercial filling, built Ravensburg Vetter West (RVW) to bundle all supply chain processes within a single, innovative structure that stands ready to meet any future requirements. The site offers the company's customers, include small and medium enterprises as well as top 20 leading pharmaceutical and biotechnology companies, outstanding efficiency, flexibility, safety and sustainability, and is setting influential standards for the industry worldwide.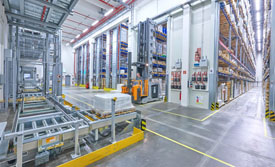 Ravensburg Vetter West features a significant number of innovative solutions that make it unique including flexible options for utilizing space and expanding the site, solutions tailor-made for the customer needs, optimized paths and transportation systems, as well as an outstanding system that guarantees a stable power supply.
Vetter can ensure extremely efficient, rapid and secure processes in logistics and quality control, all while remaining highly flexible for customers. The Ravensburg Vetter West site concept involves the intelligent meshing of optimized spatial planning, state-of-the-art technologies and enhanced work stations.
---
---
Ravensburg Vetter West was designed to carry out processes in a highly sustainable, environmentally friendly and efficient manner. The basis for this is an ISO-certified EHS (Environment, Health and Safety) program that is implemented throughout the company. The plan behind the building's holistic energy concept involved using renewable energies and making extensive use of recycled waste heat. The result was Vetter's ability to considerably improve on Germany's strict energy savings norms, while at the same time meet all regulatory guidelines.
For these reasons the Ravensburg Vetter West facility exemplifies all the attributes of the Facility of the Future FOYA Award category.
---
Key Participants:
Engineer/Architect: Wassung und Bader Architekten
Civil Engineering: Fassnacht Ingenieure GmbH/Matthäus Schmid Bauunternehmen GmbH & Co KG
Technical building equipment: Ingenieurbüro Sulzer GmbH & Co. KG
Finishing trades: Wassung und Bader Architekten
Electrical engineering and Measurement and control: Ingenieurbüro Mayer AG
Piping/HVAC Subcontractor: Siegle u. Epple GmbH & Co KG
Automation and Control Supplier: Neuberger Gebäudeautomation GmbH
Monitoring: Yokogawa Deutschland GmbH
Major Equipment Supplier(s)/Contractor(s): Brevetti C.E.A./Smardt OPK Chillers GmbH/ENGIE Refrigeration GmbH/Smardt OPK Chillers GmbH/COMBITHERM GmbH/Siegle u. Epple GmbH & Co KG /MTU Onsite Energy GmbH Gas Power Systems/2G Energy AG/Siegle u. Epple GmbH & Co KG/Bosch Industriekessel GmbH/Neuberger Gebäudeautomation GmbH/Klimasystems Gesellschaft fßür Kimaprüftechnik und Umweltsimulation mbH & Co. KG/Minimax GmbH & Co./Maschinen- und Stahlbau Julius Lippert GmbH & Co. KG/Fritz Schäfer GmbH/Klaus Ostermeier GmbH/Euro-Diesel GmbH /li>