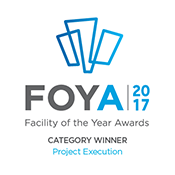 Jazz Pharmaceuticals Ireland Limited
Location: Monksland, Athlone, Co. Roscommon, Ireland 
Project: Project Rock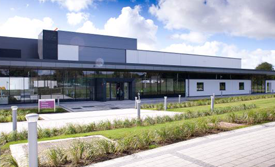 Jazz Pharmaceuticals is an international biopharmaceutical company, focused on improving patients' lives by identifying, developing, and commercializing products that address unmet medical needs. Jazz is headquartered in Ireland, with significant operations in the United States, England, Italy and other countries. The company has almost 1,000 staff globally and prior to building this facility, Jazz had no internal manufacturing; all production was outsourced.  In 2013, Jazz decided that it would dual‐source Xyrem® with the creation of its own manufacturing facility, allowing the company to more closely oversee and control the process of bringing high quality products to patients.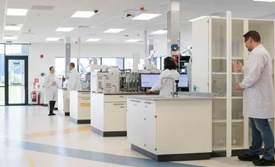 This project is a new greenfield facility based in Athlone, Ireland, licensed by the US FDA and Ireland's HPRA to manufacture Xyrem®, a treatment for narcolepsy. The site, on a 17.5‐acre plot, includes a single 55,500 ft2 building, with a cleanroom manufacturing suite for Xyrem® drug product, a warehouse with a controlled drug vault, a quality control laboratory, offices, supporting utilities, and future shell space for the next manufactured product in the pipeline.  "Green chemistry" was a key driver for this project and Jazz had developed a more environmentally sustainable and cost‐effective process for new products in the Jazz Pharmaceuticals' pipeline. Capability to manufacture according to this new process was built into the facility, consolidating drug substance and drug product manufacture.   The facility was developed in accordance with an overall master plan that allows for ease of future expansion from a centralized spine arrangement.
Having no prior experience internally on building or operating a manufacturing facility, the Jazz approach was highly pragmatic, and a model for lean project execution and integration of the investment from "project" phase to licensed GMP operations.
  
Cost Performance:  The budget for this project was established at the outset for €46.2M for "all costs" associated with bringing this facility from greenfield to licensure.  In the end, it was brought in at -2.4% against budget.
Schedule Performance: The basis of design was finalized in Oct 2013, and construction started Feb 2014.  Mechanical completion was 17 months on from that, July 2015 and the facility was qualified and received Ireland HRPA and USFDA licensure in June 2016….28 ½ months after groundbreaking.  A very strong achievement for a company with no prior experience in building or operating GMP manufacturing facilities! 
Safety Performance:  Very early in the project, there was a significant safety event with the site piling contractor, which resulted in a rigorous investigation and recommitment to the project safety culture.  The recovery plans on this were handled in an urgent and pragmatic manner and the project went on to enjoy a very respectable safety record overall.
Team Structure:  The Jazz project team that was assembled for delivering the licensed facility was very small, 27 persons strong, and the vast majority went on to represent the full operating headcount for the plant.  So essentially, the project team and the operations team were one.  So in addition to designing and building the plant, they were building the operating organization, initiating the Quality management system, performing the technology transfer, initiating a QC laboratory operation, building a local supply chain, and initiating a number of third party outsourcing initiatives (ie. facility management).  The team, most of which whom were recruited new to Jazz from other companies, understood the challenges of the operational/non-construction related activities and how they integrated into the overall program.
The ISPE judging team were impressed by the following aspects of this project execution:
Building a small team from a variety of different external sources, and aligning them on culture and objectives
The "less is more" philosophy of the small team and the integration of "project" and "operations" in such a seamless manner
The delivery of a greenfield, licensed facility against very aggressive cost and schedule targets
The recovery of the safety program in construction against some early project setbacks
Lastly, the above was accomplished within an organization with no prior internal plant construction or manufacturing experience.
---
Key Participants:
Engineer/Architect:  PM Group
Construction Manager: PM Group
Main/General Contractor:  John Sisk & Sons
Piping/HVAC Subcontractor:  Leo Lynch
Automation and Control Supplier:  Rockwell Automation
Major Equipment Suppliers/Contractors:  Marchesini Group; Kells Stainless (ABEC Technologies Europe Limited)