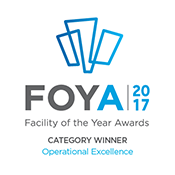 Abbott
Location:  Longford, Ireland
Project: Operational Excellence – A New Quality Approach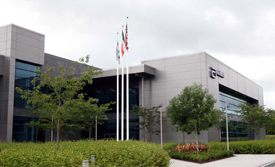 In 2012, the "Operational Excellence" project was initiated with the objective of creating a sustainable continuous improvement culture which would deliver high quality, safe and effective diagnostic products.  This was motivated by a shared commitment and dedication of all employees to enhance patient health and safety.  This objective was realized through the successful application of Abbott systems and tools, deployment of lean Six Sigma strategies, facility modifications to support continuous improvement projects and embedding of the Shingo principles of operational excellence. Through a focus on Operational Excellence, the site has increased productivity, reduced cost per unit, reduced cycle times, reduced equipment down-time, improved changeover efficiencies, eliminated backorders, reduced inventory holdings and improved product quality.  For its numerous outstanding achievements, the facility has been recognized both internally and externally, including the 2015 Shingo Prize.
The "Operational Excellence" Project, Abbott Diagnostics facility in Longford has generated cost savings totaling more than $13 million across all areas of spend. Cost improvements have resulted from a reduction in raw material and energy usage, automation, batch size optimization, and multiple process improvement projects targeting the complete value chain.    Furthermore, lead times fell by 38 percent, backorders were eliminated and there was a 15 percent reduction in distressed inventory.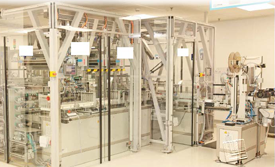 As of November 2016, the facility has accumulated 3,755 lost time accident-free days. In addition, the site has significantly lowered its carbon footprint by reducing energy consumption (energy usage fell by 23 percent between 2012 and 2015 despite test volume growth), eliminated waste going to landfill, and created an on-site biodiversity garden.  
High morale is reflected in the site's excellent employee attendance record of at least 98% and its high internal promotion rates attest to the success of career mentoring and coaching programs. Furthermore, creating an awareness of the benefits of physical activity encourages all employees to become more active, and the site provides a supportive workplace environment for doing so.  Corporate Social Responsibility (CSR) is also a key focus of the Longford site. Employees volunteer more than 2,000 hours each year to the site's many corporate social responsibility initiatives. Furthermore, the site has provided several operational excellence workshops for the staff of hospitals that use Abbott products and who are trying to introduce or reinforce lean principles.
For all of the reasons listed above the Abbott Longford site demonstrated all of the criteria required to be recognized as the Facility of the Year Award Category Winner for Operational Excellence.
---
Key Participants:
Engineer/Architect:  Rockwell Engineering; Agility
Construction Manager: Rockwell Engineering
Main/General Contractor:  Rockwell Engineering
Piping/HVAC Subcontractor:  Rockwell Engineering
Automation and Control Supplier:  Nicotra Gebheardt GmbH
Major Equipment Suppliers/Contractors:  Bausch, BASE Europe GmbH; Pago Etikettiersysteme GmbH; BBK Etikettier und Sondermaschinennbau, GmbH; Portakabin; Liftright Ltd; Telstar Technologies, SL; RTD Technology Ltd., T/A Asistec; Astra Clean Systems/Lighting; Frank McGowan Electrical; James Irwin Construction, Ltd.