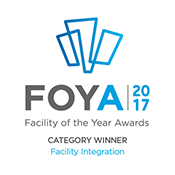 Bristol-Myers Squibb
Location: Devens, Massachusetts, USA 
Project:  Biologics Development Building/Clinical Manufacturing Building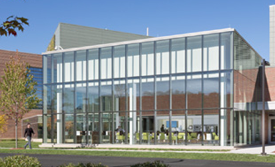 Bristol-Myers Squibb (BMS) is a global biopharmaceutical company whose mission is to discover, develop and deliver innovative medicines that help patients prevail over serious diseases. The campus at Devens, Massachusetts is part of their Global Manufacturing Network. This submission was focused on the two newest facilities, the Biologics Development Building (BDB) and the Clinical Manufacturing Building (CMB). The 89-acre Devens campus is being developed according to a multi-phase master plan. The goal is to ensure that each phase will create the most efficient and streamlined flow of personnel, vehicular traffic, utilities, materials, with the aim to craft a harmonious, healthy, happy workplace that integrates facilities and processes at all levels and adds benefit to the community.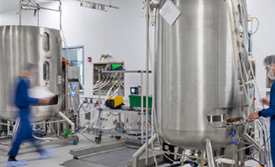 The facilities were designed and built in an efficient manner and incorporated into the broader campus to provide complementary value to the supply chain. The BDB is 230,000 square feet and four stories, with labs and associated office workstations on the first and second floors (housing approximately 200 employees), an empty third floor for future expansion (up to approximately 100 additional employees), and a fourth-floor penthouse for utilities. The CMB is a 131,000 square foot, multistory facility for the manufacture of late stage clinical and commercial launch supply of biologic bulk drug substance. The initial build out (Phase 1) provides a nominal bioreactor capacity of 2 x 2,000 L and houses all of the functions for supporting the manufacturing operations including office space for 125 employees, a Just-in-Time (JIT) warehouse, process utilities, weigh and dispense operations, solution preparation and parts wash/sterile preparation. The initial construction includes the utilities, infrastructure and shell space to support a rapid deployment for a future Phase 2 build-out of upstream and downstream manufacturing spaces should BMS require additional manufacturing capacity in short order.
The design and deployment of these facilities were done in a very thoughtful manner to ensure these assets integrated into the broader manufacturing network – there was careful integration and co-location of research, process development, scale-up, adaptable clinical and commercial scale manufacturing, which created an environment that minimized and eliminates handoffs. In terms of facility integration, these facilities were great examples of how to integrate new capabilities within an existing plant through careful design, good collaboration as well as creative engineering. An impressive fact was to execute this project, BMS had to ensure close integration of the project teams with existing operations in the facility – the nature of the project (two separate facilities, designed by two separate architects, constructed at the same time by the same construction manager on an already fully operational campus) rendered challenges, which the project overcame. 
Given the number of modifications that were also required to the existing campus (additions to the utilities, parking garage, CUB and pipe rack and storm water management), this project required a deliberate focus on planning and integration. The results were impressive, and the integration of this facility within BMS's broader mission and network of assets makes this a winner for the Facility Integration Category Award.
---
Key Participants:
Engineer/Architect:    ARC/Architectural Resources Cambridge
Engineer/Architect:    Clark, Richardson and Biskup (CRB) 
Construction Manager: Lendlease (US) Construction LMB Inc.  
Structural Engineer:  Symmes Maini & McKee Associates (SMMA)
Piping Subcontractor:  Donovan Engineering & Construction Co, Inc. (DECCO)
HVAC Subcontractor:   Walsh Mechanical
Automation and Control Supplier:  New England Controls
Major Equipment Suppliers/Contractors:  Sartorius Stedim Biotech; GE Healthcare