Interactive Workshops
Wednesday, 22 September 2021​​
Workshop 1: Control Strategies, Tech Transfer, CMC, Computer-based Modeling ​
1800 - 1930 CET/ 1200 - 1330 ET​
Leaders
Consistent product quality needs robust bioprocesses, which therefore need be controlled. The control strategies are a key element of stage 1 validation (Validation guideline FDA; 2011). For this, proven acceptable ranges of critical process parameters need to be defined in such a way that product quality is ensured along the product life cycle (ICH Q12) and along the full process chain. But how to determine the control strategy in an efficient way and respecting interactivities between the unit operations during process characterization studies (PCS)​
During this workshop, the discussion will assess the current state and showstoppers in breakout sessions by addressing the following aspects: ​
Control Strategy and Criticality Assessment for Biopharmaceutical Processes​

How to set up a control strategy? Good practices and pitfalls.​
How to perform criticality assessment of quality attributes and process parameters? ​
Which model to use for setting up a control strategy? Mechanistic/Statistical and Holistic Process Models​
Regulatory feedback on chosen approaches and what to expect from the future?​

Experimental Design and Analysis in Biopharmaceutical PD/PV/PCS​

Experimental Design or "Why Fisher and Mahalanobis have been the best farmers on earth" ​
How to save experiments – save time!​
How to do proper model selection?​

The Myth of Scale-Down Model Qualification (SDMQ)​

Flaws of comparability studies​
How to transfer knowledge across scales and sites? ​

Expected outcome and take-home messages​

Gather a joint understanding of do's and don't in PCS in order to set up robust control strategies, which hold along the product life cycle​
Have a grasp on the workflows and the method portfolio for carrying out efficient PCS​
---
Thursday, 23 September 2021​
Workshop 2: Workstream - ATMPs, Facility Design, GXP Compliance​
1630 - 1800 CET/ 1030 - 1200 ET​
Leaders
During the introduction of the workshop, information on Annex 2 PIC/S and the relations with Annex 1 draft 12 will be presented ​
Contamination Control Strategy (CCS), which is part of Annex 2A PIC/S and Annex 1, will be presented and reviewed​
The workshop group will then breakout and work in small groups to assess how industry, with the support of CCS, will develop their processes, equipment and installation, to comply with the new regulatory requirements​
The content of the workshop will focus on how to improve the processes to ensure patient safety and avoid transfer of additional contamination for some non-sterile processes ​
Building a CCS for ATMP's will be an interesting subject as many ATMP's processes are manual. ​
Each group will report back on the breakout discussions ​
The output of the workshop will be utilised and presented on the ISPE blog and/or the Pharmaceutical Engineering magazine​
---
Virtual Plant Tours
Friday, 24 September 2021
Janssen Sciences Ireland
1730 - 1830 CET/ 1100 - 1130 ET​
Janssen Sciences Ireland was established in 2005 with a 400-Million-euro investment on a 100-acre site in Ringaskiddy, Cork. It now employs over 720 skilled workers, manufactures five commercial products for the treatment of cancer and immune diseases using perfusion and fed batch technologies.
---
An additional 30M euro was invested between 2012 and 2015 to establish clinical and manufacturing suites which enabled full end to end testing and technical transfer.
2017 saw a further investment of 300M and construction began on Johnson & Johnson's first large scale fed batch suite. The new suite will be capable of delivering 72 batches per year and commercial production is set to commence in early 2022. Additional investment projects in 2020 and 2021 will facilitate expansion of the clinical suite to increase operational capacity to meet a growing clinical portfolio.
Janssen Sciences Ireland is also a Global Centre of Excellence for Clinical Drug Substance and Drug product release and Stability management. Johnson & Johnson's continued investment in 2020 and 2021 will enable further expansion of analytical and development capabilities.
With a significant focus on Sustainability Janssen was the first manufacturing company in Ireland to achieve the Business Working Responsibly Mark in 2016. The site achieved ISO14001 and ISO500001 certification and demonstrates commitment to renewable energy with a 150m wind turbine. Recently Janssen Sciences Ireland's newest manufacturing suite achieved LEED™ silver certification, the most widely used green building rating system in the world.
Janssen Sciences has also been named a member of the World Economic Forum (WEF) Global Lighthouse network which consists of a select group of 54 factories representing some of the most advanced facilities in the World. A recent site expansion to increase manufacturing capacity was recognised by the International Society for Pharmaceutical Engineering in 2021 with a "Facility of the Year" Award for Project Execution.
The site is also a protected habitat for the Irish Arctic Hare and is home to a diverse range of wildlife and an apiary which was established in 2019.
Janssen Sciences Ireland is part of the Johnson & Johnson (J&J) Family of Companies in Ireland. Operating in Ireland since 1935, J&J is one of Ireland's leading employers with a workforce of more than 5,000 highly skilled and motivated people across 10 locations, spanning five counties. J&J's operations in Ireland touch all aspects of human health, from consumer health products to pharmaceuticals to medical devices.
---
Friday, 24 September 2021
Eli Lilly's Active Pharma Ingredient (API) site in Kinsale, Cork, Ireland
1730 - 1830 CET/ 1100 - 1130 ET​
Please drop by and join us for a virtual tour of Eli Lilly's Active Pharma Ingredient (API) site in Kinsale, Cork, Ireland.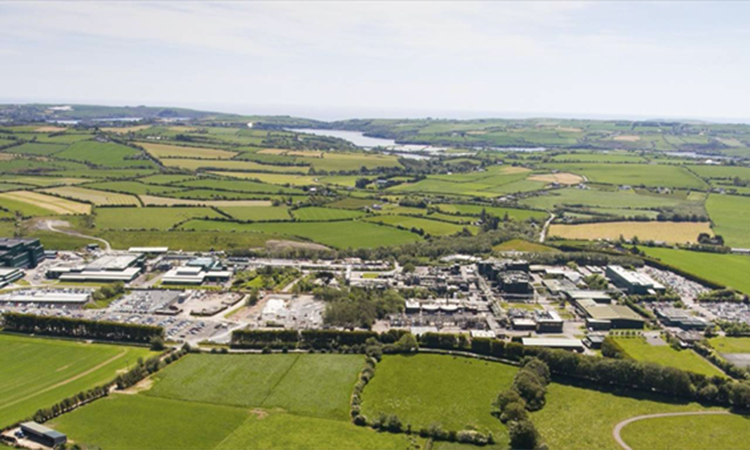 Eli Lilly and Company, founded more than a century ago, is a global healthcare leader that unites caring with discovery to create medicines that make life better for people around the world. Put simply, we help people get better, feel better, and live better. It's been our purpose for more than 140 years. And it's still our promise to society in the 21st century. We make life better through our medicines, our people, and our commitment to improve lives and communities around the world. Every day, we work to grow our business in responsible ways that improve people's lives and benefit society. We set and measure challenging goals to continually improve what we do and how we do it.
Primarily based in County Cork, Lilly has been operating in Ireland since 1978 and today the company employs over 2,000 people across our Irish operations, with an additional 500 outsourced and contract staff involved in the provision of day-to-day support services for the company.
Lilly Kinsale, which celebrates its 40th anniversary in 2021, is home to an extensive 50-hectare high-technology manufacturing campus where the worldwide supply of active pharmaceutical ingredients for many of Lilly's innovative medicines is made. These active ingredients are further processed at drug product manufacturing plants into medicines for use in therapeutic areas such as cancer, immunology, diabetes, and pain. Most recently, our portfolio of medicines has extended to include the manufacture of therapies for Covid-19 and Alzheimer's Disease.
Kinsale's mission is the manufacture and commercialisation of the newest medicines in the Lilly portfolio across 3 manufacturing technology platforms: Synthetic Chemistry (since 1981), Large Molecule Biologicals (since 2011) and now Synthetic Peptides (2021). Over the past decade and a half over $1.5b investments in these platforms have made the site one of largest API campuses in Europe and a truly unique site in the pharma industry globally. The virtual tour aims to give an overview of the site's history, process operations and also share some short virtual 'tour stops' featuring Pharma 4.0 applications in API manufacturing.
Wishing all a Cead Mile Failte (100,000 welcomes).
(Please note that the virtual tour has been developed in accordance with Lilly's corporate and local COVID19 social distancing controls and will feature both current and legacy video content)
---
Friday, 24 September 2021
Takeda Grange Castle
1730 - 1830 CET/ 1100 - 1130 ET​
Takeda is one of the world's oldest biopharmaceutical companies, established over 240 years ago. Takeda is committed to strive towards better health for people worldwide through leading innovation in medicine. At Takeda, we put patients at the heart of everything we do and are extremely passionate in our role in bettering the lives of patients.
Takeda Ireland was established in 1997 and our Irish operations have played a key role in our global leadership on rare diseases, oncology and gastroenterology. Currently employing over 900 people, Takeda Ireland has commercial operations, corporate services and manufacturing facilities across four locations: Citywest, Bray, Baggot St. and Grange Castle. Takeda has an unwavering commitment to patients and to improving quality of life by providing world class innovation and services from our operations in Ireland. Our values of Takeda-ism and Patient, Trust, Reputation and Business (PRTB) are deeply engrained in our ways of working in Ireland. Our Irish team are proud of our strong company culture inspired by our Japanese heritage.
Please join us for a virtual tour of P3, our state-of-the-art facility for commercial scale cell therapy production. Located at the Grange Castle manufacturing site, the facility is the first of its kind in Ireland and will play an important role in supplying a cell therapy treatment option to patients around the world. Earlier this year, Takeda announced a further investment in our cell therapy production facility. The €36 million investment will support the expansion of the facility and create approximately 100 new jobs over the next three years. The expansion will allow the team to support the growing global demand.
Also located at our Grange Castle manufacturing site are our P1 and P2 production facilities. In 2004 Takeda chose Grange Castle, Dublin as the location for its first active pharmaceutical ingredient (API) facility outside of Japan, this facility is known as P1. Since then, the site has grown to deliver medicines to patients all over the world. In 2019, P2, a standalone, high containment, cutting-edge production facility, opened on site. P2 incorporates the entire production process from active pharmaceutical ingredients to drug product and packaging under one roof.
The Takeda Grange Castle site uses 100% renewable electricity. The site is also one of the first pharmaceutical companies in Ireland to achieve an international standard for energy management known as the ISO 50001:2018 standard. This is a voluntary standard for designing, implementing and maintaining an energy management system, it includes setting objectives for improving the efficient use of energy. These measures support Takeda's wider commitment to being carbon zero in its own operations by 2040.