Sponsors / Speakers wanted! Please contact the ISPE Singapore Affiliate Student Chapter: sgispesc@gmail.com. 
Student Chapter 2022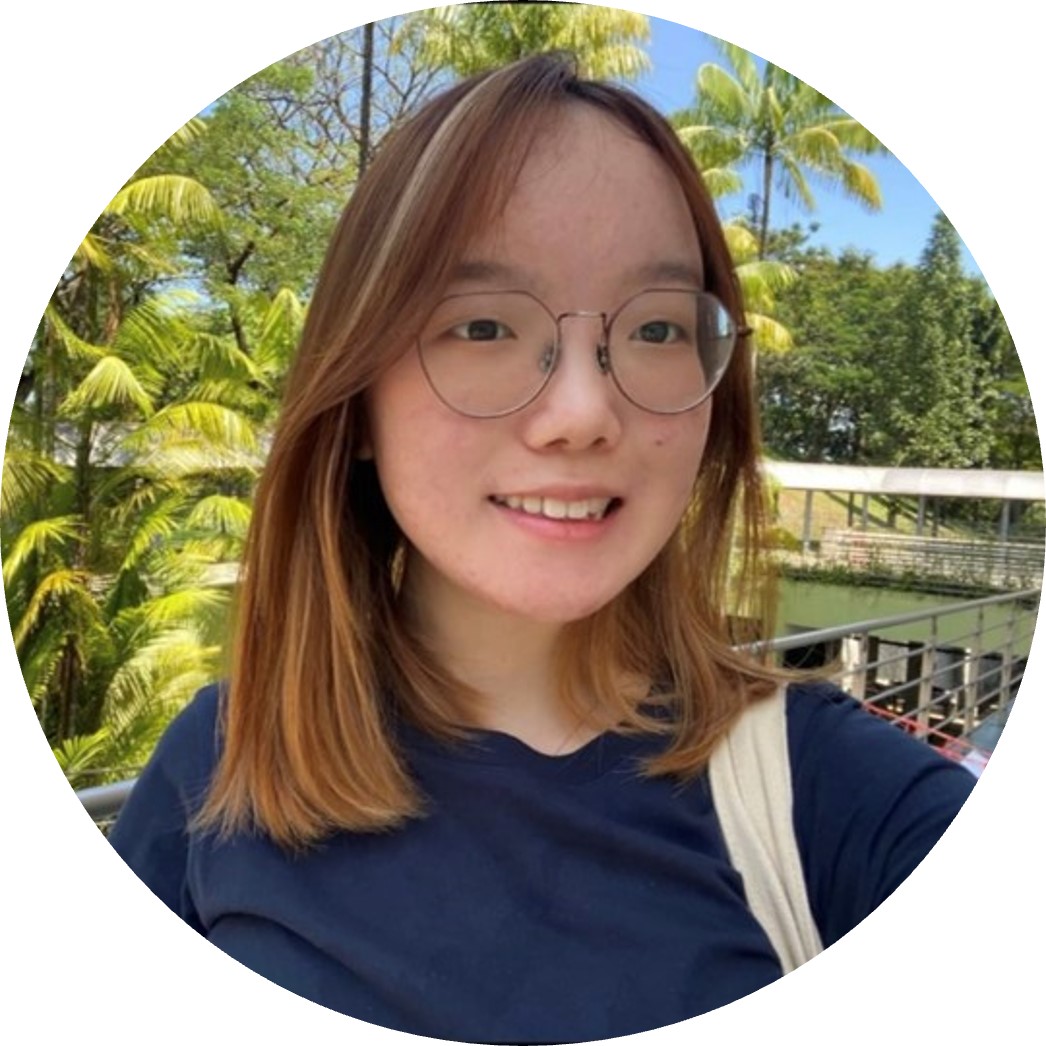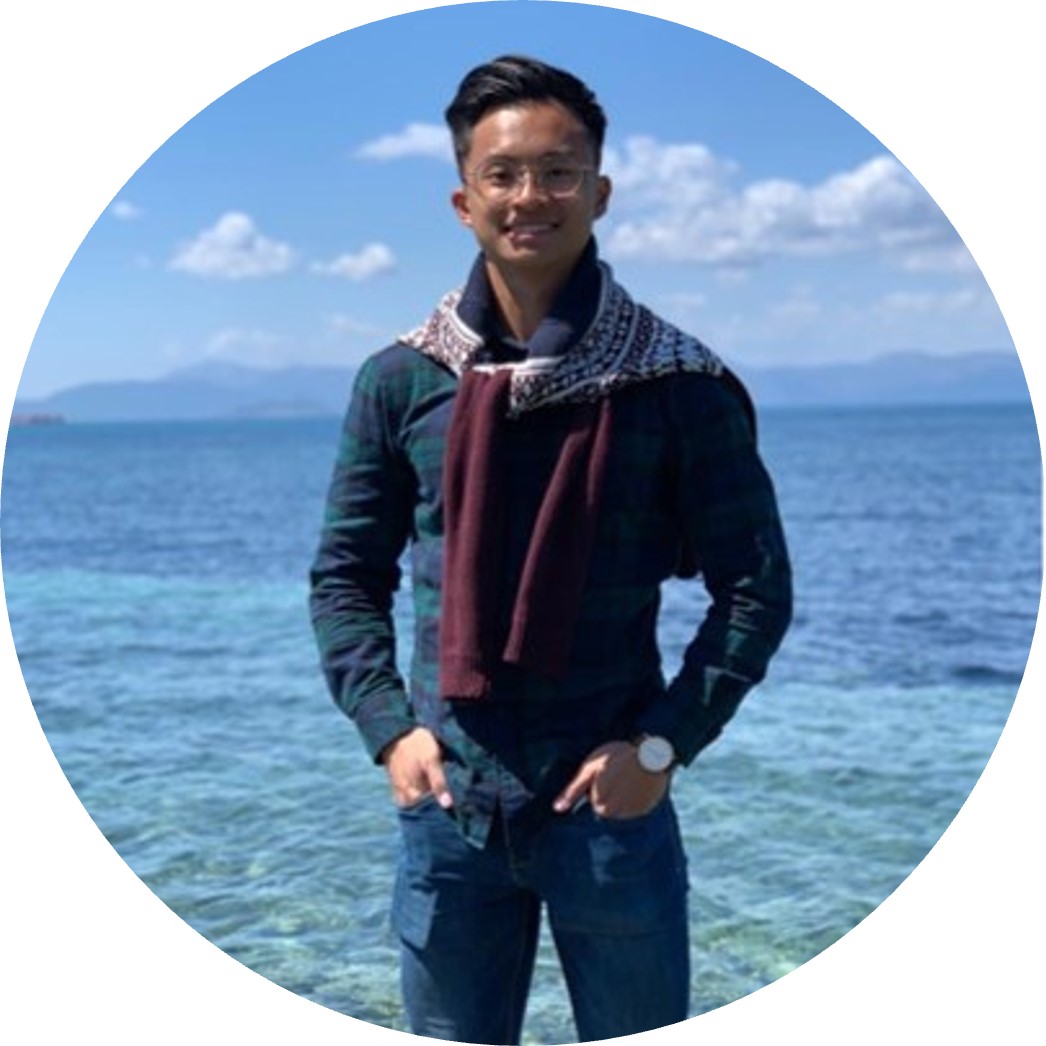 ---
Contact: 
Email: sgispesc@gmail.com
ISPESC Telegram Channel: https://t.me/joinchat/TyrjMCx3CDCvo01i
Instagram: sgispesc
---
ISPESC Leadership Team Recruitment
Stay tuned to the results of the ISPESC 2023 Leadership Team. Recruitment for Associate Directors and subcommittee members will begin in late January/ February. Should you wish to have more information on the roles and responsibilities of such roles, feel free to contact Gary (ISPESC 2022 President) at sgispesc@gmail.com or @Gtzh97 (Telegram).
---
Event Highlights of 2022:
ISPE x ARTC Site Visit 2022
ISPE x ARTC Site Visit is the first physical site visit held on 7th February since the pandemic. This site visit is open to students and industrial professionals, showcasing various facilities:
Arcstone's Digital Manufacturing Joint Lab that showcases the end-to-end capabilities of Arcstone's entire suite of tools.
Factory of the Future Line that deploys the latest toolsets and advanced manufacturing.
Manufacturing Intelligence Control Room that conducts maintenance across all the equipment, calibrations of the equipment, safety controls and quality controls.
Hyper Personalisation Line that focuses on creating direct connectivity of data between suppliers so that production can be done real-time when the demand comes in.
Participants are exposed to the latest digital manufacturing technology to broaden their horizons in light of the industrial digitalisation revolution.
ISPESC x NTU SPMS: Pharma101
Led by the ISPESC 2022 Leadership team in collaboration with MSD and supported by NTU SPMS, Pharma101 is an informative webinar held on 20th May and focused to provide an overview and key insights of the Pharmaceutical industry for our students. The distinguished guests include an industrial professional and NTU SPMS alumni to share insights and their experiences in the industry following graduation.
We hope that such an event has brought more value to our members and ignited more interest moving into the everchanging Pharmaceutical landscape.
ISPE SG Virtual Hackathon 2022
Led by the ISPESC and ISPEEL, ISPE SG Hackathon 2022 is an international annual case-study themed competition where participants innovate a solution from a given real-life problem statement. This year's theme is on Sustainability in Pharma (Supply chain). The competition was held across 19th to 25 June, with teams of up to 6 members consisting of students and emerging leaders, and an industrial professional team coach to ideate creative solutions. Complimentary Pre-Hackathon Webinars were organized for participants to gain an understanding for the topics prior to the initiation of the Hackathon. Participants are given the opportunity to showcase their ideas during the ISPE Conference & Exhibition 2022 following the Hackathon.
The Hackathon aims to expose participants to industrial problems outside of their curriculum and apply relevant knowledge and creativity to innovate solutions prior to embarking on their journey in the Pharmaceutical industry.
This event wouldn't have been such a success without the passion and effort of the Judges and Industrial Mentors who volunteered and provided key insights and advice to the teams. We wish to thank the Judges, Coaches, Participants and the Organising Committee for making this event a success. We hope you will look forward to ISPE SG Hackathon 2023.
Following the "Connecting with Resume" event in 2021, Ace your interview is an interactive webinar held on 27th August and focused to provide tips and tricks for a successful interview experience. The webinar tackled common problems faced during an interview and key insights on good interview skills. The distinguished guest Ms Shirley Chia from Amgen shared her insights and experiences in the industry.
We hope that such an event has provided invaluable insights and inspired confidence in our members to ace their future interviews.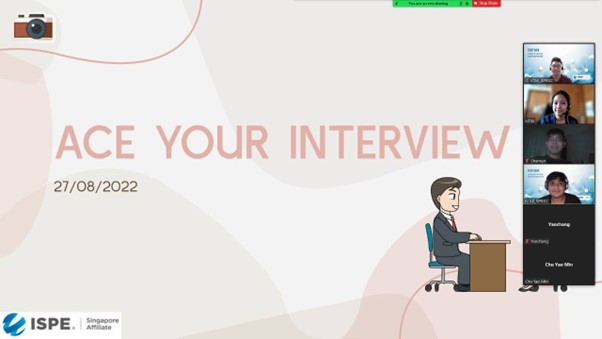 Automation in Pharma is a webinar held on 16th September and focused to provide key insights into the levels of automation utilised in the Pharmaceutical Industry. The webinar provided an overview of each level of automation followed by trends noticed in the industry with Pharma 4.0 wave. The distinguished guest Ms Claire Giang from Körber Pharma shared her insights and experiences in Automation in the industry.
The event has provided invaluable technological insights of the industry and provided participants with inspiration and knowledge to look forward to in the digitalising industry.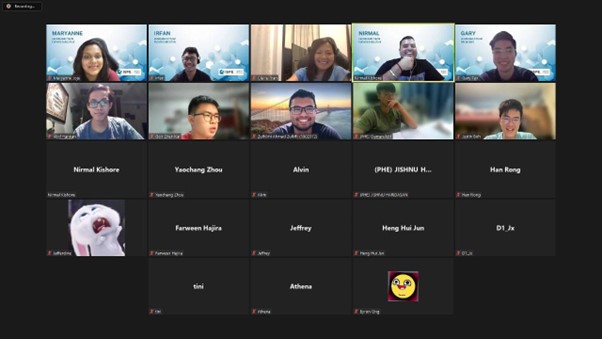 ISPESC x PDA: Pandemic to Endemic
ISPESC in collaboration with Parenteral Drug Association (PDA), supported by SIT PE SMC has successfully held Pandemic to Endemic at SIT@Dover on 30th September. Pandemic to Endemic showcases the changes brought about by the COVID-19 Pandemic situation in various sectors of the Pharmaceutical Industry such as Education, Regulatory & Compliance, Project Management, Operations and Manufacturing. Distinguished guests from Novartis, No Deviation and SIT shared their observations on work life adaptations seen with the Pandemic, and discussed possibilities and opportunities for the industry moving ahead post-pandemic.
We hope that this event has provided insight to our members and inspired students as we progress post-pandemic.
ISPESC's trademark event Pharmaceutical Genesis is back, showcasing insights and technical knowledge into trending topics of the Pharmaceutical Industry! This year Pharmaceutical Genesis was held at PSB Academy on 12th November, and the topics of focus are Single-use, ATMPS, CGT, and mRNA technologies. Distinguished guests from PALL Corporation and Merck group were invited to share their expertise on the topics and engaged students in focused discussion groups to innovate on potential challenges and opportunities for the industry moving forward.
We hope that the participants have gained technical knowledge in the following topics and inspired students moving forward into the industry.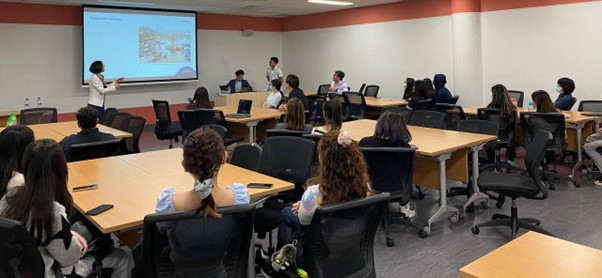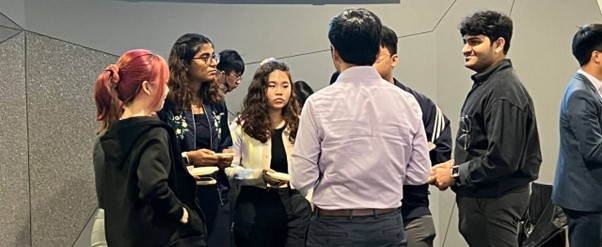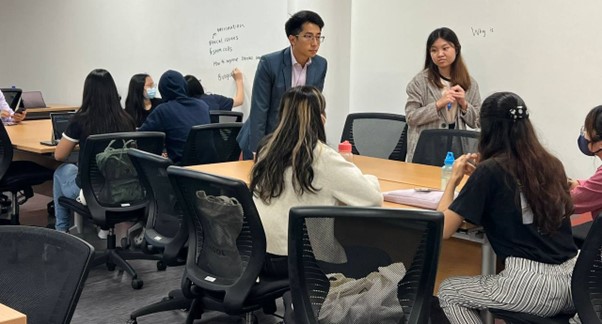 To wrap up the year, ISPESC Bonding Day was held on 3rd December where our diverse student community members were invited to meet-up over lunch for interaction and networking during their school break. We hope that the students were able to learn more from each other and foster bonds through this interaction to build a cohesive diverse student community.
---
Student Chapter 2021
The International Society of Pharmaceutical Engineering (ISPE) Singapore Affiliate is a non-profit organization and we, the Student Chapter (SC), aims to expose students to the Pharmaceutical industry by exposing them to the professionals in this field and to provide opportunities for them to plan and organise related events. 
As a member of ISPESC, you can look forward to networking opportunities with students from different courses, acquire more knowledge from sharing of content beyond your curriculum, and develop your soft skills etc. 
Contact: 
Email: sgispesc@gmail.com
ISPESC Telegram Channel: https://t.me/joinchat/TyrjMCx3CDCvo01i
Instagram: sgispesc
Direct Contact: @Louisdrex
---
ISPESC Leadership Team Recruitment
Stay tuned to the results of the ISPESC 2022 Leadership Team. Recruitment for Associate Directors and subcommittee members will begin in late January/ February. Should you wish to have more information on the roles and responsibilities of such roles, feel free to contact Louis (ISPESC 2021 President) at sgispesc@gmail.com or @Louisdrex (Telegram).
---
Key New Initiatives:
Led by the Communications team, ISPESC Info-bites is an initiative to simplify information and make it digestible for our students. The team consolidated feedback on topics of interest from students and relevant happenings in the industry.
We hope that such an initiative has brought more value to our members and enhanced their knowledge.
Here are some snippets:

In line with ISPESC's vision of better engaging you (students) and to seek regular feedbacks, we incorporated the Champions Initiative.

Under this Initiative, there is one student per course/school whom have valiantly volunteered and been selected to take on this responsibility as being the liaison between their school/course and ISPESC.

His/her role will be to share details about ISPESC Events with his/her course mates. More importantly, to hear from the ground on the needs of the students and how ISPESC can curate events to cater to these needs. 
---
Past Events
ISPE Singapore's Affiliate Students' Chapter has organised the last knowledge-based event for 2021 - Food Future - catered to our members' needs. This event was newly initiated in ISPESC as we understand the intertwine between the food industry and the pharmaceutical industry. We also understand that our valued members (you) have various interests, and many are exploring the opportunities in the workforce.
Feedback from a participant: From the basic concepts to in-depth industry knowledge, this session was truly an eye opener to food industry in Singapore. I learnt more about the plant based meats and cell based meats and their prospects in current market, as well as personal experience of speaker in working in an alternative food options start-up. Moreover, the session covered on the root cause of why alternative food options have surfaced, and what are other aspect of food industry focuses on to reduce the food wastage . Overall, this session benefitted me in a way of finding out about our sister industry and provided an alternative path to overlook. The tips and job scope insights of the manufacturing plant were beneficial as well as can't be found anywhere else !
ISPESC Monthly Bonding Session (MBS)
This year ISPESC has conducted monthly e-MBS to be aligned with ISPESC 2021 vision of bridging and forging connections amongst students. In the past months, participants had a great deal of fun through the online games as they get to interact with other students! Members could also learned more about ISPESC through such an opportunity.
We are truly glad to provide networking and bonding opportunities for our members through games. Considering our members are from different academic institutions and background, it was even more fulfilling.
Feedback from a participant: Great bonding sessions, great place to chill and meet people of similar interest. Has allowed me to learn and develop.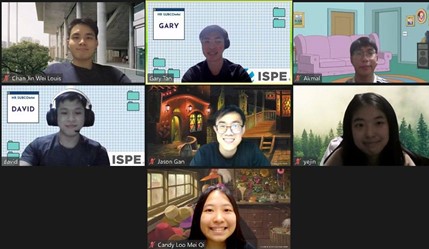 ISPESC Members Bonding Day
In November, ISPE Singapore's Affiliate Students' Chapter concluded our new initiative- Members Bonding Day 2021. Due to the ongoing pandemic, the event was held online. However, we are glad that that did not affect the enthusiasm of our participants. Members of ISPESC had the opportunity to interact with one another in a speed bingo and even compete with other groups with hot rounds of Battle Royale!
We have successfully executed the "Connect with Resume" event. Through the event, we aimed to allow students to get a better understanding of how to craft an impactful resume that showcases their talents.

A special thanks to the planning team, and our distinguished speaker Ambrose Chan who shared handy tips on how to prepare a good resume. We believe that this will serve a good foundation for the students.

Feedback from a participant:
'The event was useful and there were many dos and don'ts that were being shared during the webinar, and it gives a better understanding how to do my resume'.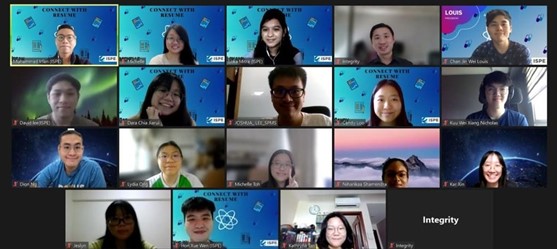 "Women Empowerment" Event
The Women Empowerment event (co-organised between Singapore Polytechnic DCHE Club, ISPE Singapore Affiliate and Institution of Chemical Engineers (IChemE) has successfully concluded.

The three distinguished speakers (Julia Gandhi, Elaine Yong and Elisa Goh) shared great insights into their journey in the Pharmaceutical and Engineering industry. We believe that participants have gained better clarity on how to navigate through the workforce and make a significant contribution (regardless of gender).

We wish to thank the speakers for their time and contribution to enriching the lives of students!
ISPESC first-ever event collaboration with SIT Pharmaceutical Engineering SMC- Pharum 2021 has successfully concluded.

It was a resounding success as the team invited 3 speakers from Novartis, such as Rajat Bhasker, Sabrina Peh and Manuel Ungerer. In addition, we invited the SIT Pharmaceutical Engineering students (Edina Lee & Muhammed Harith) who had just finished their Integrated Work Study Programme (IWSP) to talk about their experience in manufacturing operation and lab research respectively.

In this collaboration, we dived into the specialisation of Pharmaceutical Engineering, such as the Small Molecular Drugs (SMD) track and the Biologics track and process. Participants gained great insights into the upstream and downstream process for both the SMD and Biologics tracks. The technical skills and knowledge from different specialisations provide many career opportunities in the pharmaceutical industry. Most importantly, the participants will have a better idea of which path they are interested in after the event.

Feedback from one participant: "Pharum 2021 is insightful. The event equipped me with important knowledge to choose my specialisation properly."
Many thanks to the ISPESC Pharum 2021 Team and SIT Pharmaceutical Engineering SMC for their contribution and extensive efforts.
Once again, ISPESC is glad to be the enabler to organise events that will value add to our members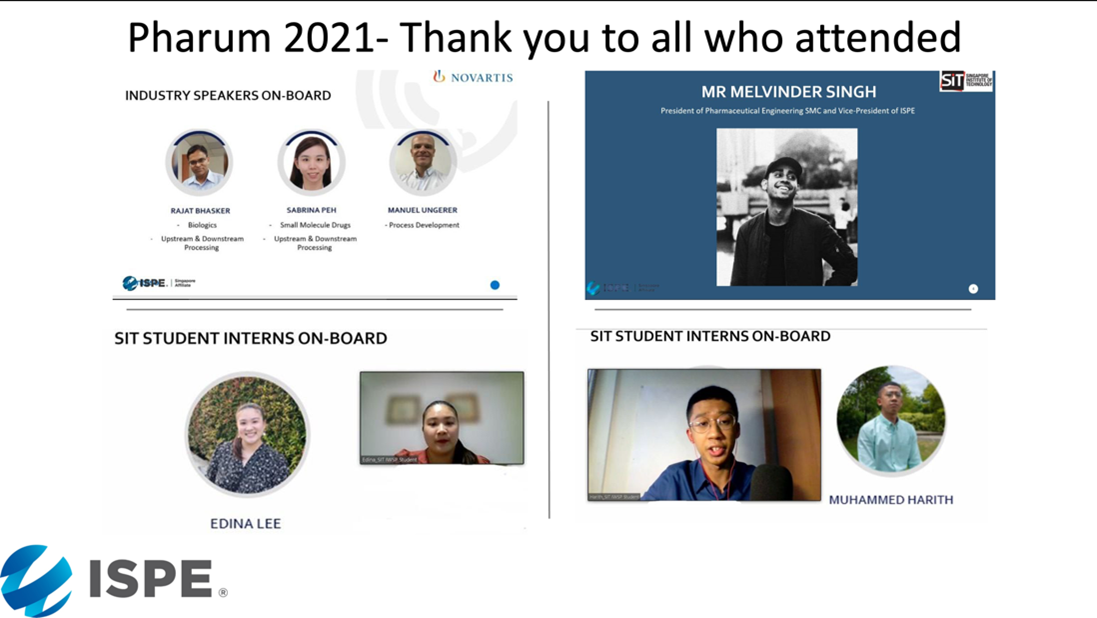 We understood that many of our members whom are from a Poly background had wished to find out more about what happens after one's Poly education.

Hence, we launch a collaboration with Singapore Poly's Diploma in Chemical Engineering Club as both organisations believe in adding value to students.
Through students' sharing, we had enabled more polytechnics students to gain clarity on what lies in University education and the workforce.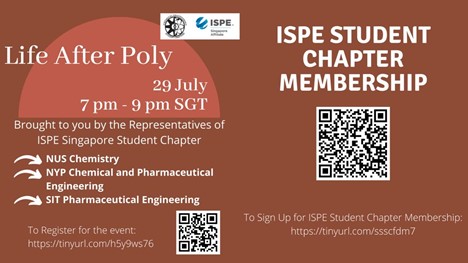 The ISPE SG Hackathon has successfully concluded from 18th to 27th June.

The Hackathon's aims were:
1) Expanding participant network with likeminded peers
2) For participants to learn about the Pharmaceutical Industry and skills relevant to the industry
3) Providing Learning through Gamifications

We are glad to say it was a success as participants enjoyed their experience and could also learn key concepts about the Pharma 4.0 process in Manufacturing. The participants were of an impressive standard as they also brought in business perspectives to discuss the feasibility of their ideas.

This event wouldn't have been possible without the Coaches who volunteered and provided key and useful advices to the teams.

We wish to thank the Judges, Coaches, Participants and the Organising Committee for making this event a success. We hope you will look forward to ISPE SG Hackathon 2022.
ISPE Singapore Webinar Pharma 4.0
ISPE Singapore Affiliate Emerging Leaders and ISPE Singapore Student Chapter have collaborated to organise a Webinar on BioPharma Organisational Design and Pharma 4.0. Do check out our poster for more details. 
The Speaker is Wilbur Ho who is the Director of Pharma Operations at Amgen Singapore Manufacturing where he drives global (Asia, US, Europe) manufacturing strategies to optimize network supply chain reliability and agility and deliver Lean Six Sigma initiatives as Black Belt Coach. 
14 Jun 2021 | 10am-1pm SGT
One of ISPESC's flagship event- Pharmaceutical Genesis 2021 has successfully concluded on 14th June.

It was a resounding success as the team invited 4 speakers from organisations such as Mr Derek Seah from GlaxoSmithKline (GSK), Ms Levana Sani from Nalagenetics, Mr Ivan Heng from Johnson & Johnson and Mr Benjamin Cheng from Singapore General Hospital (SGH)

Participants were able to immerse in the informative and insightful seminar on the pharmaceutical industry in Singapore. Together we unveiled several topics concerning the opportunities in the pharmaceutical industry such as the variety of career opportunities in the pharmaceutical industry and the technologies used in industry such as treatment of leprosy using genomic technologies. Most importantly participants were able to understand the preparation and skills needed before heading into the fast-moving pharmaceutical industry.

Some feedback from our participants:
"The event is very informative. It gave insights of the wide range of career opportunities that they can specialise in the future. Looking forward to joining future events organised by ISPE."
"I was able to gain a lot of learning about the insights of the pharmaceutical industry. Will be looking forward to joining future ISPE events and initiatives! "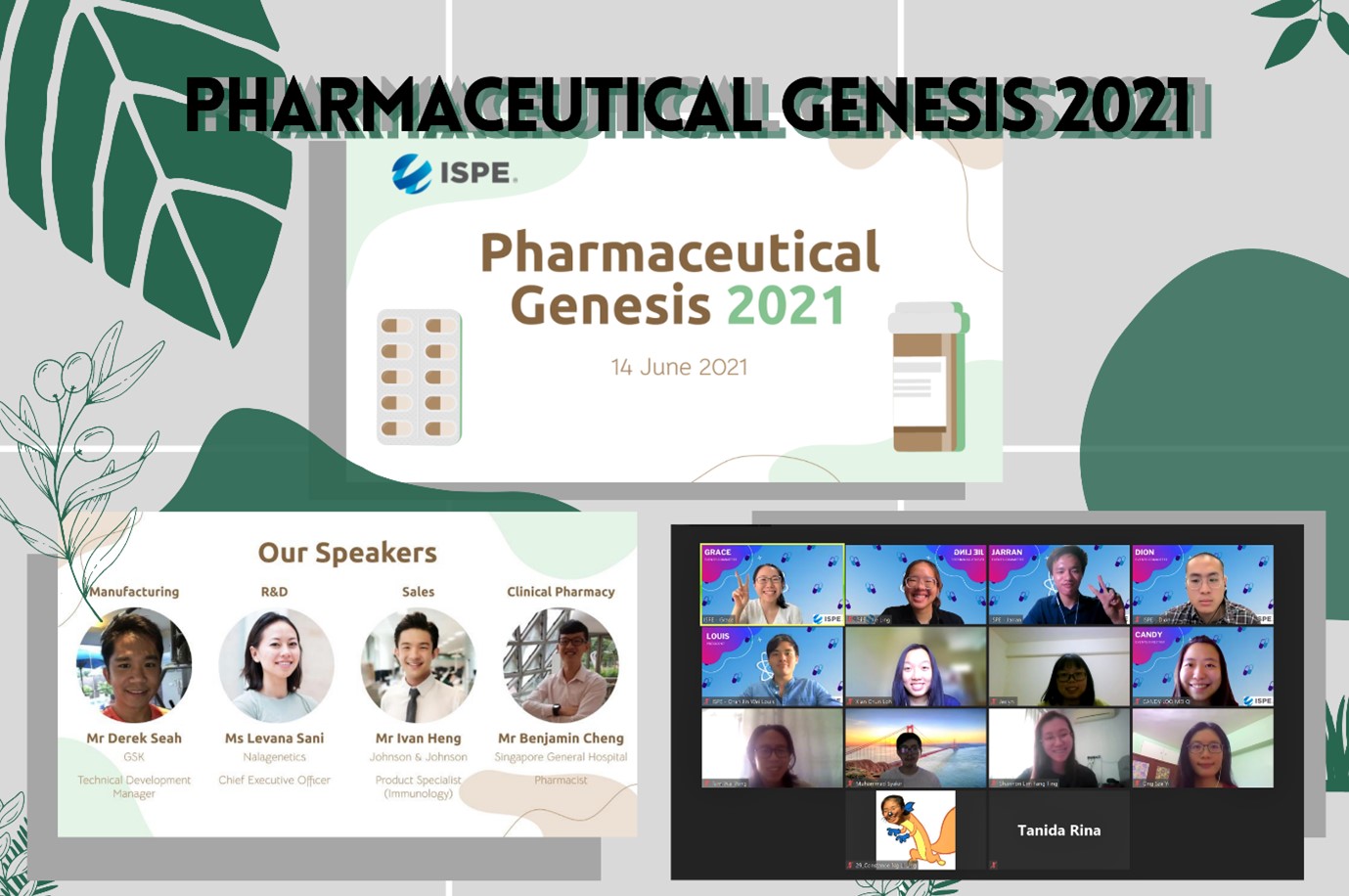 ---
Student Chapter 2020
Contact: 
Email: sgispesc@gmail.com
Past Events:
23 Oct - 01 Nov 2020: ISPE Singapore Hackathon 2020
Jan 2021: Pheature 2021 | https://biopharma2021.wixsite.com/pheature2021
---
Highlights 2020 ISPE Singapore Student Chapter
This year, 2020, the COVID-19 pandemic has changed our lifestyles and how society works. Conferences and social gatherings have been postponed or cancelled but this did not deter the ISPE Singapore Student Chapter from organising their events. The Student Chapter saw this as an opportunity to transition into the technological era where events are held virtually while keeping participants safe. (read full article)
---
Student Poster Competition 2016
At the Student AGM on 1 Apr 2016 a new Student Chapter Executive Committee was elected. Congratulations to: Wendy Han (President), Kimberly Siacor (Vice President), Jonathan Tan (Secretary), Liu Chin Mei (Treasurer), Jia Huan Wan (HR), Collin Chong (PR), Ziling Zeng (Info-Comm Tech). We are looking forward to some great student activities this year!
---
ISPE Annual Meeting 2013 – A Singaporean Student's Perspective
By Ng Qin Xiang, National University of Singapore
I did not have the slightest inkling on what was in store for me when I first signed up for the local ISPE student poster competition …
Follow us on: Intstagram    Facebook    Twitter