Sponsors / Speakers wanted! Please contact the ISPE Singapore Affiliate Student Chapter: sgispesc@gmail.com. 
Student Chapter 2021
The International Society of Pharmaceutical Engineering (ISPE) Singapore Affiliate is a non-profit organization and we, the Student Chapter (SC), aims to expose students to the Pharmaceutical industry by exposing them to the professionals in this field and to provide opportunities for them to plan and organise related events. 
As a member of ISPESC, you can look forward to networking opportunities with students from different courses, acquire more knowledge from sharing of content beyond your curriculum, and develop your soft skills etc. 
Contact: 
Email: sgispesc@gmail.com
ISPESC Telegram Channel: https://t.me/joinchat/TyrjMCx3CDCvo01i
Instagram: sgispesc
Direct Contact: @Louisdrex
---
Upcoming Events:
ISPESC Monthly Bonding Session (MBS)
This MBS event was initiated this year to be aligned with ISPESC 2021 vision of bridging and forging connections amongst students. In the past months, participants had a great deal of fun through the online games as they get to interact with other students! Members could also learned more about ISPESC through such an opportunity.

Do join us for our Monthly Bonding Session which is held on every 3rd Thursday of the month between 8-9pm! We will be offering new games. And reminder that the points for our sessions are cumulative and the overall top scorers will receive Grab Vouchers!

These sessions are complimentary and you do not have to be an ISPESC Member. We hope that you will have an enjoyable time networking with students, beyond your curriculum and major. 

You may sign up for our next session via: https://lnkd.in/gf4yFx9

Feel free to contact us at sgispesc@gmail.com for any queries on this. 
21 Aug 2021 | 1-3pm
---
Past Events:
ISPE Singapore Virtual Hackathon 2021
18-27 Jun 2021 
The ISPE SG Hackathon has successfully concluded from 18th to 27th June.

The Hackathon's aims were:
1) Expanding participant network with likeminded peers
2) For participants to learn about the Pharmaceutical Industry and skills relevant to the industry
3) Providing Learning through Gamifications

We are glad to say it was a success as participants enjoyed their experience and could also learn key concepts about the Pharma 4.0 process in Manufacturing. The participants were of an impressive standard as they also brought in business perspectives to discuss the feasibility of their ideas.

This event wouldn't have been possible without the Coaches who volunteered and provided key and useful advices to the teams.

We wish to thank the Judges, Coaches, Participants and the Organising Committee for making this event a success. We hope you will look forward to ISPE SG Hackathon 2022.
ISPE Singapore Webinar Pharma 4.0
17 Jun 2021 | 9-10am SGT
ISPE Singapore Affiliate Emerging Leaders and ISPE Singapore Student Chapter have collaborated to organise a Webinar on BioPharma Organisational Design and Pharma 4.0. Do check out our poster for more details. 
The Speaker is Wilbur Ho who is the Director of Pharma Operations at Amgen Singapore Manufacturing where he drives global (Asia, US, Europe) manufacturing strategies to optimize network supply chain reliability and agility and deliver Lean Six Sigma initiatives as Black Belt Coach. 
14 Jun 2021 | 10am-1pm SGT
One of ISPESC's flagship event- Pharmaceutical Genesis 2021 has successfully concluded on 14th June.

It was a resounding success as the team invited 4 speakers from organisations such as Mr Derek Seah from GlaxoSmithKline (GSK), Ms Levana Sani from Nalagenetics, Mr Ivan Heng from Johnson & Johnson and Mr Benjamin Cheng from Singapore General Hospital (SGH)

Participants were able to immerse in the informative and insightful seminar on the pharmaceutical industry in Singapore. Together we unveiled several topics concerning the opportunities in the pharmaceutical industry such as the variety of career opportunities in the pharmaceutical industry and the technologies used in industry such as treatment of leprosy using genomic technologies. Most importantly participants were able to understand the preparation and skills needed before heading into the fast-moving pharmaceutical industry.

Some feedback from our participants:
"The event is very informative. It gave insights of the wide range of career opportunities that they can specialise in the future. Looking forward to joining future events organised by ISPE."
"I was able to gain a lot of learning about the insights of the pharmaceutical industry. Will be looking forward to joining future ISPE events and initiatives! "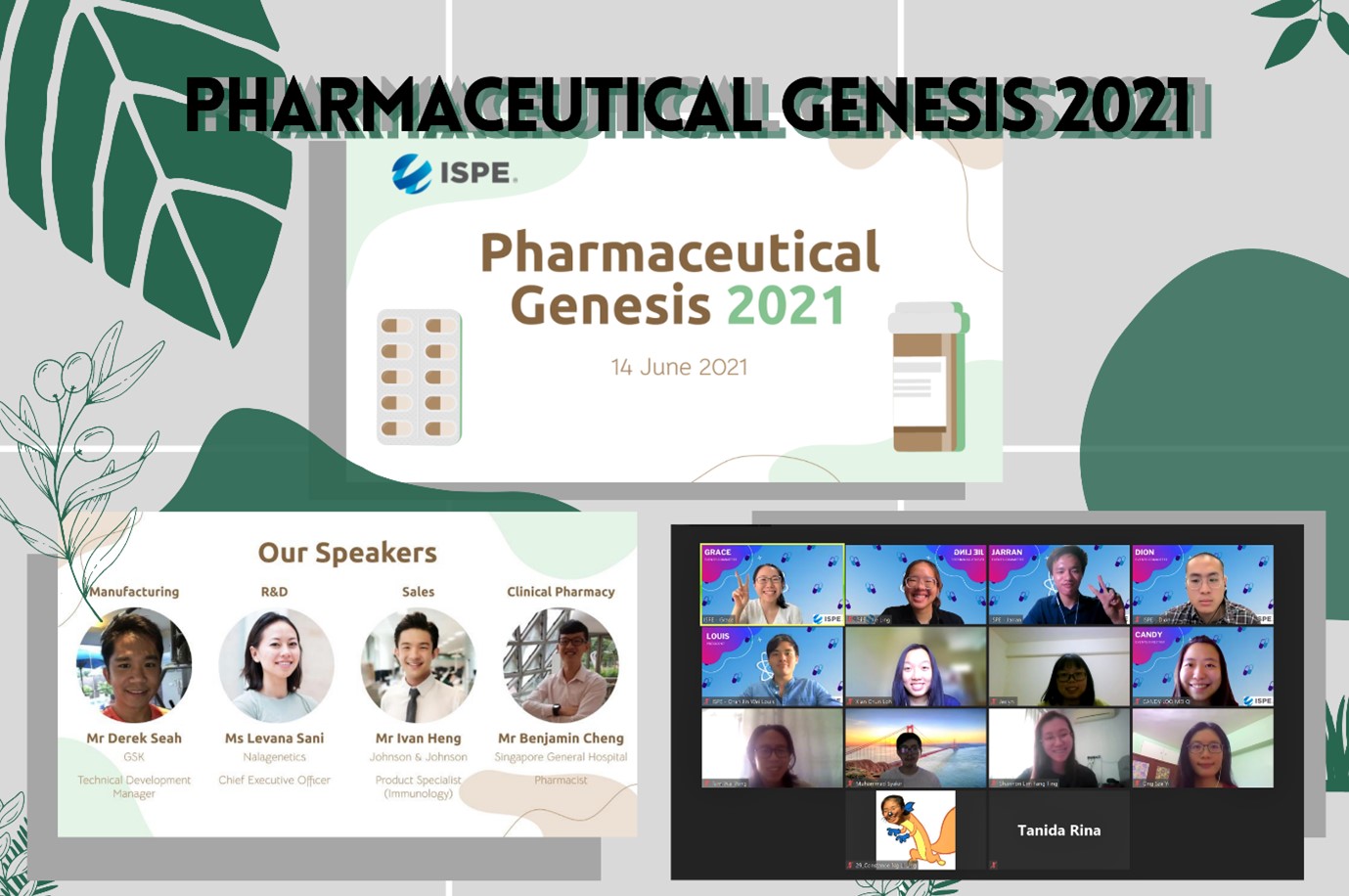 ---
Student Chapter 2020
Contact: 
Email: sgispesc@gmail.com
Past Events:
23 Oct - 01 Nov 2020: ISPE Singapore Hackathon 2020
Jan 2021: Pheature 2021 | https://biopharma2021.wixsite.com/pheature2021
---
Highlights 2020 ISPE Singapore Student Chapter
This year, 2020, the COVID-19 pandemic has changed our lifestyles and how society works. Conferences and social gatherings have been postponed or cancelled but this did not deter the ISPE Singapore Student Chapter from organising their events. The Student Chapter saw this as an opportunity to transition into the technological era where events are held virtually while keeping participants safe. (read full article)
---
Student Poster Competition 2016
At the Student AGM on 1 Apr 2016 a new Student Chapter Executive Committee was elected. Congratulations to: Wendy Han (President), Kimberly Siacor (Vice President), Jonathan Tan (Secretary), Liu Chin Mei (Treasurer), Jia Huan Wan (HR), Collin Chong (PR), Ziling Zeng (Info-Comm Tech). We are looking forward to some great student activities this year!
---
ISPE Annual Meeting 2013 – A Singaporean Student's Perspective
By Ng Qin Xiang, National University of Singapore
I did not have the slightest inkling on what was in store for me when I first signed up for the local ISPE student poster competition …
Follow us on: Intstagram    Facebook    Twitter