ISPE Italy Events, Articles and News!
---
September 2020
Carissimi Soci ed Amici,
portiamo a vostra conoscenza che è stato lanciato da ISPE Italy Affiliate un Gruppo di Lavoro aperto ai soci, sul tema:
"Engineering changes approaching the new 2020 draft of ANNEX 1" coordinato da Mario Alberio e Valeria Fabbricatore.
Se interessati, qui il link per i Contatti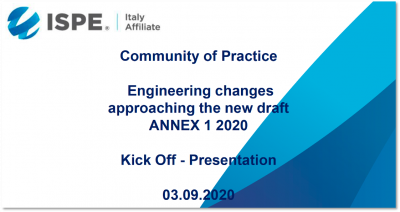 ---
June 2018
Notiziario Chimico Farmaceutico - Pharma 4.0: Opportunità e Rischi della quarta rivoluzione industriale.
---
March-April 2018
ISPE Pharmaceutical Engineering Magazine: YP WORKSHOP: A STRATEGIC I4.0 ROAD MAP
---
December 2016
Misurare la qualità del sistema farmaceutico: criticità e approcci innovativi
---
Fall 2016
Pharmintech 2016 Drug Supply Chain:Thinking the future