ISPE Italy Events, Articles and News!
---
AWARD 2022
'Graziella Molinari - Women in Pharma Award" nasce per celebrare impegno, costanza, professionalità e competenza delle donne che lavorano nel Life Science.
Qualità che hanno accompagnato e contraddistinto l'operato di Graziella Molinari, già Vice Presidente di ISPE Italia e socio attivo per tantissimi anni.
Il riconoscimento viene assegnato ogni anno ad una donna che si è distinta per:
Progetti innovativi per migliorare efficienza, qualità, "smart" compliance
Progetti di sostenibilità
Promozione e riconoscibilità all'estero della competenza italiana
Iniziative speciali per attività di condivisione della conoscenza nello spirito fondante di ISPE
Soluzioni innovative che hanno permesso la continuità di progetti e attività nel momento critico della pandemia per Covid-19
Progetto nell'ambito digital transformation in ambito produttivo o di data analytics (Pharma 4.0™)
Progetto nell'ambito di nuove modalità terapeutiche
I premi saranno due distinguendo partecipanti di recente ingresso nel mondo del lavoro (Emerging leader, 1-5 anni dalla laurea) e partecipanti con più esperienza lavorativa.
Le candidate devono presentare un documento di una pagina contenente le seguenti informazioni:
Breve introduzione della candidata e motivazione per cui partecipa all'Award
Categoria dell'Award per cui il progetto si e' distinto
Breve descrizione del progetto: 

scopo e obiettivo
settore lifescience in cui il progetto e'realizzato
funzione aziendale
milestones principali
periodo in cui il progetto si e' realizzato o e' in corso

Ruolo della candidata nel progetto
---
November 2020
Cari Soci e Amici,
portiamo a vostra conoscenza un evento organizzato dalla Università di Pavia, con partecipazione dello Student Chapter e gruppo YP&Students Italiano, dal titolo:
"Internationalization@Home - NANOTECHNOLOGIES: INNOVATIVE TECHNOLOGIES IN PHARMA MANUFACTURING"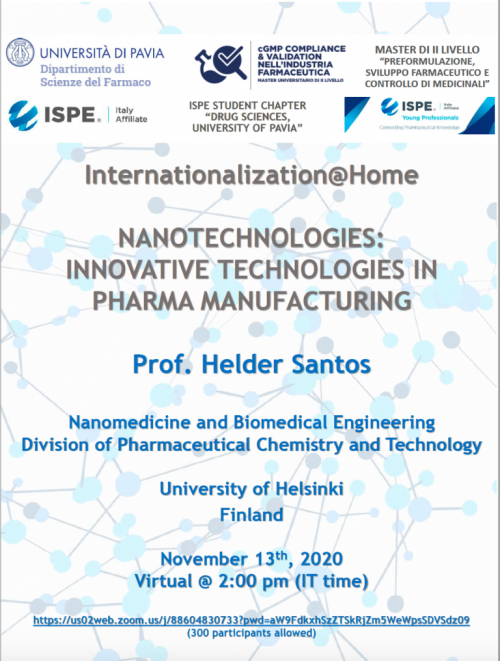 ---
November 2020
Cari Soci e Amici,
portiamo a vostra conoscenza il prossimo evento YP&Students, parte della serie "pillole di formazione". L'evento Webinar sarà tenuto in data 6 novembre, ore 17:00.
L'evento è gratuito previa registrazione al link:  https://us02web.zoom.us/webinar/register/WN_vg9kYeaRS0Sq9HJjiDk9YA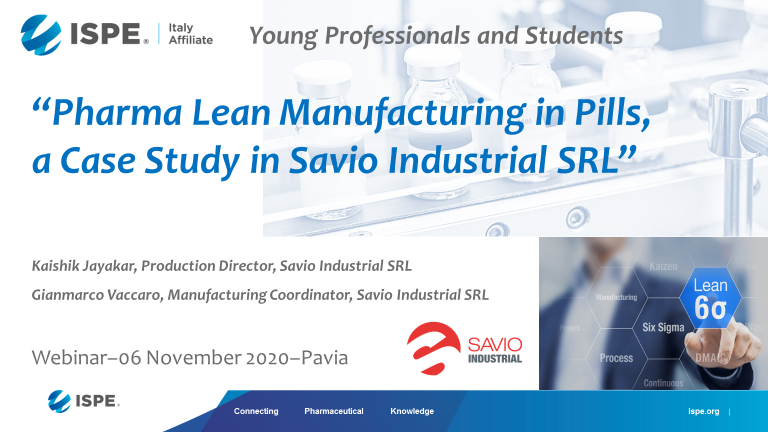 ---
September 2020
Carissimi Soci ed Amici,
portiamo a vostra conoscenza che è stato lanciato da ISPE Italy Affiliate un Gruppo di Lavoro aperto ai soci, sul tema:
"Engineering changes approaching the new 2020 draft of ANNEX 1" coordinato da Mario Alberio e Valeria Fabbricatore.
Se interessati, qui il link per i Contatti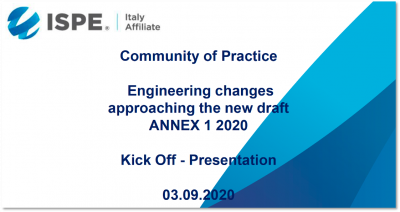 ---
June 2018
Notiziario Chimico Farmaceutico - Pharma 4.0: Opportunità e Rischi della quarta rivoluzione industriale.
---
March-April 2018
ISPE Pharmaceutical Engineering Magazine: YP WORKSHOP: A STRATEGIC I4.0 ROAD MAP
---
December 2016
Misurare la qualità del sistema farmaceutico: criticità e approcci innovativi
---
Fall 2016
Pharmintech 2016 Drug Supply Chain:Thinking the future