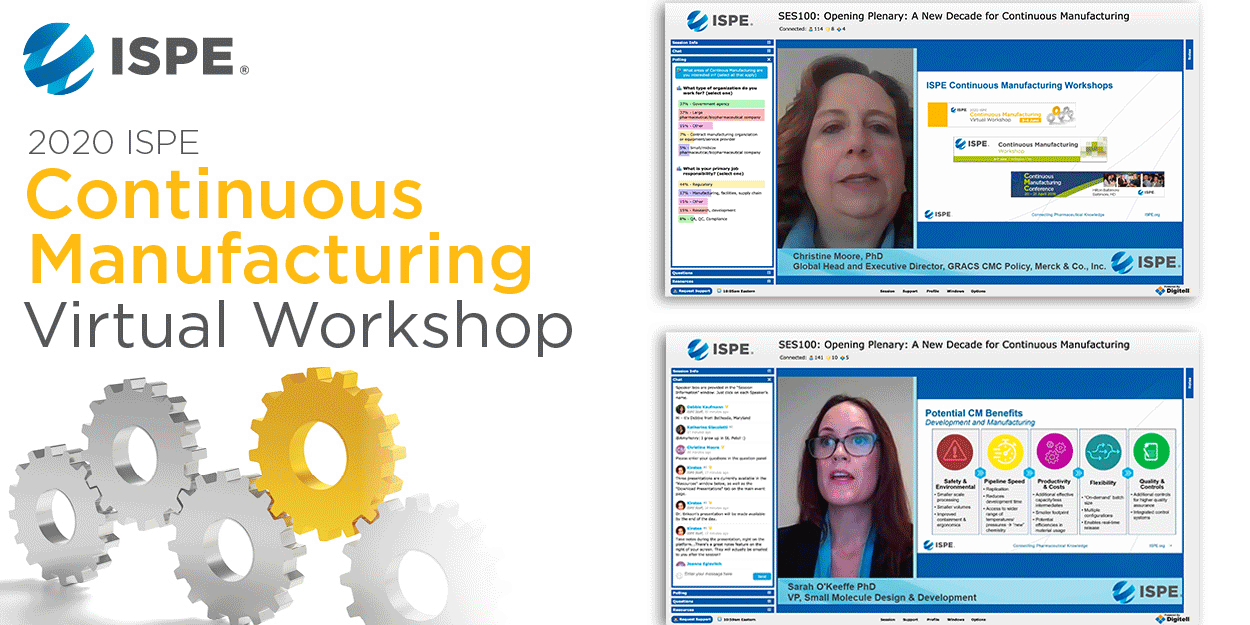 Interest in continuous manufacturing of pharmaceuticals has exploded in the past few years, fueled by the recent regulatory approvals of the first few drug products to be manufactured by this emerging technology. The 2020 ISPE Continuous Manufacturing Workshop brought together industry practitioners, regulators and academics to discuss the recent successes and remaining challenges for continuous manufacturing of small molecule drug substances and drug products. The conference provided an in-depth view of the manufacturing technologies and regulatory approaches for successful development, implementation, and lifecycle management of continuous manufacturing both for new molecules and for batch to continuous conversions.
If you missed the workshop, this is your opportunity to gain access to all of the educational content from the conference and view it on your own schedule. Get the biggest bang for your buck by purchasing the entire workshop in one package or review the list of sessions to purchase individual.
Conference Sessions
Continuous Manufacturing for Large Molecule

Analytics Considerations for Continuous Manufacturing

Analytics Considerations for Continuous Manufacturing This session will be a series of presentations related to analytics and release assays critical to successful implementation of CM. The session will include perspectives on emerging approaches for assessment of quality attributes, on release testing, and on the importance of process control and PAT.

Quality Considerations for the Multi-Attribute Method (MAM)
Sarah Rogstad, Staff Fellow, Chemist
FDA
Modern Microbiological Monitoring of Continuous Processing
Cheryl Essex, Head of Microbiological Control for Biologic Drugs
Sanofi
Integrating Analysis with Process Control for the Continuous Bioprocessing: Extending the Lifecycle Concept to Process Analytical Technologies
Jose C. Menezes, PhD, President and CEO
4Tune Engineering Ltd

---

Current Status on CM for Biologics: Development to Clinical

Speakers will provide insights on the current stage of deployment of CM for biological molecule clinical manufacturing from the point of view of process technologies, facility assets, and manufacturing operations. Examples of successes as well as challenges encountered will be shared.

The Biopharmaceutical Industry Emerging Continuous and Integrated Platform for Recombinant Protein Jon Coffman, PhD, Senior Director of Bioprocess Technology and Engineering AstraZeneca
Perspectives on the Development of Continuous Manufacturing for Biological Products
Mark Brower, Principal Scientist
Merck
Novel Technologies to Enable Continuous Manufacturing of Biologics
Govind Rao, PhD, Director, Center for Advanced Sensor Technology
University of Maryland, Baltimore County

---

Implementation Approaches for Large Molecule

Implementation Approaches for Large Molecule Continuous Manufacturing This session will focus on the integrated and continuous biomanufacturing process applied in the production of large molecules with experience shared by Sanofi, Pfizer and BI. Several areas will be discussed including leveraging the at-scale data to support comparability studies, as well as pre PPQ campaigns, and lifecycle process validation considerations.

Lifecycle Process Validation Considerations for Large Molecule Continuous Manufacturing
Katherine Giacoletti, Partner
SynoloStats LLC  
Leveraging ICB Technology for Novel Approaches to Process Performance Qualification
Kevin Brower, Head of Purification Development
US Sanofi
Development of an Integrated Manufacturing Process: The iSKID™
Michael Jankowski, associate Research Fellow, Analytical R&D
Pfizer Biotx Pharm Sci

---

Perspectives on the Adoption and Implementation

Perspectives on the Adoption and Implementation of Continuous ManufacturingThis session will include 3 highly regarded experts in the CM for biological molecules. These experts will share perspectives and experiences on the development and potential adoption of CM for large molecules.

Integrated Approach to Semi-Continuous Drug Substance Manufacturing
Mehdi Ghodbane, PhD, Downstream Process Development, Medicinal Science & Technology
GlaxoSmithKline  
N-1 Perfusion from Development through GMP Implementation
Gene Schaefer, Senior Director Large Molecule API Development
Janssen
Sanofi's MA Digitalized Facility, an Ecosystem of the Future
Navin Tiwari, Director, Head of Digital Shop Floor & Automation
Sanofi

Continuous Manufacturing for Small Molecule

Advances in Continuous Manufacturing for Small Molecule

Advances in Continuous Manufacturing for Small Molecule While continuous processes started with a few continuous steps, the maximal value of continuous manufacturing will be gained from increased integration. Several recent processes demonstrate this value. This session will focus on actual industrial processes, emphasizing the technical and business advantages of integration. Advances in the integration of unit operations, independently for API and drug product as well as the end-to-end integration of the two will be discussed over the course of the session.

Full Integration of Continuous Manufacturing
Sal Mascia, PhD, President and CEO
CONTINUUS
Mighty Machines; Integrating Design of Chemical Processes and Flow Reactor Systems
Matthew M. Bio, PhD, President and CEO
Snapdragon Chemistry
Enabling End to End Continuous Manufacturing: FDA Perspective
Sharmista Chatterjee, PhD, Division Director
OPMA, OPQ/CDER

---

Emerging Technologies

Emerging Technologies The session brings together industrial case studies from practitioners who have delivered innovative solutions to enable the adoption of continuous processing within their companies.

Commercializing New Chemical Technologies in Flow
Moiz Diwan, PhD, Director, Head of Enabling Technology Group
AbbVie  
Continuous Processing for the Manufacture of Active Pharmaceutical Ingredients
Martin Johnson, PhD, Sr. Engineering Advisor
Eli Lilly & Company
The Use of Kinetic Modelling to Define a Design Space for a Continuous Process
Peter Shapland, PhD, Scientific Leader, R&D Medicinal Science & Technology
GSK Stevenage

---

Expert Roundtable

Expert Roundtable: How do we realize the full potential for Small Molecule in the new decade? Panel discussion with experts in the area of small molecule continuous manufacturing will discuss the technical, regulatory, and business hurdles for continuous manufacturing. This session will highlight CM as a continuum from E2E to hybrid approaches, including the need for "batch steps" for some products, requirement differences which can be a hindrance to global implementation of advanced technologies enabled by CM such as PAT, RTRT, and modeling; and why E2E CM may or may not be the optimal solution.        

Malcolm Berry, PhD, CEO & Founder MB
Chemistry Consulting, Ltd.    
Sharmista Chatterjee, PhD, Division Director OPMA,
OPQ/CDER  
Gabriella Dahlgren, PhD, Manager, Strategy Deployment
Janssen Supply Group LLC      
Elizabeth Grieco, Director Vertex  
Michael O'Brien, PhD, Founder and President NGT
BioPharma Consultants

---

Success Stories From Small Molecule Drug Product

Success Stories From Small Molecule Drug Product Significant progress in CM implementation has been made over the last ten years. From fundamental studies within academia to global drug product CM approvals, CM represents a paradigm shift within the industry that will continue to grow with time. In this session, success stories from some of the early adopters and implementers will be shared which include regulatory, technical, and business-related achievements in the hope that it will encourage others to join the CM movement!

Leveraging Continuous Manufacturing to Enable Real Time Release Testing
Joseph Medendorp, Senior Director, Technical Operations
Vertex  
Particle Design and Engineering to Enable Continuous Direct Compression Manufacturing Processes
Jeremy Merritt, PhD, Principal Research Scientist, Particle Design Lab – Small Molecule Design & Development
Eli Lilly and Company Janssen
CM-strategy: A Story of Multiple Platforms From R&D to Commercial
Jeroen Geens, Engineering Technical Director – New Platforms
Janssen

Plenary Sessions - Bonus Content Included

A New Decade for Continuous Manufacturing

A New Decade for Continuous Manufacturing Continuous manufacturing for pharmaceutical and biopharmaceutical manufacturing is still in its infancy with only a limited number of products approved within the past 5 years. As we begin the third decade of the third millennium, we anticipate that bio/pharmaceutical manufacturing will continue to get smaller, faster, and smarter. In this opening conference session, a broad array of speakers from industry, academia, and regulatory agencies will provide their views on the state of continuous bio/pharmaceutical manufacturing today and predictions for its future.

Welcome and Opening Remarks
Christine M. V. Moore, PhD, Conference Chair; Global Head and Executive Director, GRACS CMC Policy
Merck  
Speaker Introductions
Sharmista Chatterjee, PhD, Division Director
OPMA, OPQ/CDER
ICH Q13 Guidance – Continuous Manufacturing of Drug Substance and Drug Product
JRapti Madurawe, PhD, Division Director
FDA/CDER/OPQ/OPPQ
End to End Collaboration to Transform Biopharmaceutical Development & Manufacturing
John Erickson, PhD, Senior Fellow,
National Institute for Innovation in Manufacturing Biopharmaceuticals NIIMBL
Perspectives on the Implementation of Continuous Manufacturing 
Sarah O'Keefe, PhD, VP Small Molecule Design and Development
Eli Lilly and Company
*ISPE Membership is required for these rates.