Meet Jazz Pharmaceuticals - 2017 FOYA Project Execution Category Winner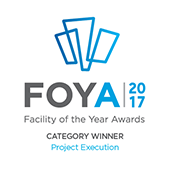 Jazz Pharmaceuticals is the 2017 Facility of the Year Awards® (FOYA) Project Execution Category Winner for "Project Rock", their new greenfield site in Athlone, County Roscommon, Ireland. Projects selected in this category exemplify the application of novel tools and approaches to delivering projects that improve efficiencies, overcome unusual challenges, promote effectiveness, and organize stakeholders and project team participants in ways that led to successful outcomes.
Jazz Pharmaceuticals, headquartered in Ireland is an international biopharmaceutical company which focuses on improving patients' lives by identifying products that address unmet medical needs, acquiring them, and bringing them through the process of regulatory approval to make them available to patients. Typically, these are for relatively small patient populations, often for products that are difficult to manufacture or have complex supply chains. Once made available to patients, the products are often critical to life or quality of life which makes supply chain risk unacceptable. 
In 2013, Jazz Pharmaceuticals decided to create its own manufacturing facility, which would allow the company to more closely oversee and control the process of bringing high quality products to patients and reduce the risk of drug shortages. Prior to this, Jazz Pharmaceuticals had no manufacturing facilities; all production was outsourced. The project team selected a site in an area that had been held by the local government body as a strategic land bank to facilitate the growth of the pharmaceutical industry and had an established talent pool -- this would allow Jazz to master plan for multiple expansion scenarios in the future.
Situated on a 17.5-acre plot, the site includes a single 55,500 ft2 building, with a cleanroom manufacturing suite, warehouse with a controlled drug vault, quality control laboratory, offices, and supporting utilities. The successful start-up of Jazz Pharmaceuticals' first manufacturing facility was delivered by a very small Jazz Pharmaceuticals team, who had no corporate manufacturing experience establishing new facilities.  The team of 26 executed the project and now are the facility's full operating headcount. The team, which never exceeded 26 throughout the project lifecycle, delivered the project on time and under budget against aggressive cost and time targets by successfully leveraging best practices from a range of expert project partners.
The design of the facility and the organization integrated exceptionally well with Jazz Pharmaceuticals business model and corporate values through a disciplined process of team building, business alignment, project planning, and execution. The facility is a model facility of the future for small volume, high-value manufacturers with technological diversity. ISPE congratulates Jazz Pharmaceuticals, Athlone, Ireland team for their achievements and their Facility of the Year award-winning entry for Project Execution.
---
---
Learn more about the 2017 Facility of the Year Awards Project Execution Category winner. Has your company recently designed, built, or renovated a state-of-the-art pharmaceutical or biotechnology facility that is best in its class? Submit your project for the 2018 ISPE Facility of the Year Awards Program, and your facility may win a coveted Facility of the Year Award.
Facility of the Year Awards Banquet Join ISPE and prominent industry leaders as we recognize the 2017 Facility of the Year Awards (FOYA) Category Winners for their innovation and creativity in pharmaceutical and biotechnology facility design, construction, and operation, at the FOYA Banquet on the evening of Tuesday, 6 June 2017 in Arlington, VA, USA, during the ISPE/FDA/PQRI Quality Manufacturing Conference.