Meet Eli Lilly and Company - 2017 FOYA Facility of the Future Winner

Eli Lilly and Company is the 2017 Facility of the Year Award® Facility of the Future Category winner for their Continuous Direct Compression Manufacturing Kits 2 & 3 Project in Indianapolis, Indiana, USA and Carolina, Puerto Rico.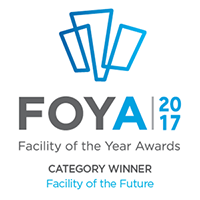 Winners, in the newly created Facility of the Future category, recognize the application and/or implementation of innovative design concepts, new technologies, and unique solutions that help exemplify the next generation of agile, flexible, efficient, and effective new and existing Life Sciences facilities. Examples include continuous manufacturing, real-time release testing, continuous quality verification (PAT), automation, robotics, and other elements that set the direction for new and emerging designs and technologies for a facility of the future.
---
---
Lilly, headquartered in Indianapolis, Indiana, USA, is a global healthcare leader that unites caring with discovery to make life better for people around the world. Founded more than a century ago, they are committed to creating high-quality medicines that meet real-life needs. Oral solid dose (OSD) continuous manufacturing (CM) is undoubtedly a large and growing trend in pharmaceutical manufacturing. Lilly is recognized as a leader in implementing continuous manufacturing for their adoption of CM facilities as their default platform for OSD and for the willingness to invest in three replicated CM facilities. CM1, CM2, and CM3 continuous direct compression (CDC) facilities represent Lilly's new technology platform for all new small molecule development. Multiple molecules have already been produced for clinical trial use in these facilities and represent Lilly's manufacturing platform for the future. They also serve as an outstanding example of a facility of the future. One hallmark of a facility of the future is technology to improve and build on traditional manufacturing systems. Lilly's continuous direct compression facilities embody this through the following innovations:
Advanced process analytical technology (PAT) & process control
Real-time release testing
Forward-looking data analytics
Future flexibility
Replication
Improved ergonomics
Finally, a facility of the future should evolve beyond the next level of capability and technology as advances in drug development and manufacturing are realized along with an ever-more-challenging business environment. Lilly's continuous direct compression facilities were designed with this capability for future expansion. Examples of possible avenues of expansion include real time release for all corporate quality assurances (CQAs), continuous coating, continuous encapsulation, emerging PAT technology, rapid analytical techniques, and expandability to more advanced and comprehensive automation and process control. It will be a challenging but rewarding journey, and Lilly will be leading the way with the ultimate goal to develop and commercialize OSD treatments more quickly and cost-effectively to make the quality of life better for patients.
ISPE congratulates the Eli Lilly and Company team for their achievements and their Facility of the Year award-winning entry for Facility of the Future. Learn more about the 2017 Facility of the Year® Awards Facility of the Future Category winner. Has your company recently designed, built, or renovated a state-of-the-art pharmaceutical or biotechnology facility that is best in its class? Submit your project for the 2018 ISPE Facility of the Year Awards Program, and your facility may win a coveted Facility of the Year Award.
---
Facility of the Year Awards Banquet Join ISPE and prominent industry leaders as we recognize the 2017 Facility of the Year Awards (FOYA) Category Winners for their innovation and creativity in pharmaceutical and biotechnology facility design, construction, and operation, at the FOYA Banquet on the evening of Tuesday, 6 June 2017 in Arlington, VA USA, during the ISPE/FDA/PQRI Quality Manufacturing Conference.