Medreich Limited's Cutting-Edge Automation System - First in India
Medreich Limited's Cutting-Edge Automation System Is a First in India article was published in the November/December 2016 edition of Pharmaceutical Engineering® magazine. Continue to part 2 of Medreich Limited's Cutting-Edge Automation System - First in India.
Producing nine billion tablets and capsules a year is almost always a time- and resource-intensive process. Manufacturing employees must often spend time moving raw materials to manufacturing or taking packaged materials to storage instead of focusing on their core responsibilities. To resolve these issues, India's Medreich Limited adopted a unique and innovative approach to material storage and retrieval at its new facility in Bangalore.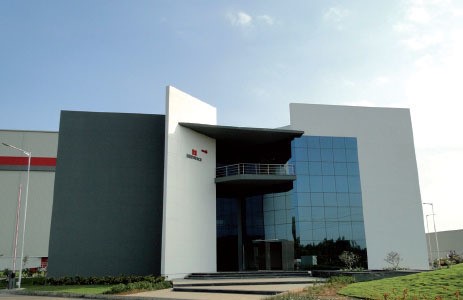 Front view of administrative block
Formed in 1976, Medreich is a fully integrated pharmaceutical company with an established global presence. Its client base spans 55 countries and includes a who's who of multinational pharmaceutical firms. The company manufactures and markets products for therapeutic categories that include cardiovascular, diabetic, antifungal, penicillin, respiratory, and many others. The company has seven manufacturing facilities in Bangalore and one in Hyderabad. Two sites are dedicated to β-lactam (amoxicillin) formulations, one to cephalosporin. The others, including Unit VII, Medreich's recently completed Bangalore facility, are dedicated to general (nonpenicillin) dosage formulations. Once full production goes online in late 2016, Unit VII will be capable of producing nine billion tablets and capsules annually.
Changing Environment
Recently acquired by Japan's Meiji Holdings Co., Ltd., Medreich has become an important player in the Indian pharmaceutical industry, working with many of the world's best-known companies to serve markets in Europe, Australia, New Zealand, and Africa. As Mr. R. Kedareshwar, Executive Vice President, Engineering & Projects explains, when their existing facilities reached full capacity the company knew they needed to make a change.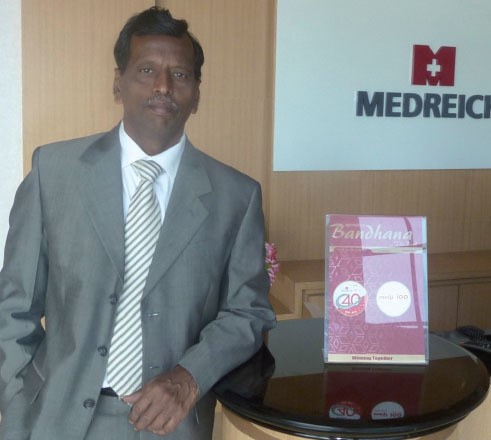 Mr. R. Kedareshwar
"Our present manufacturing requirements for tablets and capsules are being met," he explained, "but as the market is growing and as our business is growing in the coming years, we will need to expand and consolidate." In addition, both the regulatory agency and the company's customers had begun to demand "zero-defect" quality processes and products. Medreich knew that manufacturers that could meet these expectations would be more sought after in the industry.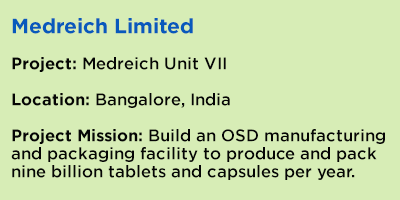 In May 2012, with these new requirements in mind, Kedareshwar and the Medreich team members began to explore the feasibility of a greenfield project for a new facility that met the following requirements:
Entire project to be handled by the Medreich in-house team
Best possible automation and material handling
Design for large capacities in three shifts to maximize use of assets
100% skilled staff to reduce the risk of even a small lapse or failure
Vertical materials flow to save on expensive land requirements
Small Automation Footprint
The company had to optimize its land use. "Land is a very precious item in Bangalore," says Kedareshwar, "so we had to use it in an optimal way. It was a major challenge to design a plant with a small footprint."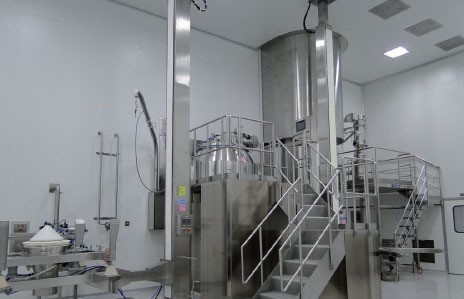 Integrated granulation line
The new manufacturing facility was designed and built on a mere 3,685 square meters, with enough room left over to build an additional manufacturing facility in the future. Operations are spread over four independent levels, each with four connecting points where materials must be either delivered or picked up: raw material entry, primary material entry, secondary material entry, and packaged goods exiting the facility. In addition, materials are received in the warehouse at three locations and dispatched at two; there are also locations for rejected material delivery and/or retesting. In all, there are 24 locations involving material movement. In a typical factory setup, Kedareshwar explains, material movement is resource intensive. "It is quite challenging for a manufacturing person to move materials from the warehouse to manufacturing or from manufacturing to the warehouse. In the manufacturing area, the team usually spends a lot of time in supportive activities like arranging the raw materials and taking packaged goods from manufacturing to storage. Our aim was to minimize the time required for these supportive activities so that personnel can focus on the manufacturing operations and improve the quality of the product or concentrate on other aspects of the manufacturing process." 
---
Pharmaceutical Engineering® Magazine: The magazine covers topics important to the global pharmaceutical industry across all sectors, including traditional pharmaceuticals, biotechnology, innovator, and generics. Pharmaceutical Engineering magazine presents valuable information on the latest scientific and technical developments, regulatory initiatives, and innovative solutions to real-life problems and challenges through practical application articles and case studies. Stay connected with the pharmaceutical industry by becoming a member of ISPE and receive Pharmaceutical Engineering magazine delivered to your inbox and by mail. Subscribe to iSpeak to receive Part 2 of "Medreich Limited's Cutting-Edge Automation System Is a First in India" delivered straight to your inbox.