Communities of Practice 2019 Year in Review
2019 was a very busy year for ISPE Communities of Practice (CoP). Our biggest project was the launch of ISPE's new community platform – Community Connection. This new online platform provides members with a more robust and user-friendly experience, including: Upgraded Posting Capability, Enhanced Search and Tagging for Keywords, and Improved Networking Features. Now members can easily connect to other ISPE community members, include links to social media profiles, and personalize their profiles which helps them to communicate with colleagues and peers around the world.
Communities of Practice Achievements in 2019
As usual  Communities of Practice steering committee members volunteered their time to share their collective knowledge in pharmaceutical and biopharmaceutical manufacturing. They helped to create new guidance documents, conference sessions, webinars, blogs, and Pharmaceutical Engineering® magazine articles.
Read on to see just a short list of products created by  Communities of Practice volunteers in 2019:
8 Webinars
In April 2019, ISPE launched the wildly successful ISPE Pharma Best Practices Webinar Series which featured presentations from Subject Matter Experts from a variety of  Communities of Practices including Biotechnology, Commissioning & Qualification, Critical Utilities, GAMP, GAMP Data Integrity, Pharma 4.0, and Process Analytical Technology and Lifecycle Control Strategy (PAT&LCS). The new complimentary program has brought valuable knowledge to nearly 2000 participants from around the globe. We are excited to continue next year with new topics, new sessions, and new features inspired by feedback from webinar participants.
Thank you to all the participants who joined us in 2019. We think you'll be just as excited for what's in store in 2020!
4 Guidance Documents
ISPE Guidance Documents are developed by ISPE to provide practical "real world" information on industry best practices and who better to contribute than ISPE members from technical groups – including  Communities of Practices? Topics generated from  Communities of Practices helped lead to the publication of four out of the six guidance documents published in 2019 including:
Coming Soon: Good Practice Guide: HVAC and Process Equipment Air Filters
Thanks to the work of  Communities of Practices many ideas for new Guidance Documents are generated and guide teams are created. In addition to helping create the content included in the guides, the  Communities of Practice steering teams also review and comment on a pending Guide before it is sent out to the Industry for review.
More than 35 Conferences, Conference Sessions, and Guest Speakers in 2019
Communities of Practice members were invited to present at more than 20 ISPE Affiliate and Chapter events around the world to share insights on topics such as:
Critical Utilities
Single Use Systems
Risk-Based Qualification
Cell and Gene Therapy Lab
C&Q Baseline Guide Updates
Cleanroom Energy Reductions and many other topics
Communities of Practice members were also part of the planning teams for multiple conferences in 2019 such as the 2019 Aseptic Conference (Sterile Products Processing  Communities of Practice), Biopharmaceutical Manufacturing Conference (Biotechnology  Communities of Practice), and the Europe Pharma 4.0 Conference. (Pharma 4.0 SIG).
Communities of Practice members presented 13 sessions at the 2019 ISPE Annual Meeting & Expo in Las Vegas on topics like:
A Practical Guide on Implementing Risk-Based Qualification (C&Q)
Are YOU Inspection Ready? How to Achieve and Maintain GMP Critical Utilities Compliance (Critical Utilities)
AI and Data Analytics in the Pharmaceutical Industry (GAMP)
The Future of eClinical System, Platform, and Data Compliance (GAMP)
Blockchain Use Cases within Regulated GxP Processes (GAMP Blockchain)
Classified Areas Best Practices in Design and Operation (HVAC)
Aging Facilities – How to Prolong Their Life and Avoid Quality Problems (HVAC)
Ensuring Pharma 3.0 Before Moving to 4.0: Commissioning and Qualification of Complex Control Systems (PAT&LCS)
CAR-T Projects: Planning, Execution, and Challenges (SCOPE)
Strategies for Container Closure Integrity: A Practical Look at Challenges Facing Pharmaceutical Packaging (SCOPE)
Innovation in Drug Delivery—The Drivers and Challenges Through Real Case Studies (SPP)
Tech Transfer for Pharmaceutical Production Processes: Theory and Case Studies in Sterile Dosage Forms (SPP)
Innovations in Aseptic Processing (SPP)
---
2019 Conference Highlights
More than 20 iSpeak Blogs and Pharmaceutical Engineering® Magazine Articles
In 2019,  Communities of Practice members provided information on hot topics in the Pharmaceutical Industry via the iSpeak blog and Pharmaceutical Engineering® magazine. Typically, blogs written by and for members on technical topics get the most views and this year was no different. The iSpeak Blog provided valuable industry discussion on topics such as:
Communities of Practices also provided technical articles to Pharmaceutical Engineering Magazine and authors from the Biotechnology Steering Committee were the recipients of the 2018 Article of the Year which was awarded at the 2019 ISPE Annual Meeting and Expo in Las Vegas in October.
---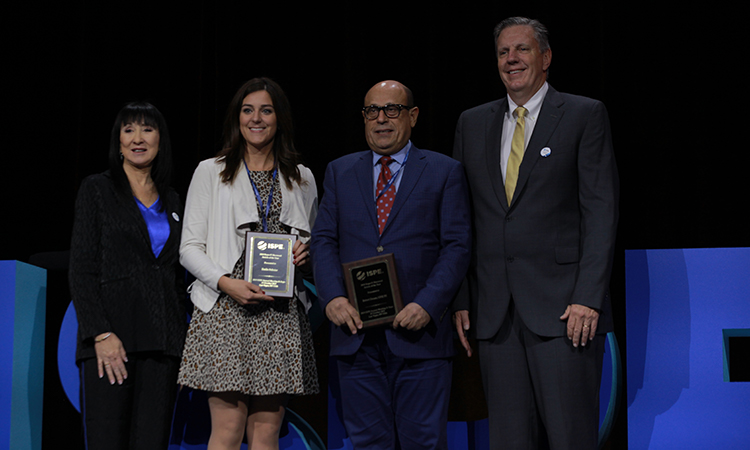 ---
Coming in 2020
We are planning for another great year-In 2020! We are excited to the launch the new ISPE iSpeak Podcast, planning for even more webinars on topics members have asked for, and much more. Stay tuned!