Hybrid Systems a Win-Win-Strategy for Pharmaceutical Plant Design
Over the past two decades, single-use process technologies have been increasingly incorporated into the manufacturing of biopharmaceutical products. Although the reasons for implementing single-use systems for bio manufacturing are compelling, some challenges and concerns related to their use remain. Single-use versus stainless steel – this discussion has been going on for many years. Each approach has its obvious advantages and drawbacks. But why should we have to decide for one and exclude the other? Why not combine both worlds – single-use AND stainless steel – and benefit from the resulting hybrid technology? ZETA is a global pioneer in the engineering of SU/SS hybrid systems and has a track record of successful projects.
The biopharmaceutical industry benefits from single-use technology – but is it really so much better than stainless steel? A reality check.
Many forces are driving the adoption of single-use technology in the biopharmaceutical industry, and this is especially true in multiproduct facilities. Facilities that produce therapeutic substances for clinical trials must, for example, be able to manufacture a vast range of products in relatively small volumes. Single-use systems are commonly expected to allow a higher degree of flexibility, while stainless steel equipment often lacks that flexibility, but not necessarily in every case. There are congenial solutions for highly flexible, modular Stainless-Steel-Systems, such as the skid technology in which ZETA is specialized.
It goes without saying that costs are a very important factor. The investment costs for single-use equipment are lower. Companies like Sanofi reduced the CAPEX for their new plants by up to 30 or 40% with the acquisition of the cost efficient technology. The time to market is another important aspect to be considered when planning a new facility. Single-use promises much faster project realization, but delivery times of up to 25 weeks have been reported for bags during production. Naturally, the requirements for equipment cleaning and cleaning validation are reduced when disposables are used. The resulting reduction in utility systems (pure water, CIP, SIP) is a clear advantage of SU technology, in particular for systems that are required to produce relatively small quantities on short notice.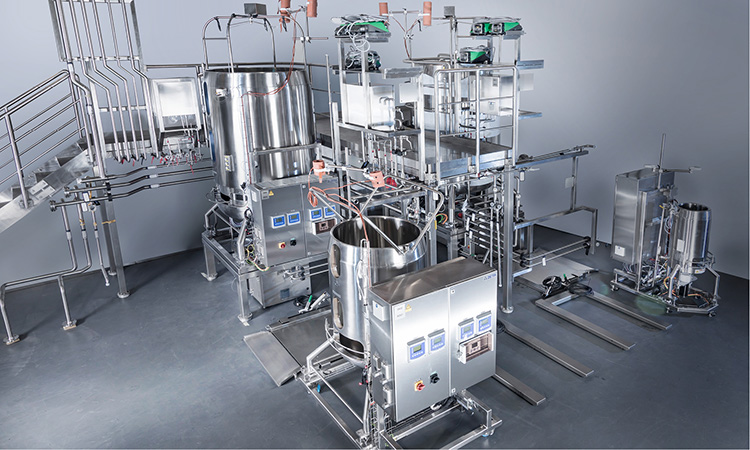 The challenges of single-use systems
What are the challenges and concerns related to the use of SU systems that remain after considering all their advantages? The acquisition of single-use equipment is associated with sourcing limitations. 1 Off-the-shelf products with one predetermined design limit process flexibility. Many manual operations are necessary in plant featuring single-use equipment, which leads to higher error susceptibility. Suitable sensors for bioprocessing are lacking in disposable reactors and another weak point is process automation. Automation islands are frequent phenomena with SU systems, and integrating the equipment in larger automation systems often entails difficulties.
There is no satisfactory industrial design with consistent and uniform standards for the installation and use of SU production plants. Besides shortcomings in the documentation of SU systems, there is also a lack of regulatory experience with many single-use technologies.
SU systems have been developed to generically cover the largest possible area of application and are therefore not adapted to the specific needs of the customers. The suppliers of single use technologies essentially see themselves only as suppliers of SU components. Naturally, their focus is not on the delivery of the whole production system and certainly not on the associated project management. This, in turn, is the strength of ZETA, which has been dedicated to the planning and delivery of customized production solutions for the pharmaceutical industry for decades.
ZETA is taking isolated and standalone SU systems to the next level
ZETA plays a trendsetting role in the design, engineering and fabrication of customized SU hybrid systems and also their full automation. The customer has a free choice of the adequate automation system. The ZETA expertise results in the creation of highly sophisticated hybrid plants for industrial production, which are interconnected and cross-functional. Well-designed engineering concepts enable integrated production processes and allow for the highest degree of process safety and reproducibility.
At ZETA, it is common practice to provide individually customized solutions for each project. Of course, this not only applies to the integration of new single-use equipment into existing production plants and the exchange of individual components, such as TCUs, gassing stations, stirrer engines and drives, but also to the engineering and construction of peripheral SS pipes and equipment. This means that single-use technology can leverage existing infrastructure and utility supply. The hybrid systems are considered a "maturation" of single-use technology and pave the way to manufacturing according to GMP standards.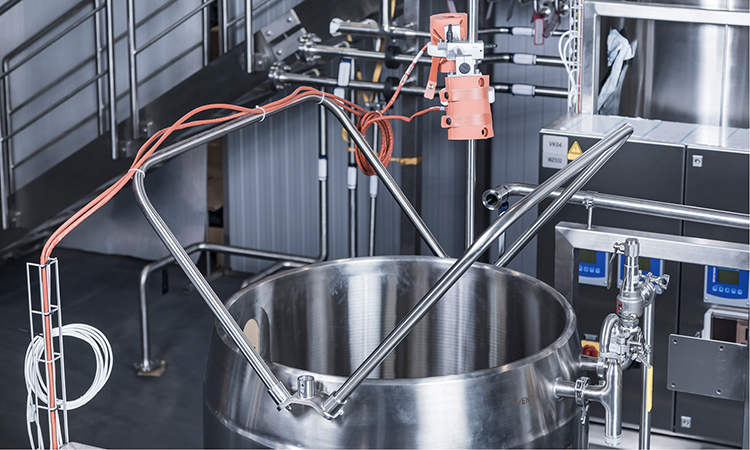 Single-use bioreactor integration: a ZETA project demonstrates the successful implementation of hybrid technology
ZETA successfully implemented a project involving the integration of single-use process equipment into a stainless steel plant for a customer in Switzerland in 2018. It included engineering, manufacturing and installation of a stainless steel work platform with utility supply piping for the clean rooms as well as automation, based on Siemens PCS7, of the single-use bioreactors. The single-use equipment delivered by a supplier consisted of four bioreactors (50 L, 500 L, 2,000 L). Starting from basic and detail design, the project scope covered a large section of the ZETA Life Cycle, including static & dynamic FAT for the bioreactors including the bags and the platform, delivery, electrical and mechanical installation, programming, commissioning and qualification. Complete documentation was FDA & GMP compliant.
As time to market is key, the bioreactor trains including platforms and automation were completed in only six months, process validation was fully established after ten months. It goes without saying that the ZETA team faced and overcame numerous challenges in a project of such dimensions. With the aid of 3D modelling, standalone single-use and auxiliary systems were integrated into the plant and a space-saving design for conduits, piping and tubing was developed. Due to the routing of the tubing, process reliability was significantly improved. Tube bending problems during operation and tripping hazards were done away with. The EHS aspect was improved generally by these measures. The tube length necessary for single-use systems was minimized by the use of stainless steel piping. The plant was designed to ensure easy cleanability and maintenance, plus ergonomic access to the SU equipment. Static and dynamic tests were performed at the ZETA Workshop to ensure functionality. And – last but not least – ZETA provided an efficient solution for automation, which allowed a flexible process. The hardware and software for automation, designed for integration into an existing environment, was delivered ready to use.
On 21.07.2020, ZETA will host a webinar in which the subject of hybrid systems will be discussed in detail.
Advantages of Hybrid Systems
highest degree of process safety
reproducibility
customized solutions – no standard solution
to manufacturing according to GMP standards
---
The ZETA Group designs, builds, automates and qualifies plants for aseptic liquid production processes in the biotech and pharmaceutical industries.
The engineering portfolio ranges from concept design for pilot plant and basic engineering, all the way through to detail engineering, automation, installation and commissioning. The interdisciplinary project team, composed of biotech experts, process, mechanical and automation engineers, develop fast-track-projects globally. Process characterization, scaling of processes and process design are the key competences of ZETA – from lab to industrial scale.
Close to the customer ZETA provides innovative solutions along the production process of high value APIs. ZETA workflows are based on long-term experience as well as on scientific approach. Magnetic mixing technology and process-controlled freeze & thaw systems for optimal agent storage and transport complete the ZETA product portfolio.
With its ten subsidiaries in Europe and a highly qualified staff of some 700 people, ZETA is among the leading suppliers in the industry. Best-in-class consultancy by ZETA moves projects towards success. ZETA experts design, build and automate production plants at three European sites, carry out GMP qualification and support operations with service packages along the entire service life of the equipment.